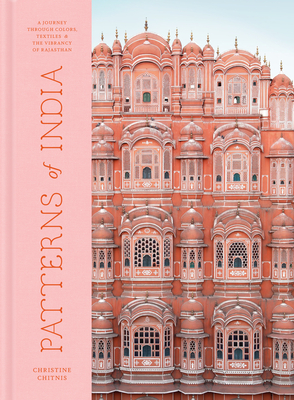 Patterns of India
A Journey Through Colors, Textiles, and the Vibrancy of Rajasthan
Hardcover

* Individual store prices may vary.
Description
It's the trip of a lifetime—a textile-based tour of colorful Rajasthan, India featuring more than 200 lush photographs depicting everyday life in one of the most vibrant regions in the world.

"Get lost in the beauty of the photographs in Patterns of India, a striking journey through the colorful Indian state of Rajasthan."—BuzzFeed

Patterns of India is a visual experience that offers intimate insights into the diverse and richly hued Western Indian culture. Color is the thread that binds the vast country together, defining every aspect of life from religion and politics to food and dress. Organized by the five dominant colors royal blue, sandstone, marigold, ivory, and rose, this book explores how deeply color and pattern exist in a symbiotic relationship and are woven into every part of the culture. For instance, the fuchsia found in the draping fabric of a sari is matched by the vibrant chains of roses offered at temple, and the burnt orange spices in the marketplaces are reflected in the henna tattoos given to brides and wedding guests. While every color is imbued with meaning, it is often within the details of patterns that the full story comes to light.

Photographer and writer Christine Chitnis spent over a decade traveling through, getting to know, and falling in love with the intricate patterns of everyday Rajasthani life. With history and culture-based essays woven throughout the more than 200 stunning photographs of architecture, markets, cuisine, art, textiles, and everyday goings-on, Patterns of India captures the beauty and essence of this unique part of the world.
Praise For Patterns of India: A Journey Through Colors, Textiles, and the Vibrancy of Rajasthan…
"Simply marvelous! In this beautiful book, Christine provides a window through which we get to see the wonderful world of color and design that are emblematic to India and its people."—Nik Sharma, James Beard Award and IACP Julia Child First Book Award finalist for Season: Big Flavors, Beautiful Food

"Patterns of India transports me back to my visits to Delhi and Jaipur. I can almost smell the floral, dusty fragrance that I remember so well. The celebratory colors, intricate patterns, and vivid sensory experience of the country comes across so well in this beautiful book."—Rebecca Atwood, textile and wallpaper designer and author of Living with Pattern and Living with Color
 
 "India is a place where the delight and brilliance of the colors, textures, and patterns immediately absorb you into the present moment. Patterns of India is an inspiring celebration of one of the most visually compelling and engaging destinations for travelers and photographers, where every detail, from the mundane to the sacred, is a divine expression of ancient and modern artisanal mastery."—Emily Nathan, photographer and author of My Tiny Atlas and founder of Tiny Atlas Quarterly
 
"Christine's photography takes us on an incredible journey into the rich history of pattern and color in Rajasthan. She has conveyed the strength of the Rajasthani visual aesthetic so perfectly through her vivid imagery and thoughtful writing. Patterns of India transports me right back to Rajasthan."—Sana Javeri Kadri, founder of Diaspora Co.
 
"Patterns of India is a vibrant love story. Christine's passion for what is surely one of the most colorful countries on the planet is clear. She brilliantly captures the flow of daily life in the sensuous subcontinent and reveals the stories that lay embedded in India's visual landscape."—Fiona Caulfield, travel designer, travel writer, and author of the Love Travel Guides series
Clarkson Potter, 9780525577096, 288pp.
Publication Date: March 3, 2020
About the Author
Christine Chitnis is a writer and photographer who spent ten years traveling to India. She lives with her husband and three children in Providence, Rhode Island.