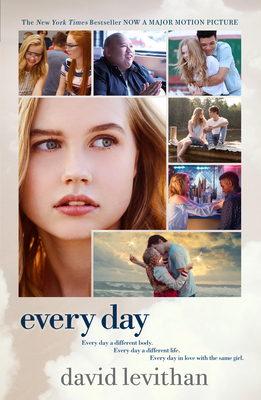 Every Day Movie Tie-In Edition (Paperback)
Ember, 9780525581611, 352pp.
Publication Date: January 23, 2018
* Individual store prices may vary.
Description
A special movie tie-in edition of David Levithan's New York Times bestseller, now a major motion picture starring Angourie Rice of Spiderman: Homecoming and The Nice Guys--in theaters February 23, 2018!

Every day a different body. Every day a different life. Every day in love with the same girl.

There's never any warning about where it will be or who it will be. A has made peace with that, even established guidelines by which to live: Never get too attached. Avoid being noticed. Do not interfere. It's all fine until the morning that A wakes up in the body of Justin and meets Justin's girlfriend, Rhiannon. From that moment, the rules by which A has been living no longer apply. Because finally A has found someone he wants to be with--day in, day out, day after day. But can Rhiannon love someone who is destined to change every day?

This paperback movie tie-in edition features key movie art and a special photo insert.

"Wise, wildly unique." --Entertainment Weekly

"A story that is always alluring, oftentimes humorous and much like love itself--splendorous." --Los Angeles Times
About the Author
When not writing during spare hours on weekends, David Levithan is editorial director at Scholastic and the founding editor of the PUSH imprint, which is devoted to finding new voices and new authors in teen literature. His acclaimed novels Boy Meets Boy and The Realm of Possibility started as stories he wrote for his friends for Valentine's Day (something he's done for the past 22 years and counting) that turned themselves into teen novels. He's often asked if the book is a work of fantasy or a work of reality, and the answer is right down the middle—it's about where we're going, and where we should be.