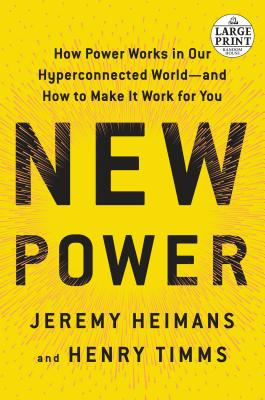 New Power
How Power Works in Our Hyperconnected World--and How to Make It Work for You
Paperback

* Individual store prices may vary.
Other Editions of This Title:
Digital Audiobook (4/2/2018)
Paperback (2/26/2019)
CD-Audio (4/3/2018)
Hardcover (4/3/2018)
Description
NOW A NATIONAL BESTSELLER

The definitive guide to spreading ideas, building movements, and leaping ahead in our chaotic, connected age. Get the book New York Times columnist David Brooks calls "the best window I've seen into this new world."

Why do some leap ahead while others fall behind in our chaotic, connected age? In New Power, Jeremy Heimans and Henry Timms confront the biggest stories of our time--the rise of mega-platforms like Facebook and Uber; the out-of-nowhere victories of Obama and Trump; the unexpected emergence of movements like #MeToo--and reveal what's really behind them: the rise of "new power."
     For most of human history, the rules of power were clear: power was something to be seized and then jealously guarded. This "old power" was out of reach for the vast majority of people. But our ubiquitous connectivity makes possible a different kind of power. "New power" is made by many. It is open, participatory, and peer-driven. It works like a current, not a currency--and it is most forceful when it surges. The battle between old and new power is determining who governs us, how we work, and even how we think and feel.
     New Power shines fresh light on the cultural phenomena of our day, from #BlackLivesMatter to the Ice Bucket Challenge to Airbnb, uncovering the new power forces that made them huge. Drawing on examples from business, activism, and pop culture, as well as the study of organizations like Lego, NASA, Reddit, and TED, Heimans and Timms explain how to build new power and channel it successfully. They also explore the dark side of these forces: the way ISIS has co-opted new power to monstrous ends, and the rise of the alt-right's "intensity machine."
     In an era increasingly shaped by new power, this groundbreaking book offers us a new way to understand the world--and our role in it.
Praise For New Power: How Power Works in Our Hyperconnected World--and How to Make It Work for You…
"This book will inform and inspire all those wanting to make change . . . and achieve a goal against all odds." 
—Jane Goodall, founder of the Jane Goodall Institute and a UN Messenger of Peace

"The networked age has revolutionized the way the public engages with institutions and organizations. New Power is an essential and extremely insightful guide for anyone who wants to maximize the opportunities for progress and impact in today's new tightly connected world."
—Reid Hoffman, co-founder of LinkedIn and co-author of the #1 New York Times bestsellers The Alliance and The Startup of You

"If you want to understand how the world is changing, what's really happening and how we can all find our way, this book could not becoming at a better time." 
—Richard Branson

"A must-read, New Power is a gift to our movements. It's not just about going viral—it's about connecting millions of people to roll up our sleeves and create the changes we long for."
—Alicia Garza, co-founder of Black Lives Matter

"This fascinating book will transform your understanding of how to gain power—and how to use it for good."
—Adam Grant, New York Times bestselling author of Originals and Give and Take
 
"A vital book. New Power can light a flame bright enough to outshine the glinting fangs and tiki torches."
—Russell Brand
 
"If you do not understand new power, you will not fare well in the new networked world of the 21st century. It's that simple."
—Anne-Marie Slaughter, President and CEO of New America
 
"This is the cool, clear guide we all need to navigate the Trump era."
—Anthony Romero, executive director of the ACLU
 
"A wonderfully incisive contribution that not only explains how the dynamics of power are changing, but also provides the tools—and the confidence—to harness those changes to build businesses, spread ideas, and make a better world."
—Paul Polman, CEO of Unilever

"The nature and use of power is changing rapidly, distributing broadly in unexpected channels. New Power provides the practical tools to help us all understand this shift. But it also draws out the big battle of our times—whether all this new power will end up being used for good or bad."  
—Craig Newmark, founder of Craigslist
 
"Power is shifting as never before, so New Power is addressing a vital issue for our times: how to make the voices and choices of all, not just a few, count for something. Plaudits to Heimans and Timms for their determination to help shape the future, not just complain about it."  
—David Miliband, CEO of the International Rescue Committee
 
"New Power is a tour de force by two of the great mobilizers of the first global generation."
—Howard Dean, former Governor of Vermont and former Chair of the Democratic National Committee
 
"New Power is both a practical guide and a much needed dose of optimism, helping us understand that the future is ours for the making. A must-read for today's leaders in any field."
—Ai-jen Poo, executive director of the National Domestic Workers Alliance
Random House Large Print, 9780525595397, 560pp.
Publication Date: April 3, 2018
About the Author
JEREMY HEIMANS is a lifelong activist and the co-founder and CEO of Purpose, an organization that builds and supports social movements around the world.

HENRY TIMMS is president and CEO of the 92nd Street Y, a visiting fellow at Stanford, and co-founder of #GivingTuesday, an international day of philanthropy.
or
Not Currently Available for Direct Purchase