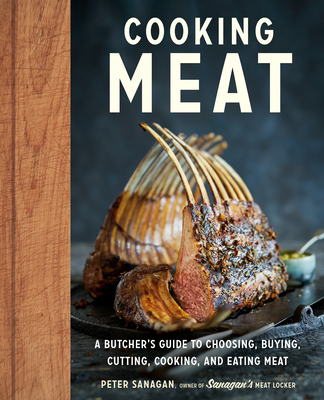 Cooking Meat
A Butcher's Guide to Choosing, Buying, Cutting, Cooking, and Eating Meat
Hardcover

* Individual store prices may vary.
Description
"Standing slow clap for this masterwork by Peter Sanagan. A better, more comprehensive book on meat and cooking has not been written. A stunning accomplishment." --Dave McMillan and Frederic Morin, Joe Beef

A cookbook to turn passionate meat lovers into confident meat cooks, with more than 120 deliciously meaty recipes from butcher and chef, Peter Sanagan.

COOKING MEAT is a meat-lover's guide to everything there is to know about meat, written by Peter Sanagan--chef by training, butcher by trade--who has cooked just about every cut of meat available. From information on sustainable, responsible farming to understanding the different cuts of meats for sale (and what their labels really mean), Cooking Meat is an insider's look at choosing, buying, prepping, cutting, and cooking meat.

Inside are more than 120 recipes, from childhood-inspired favorites, like Meatballs, Crispy Baked Chicken Wings, and Memphis-Style Barbecued Side Ribs, to classic comfort food, like Fried Chicken and Steak and Ale Pie, and from elevated cuisine like Duck Confit and international favorites like Lamb Biryani, to simple pared-back dishes like Roasted Fresh Ham. Also included are step-by-step basic butchery techniques, as well as detailed methods for meaty challenges like stuffing your own sausages, cooking a flawless steak, carving poultry, making bacon, and (the number one question a butcher is asked!) roasting the perfect chicken. With a master guide for every common cut of meat, along with the best cooking methods to pair with them (from roasting to braising to grilling to sous viding to pressure cooking), Peter gives you the tools to determine what type of meat you want to cook, and how to get the best results every time.

In Cooking Meat, you'll discover an invaluable reference, like a guided tour of the butcher's case, written with one goal: to turn meat lovers into meat cooks.
Praise For Cooking Meat: A Butcher's Guide to Choosing, Buying, Cutting, Cooking, and Eating Meat…
"Absolutely brimming with straight-from-the-butcher advice and crazy delicious recipes. If there's a better guide to buying and cooking meat, I've never seen it."
—Chris Nuttall-Smith, resident judge on Top Chef Canada, food writer, and restaurant critic

"In Cooking Meat, Peter Sanagan shares his passion for meat in all its forms. His broad experience as a chef, teacher, and butcher uniquely qualifies him to explain every step meat takes from the farm to our plate. This book is essential for all meat lovers, whether novice or experienced."
—Jennifer McLagan, author of Bones, Fat, Odd Bits, Bitter, and Blood

"I have trusted Peter Sanagan and his team since day one. The world needs to know about meat and Peter is our Shepherd."
— Matty Matheson, chef, and author of Matty Matheson: A Cookbook

"Peter Sanagan is my local butcher. He knows a lot about meat, from the challenges facing our farmers, to the art of butchery, to the ways we can work with different cuts in the kitchen and at the grill. He's a wonderfully clear and graceful writer, and a natural teacher. Now his deep understanding of meat is available to all. I'm already thinking of this book as Sanagan's Meat Bible."
—Naomi Duguid, author of Taste of Persia and Burma: Rivers of Flavor

"From the early days of Peter Sanagan's career I could see the passion he had for his craft. His expertise is immense, and sets him apart from the pack."
—Massimo Capra, chef, restaurateur, and co-author of 3 Chefs: the Kitchen Men

"One of the best cookbooks of the year." — Julian Armstrong

"Standing slow clap for this masterwork by Peter Sanagan. A better, more comprehensive book on meat and cooking has not been written. A stunning accomplishment."  — Dave McMillan and Frederic Morin, Joe Beef
Appetite by Random House, 9780525610342, 400pp.
Publication Date: October 20, 2020
About the Author
PETER SANAGAN is the owner and operator of Sanagan's Meat Locker, the acclaimed butcher shops in Toronto, Ontario, that specialize in high quality meats and poultry from small, local family farms. After years of working as a chef, he decided to open an establishment that could offer the same kind of exceptional produce he had been cooking with in restaurants. His shops provide excellent cuts of meat, artisanal grocery products, house­made charcuterie, and delicious prepared foods. Peter lives in Toronto with his wife, Alia, and son, Desmond.