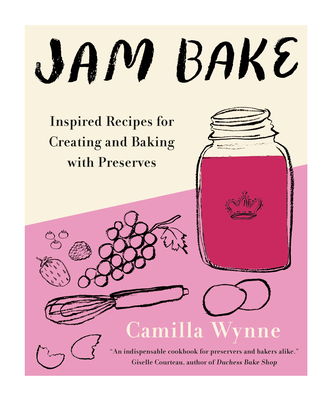 Jam Bake
Inspired Recipes for Creating and Baking with Preserves
Hardcover

* Individual store prices may vary.
Description
NAMED ONE OF THE BEST COOKBOOKS OF 2021 BY FOOD 52

A one-of-a-kind preserving and baking book packed full of delicious jams and the delectable dessert that best showcase them, from pastry chef and Master Preserver Camilla Wynne.

"What can I do with this jam besides put it on toast?" Master Preserver and pastry chef Camilla Wynne is constantly asked this question when teaching her popular preserving classes. Enter Jam Bake: a one-of-a-kind cookbook full of her jam, marmalade, fruit butter, and jelly concoctions, along with recipes for what to do with them beyond toast.

In Jam Bake, Camilla shares more than 80 incredible recipes for baking with the jams you make—from Empire Cookies to Rye and Coffee Hand Pies, or Angel Biscuit Donuts to Black Forest Torte. The jams themselves are lower sugar, without commercial pectin, and split into three distinctive categories:
• Standalones: preserves with single note flavors starring a specific fruit, such as Black Raspberry Jam
• Duets: pairings that shine together, like Prune & Meyer Lemon Butter
• Containing Multitudes: preserves full of all sort of fruits and more,
including Mulled Wine Marmalade

Don't feel like making the jam that pairs with the baking recipes? No problem! Camilla has recommended store-bought substitutes for each sweet treat in addition to providing a helpful guide to buying quality preserves.

Seasoned preservers will delight in Jam Bake's streamlined canning process and newcomers will be undaunted by Camilla's simple steps. Home bakers too will enjoy these modern recipes that range from quick and easy to flexing those creative muscles. And, of course, Jam Bake will be welcomed by those who love to simply spread flavorful jams on toast.
Praise For Jam Bake: Inspired Recipes for Creating and Baking with Preserves…
"Jam Bake is an indispensable cookbook for preservers and bakers alike. Camilla's love of teaching and charming personality jump out from the pages and her streamlined canning process changed the way I make preserves. She'll show you how to be your own jam and baking wizard!"
—GISELLE COURTEAU, author of The Duchess Bake Shop
 
"Let's be honest here. I mean, really I am kind of a compote guy. Get some fruit, throw it in the oven, dehydrate it until it's sticky, and use it up immediately. However! If I was to ever properly preserve some seasonal fruit, then 100 percent I would use this book. Because I would need a boatload of help and Camilla's book has a boatload of knowledge for a preservation clown like myself."
—BROOKS HEADLEY, owner/operator, Superiority Burger, and author of Brooks Headley's Fancy Desserts and Superiority Burger Cookbook

"When I first met Camilla Wynne in person, I knew her reputation as a brilliant teacher and maker of remarkable jams. What I didn't know, as she is not the sort to brag, was that she had been the hands making some of my favorite pastries for years in Montreal. It is with this combination—an artistry for preserves, marmalades and the like—alongside real-world experience that Jam Bake has turned out to be such a treasure. The recipes are bold, creative, and truly modern."
—TARA O'BRADY, food writer and author of Seven Spoons

"From Black Forest Puffs (Mallomars with cherry jam) to Millionaire Shortbread Bars with Marmalade to Chocolate Ice Cream with Damson Plum to Angel Biscuit Donuts with Strawberry Passionfruit – there is something for everyone – 30 preserving recipes in all and each with its own two bakes utilizing the preserves. Mix and match or follow Wynne's lead – you cannot go wrong."
—JESSIE SHEEHAN, cookbook author
 
"When I make jam, a spoonful will go on toast, but after that, I always rack my brain trying to think of ways to use it in baking. Thankfully Camilla has done all the hard work for me. Jam Bake inspires with original combinations of jam — coffee with dates and pears, figs with plums and purple grapes — and brilliant baked goods to make with them. It's an indispensable resource for anyone who loves making jam and baking in equal measure." 
—BEN MIMS, cooking columnist for The Los Angeles Times
 
"Everyone needs jam in their lives, and cake for that matter – Camilla Wynne's passion for both has come together here in a book that is as much fun as it is informative and instructive. I mean who wouldn't want to make and eat apricot and cocoa nib jam followed by jam swirled brownies? This is the stuff that dreams are made of."
—ANJA DUNK, co-author of Do Preserve and author of Strudel, Noodles & Dumplings
 
"My wonderful friend Camilla Wynne, the indefatigable chef, writer, and teacher, has blown my mind with this funny, sensual, and lively book. The recipes are clear and forthright; the treats are scrumptious and heavenly. As I am writing this, the nutty, irresistible scent of brown butter is flooding my senses — because as soon as I finished reading Jam Bake, I stood up, turned my oven on, and started making her pistachio blondies. Few books compel me like Jam Bake has. Thank you Camilla!"
—NATASHA PICKOWICZ, pastry chef and activist
 
"Confession: whenever I have the great fortune to enjoy Camilla's incredible preserves, I begin with the noblest intentions, slathering them on freshly-baked breads and fluffy biscuits, and rapidly devolve into late night tiptoes to the fridge, spoon in hand, until every last trace of seasonal perfection has been shoveled into my impatient mouth. Thank goodness, then, for this new triumph of a book, which provides not only recipes (and clearly-explained science and technique) for wildly creative jams, jellies, and more, but pairs them with a beautiful spectrum of cakes, pastries, cookies, and even ice cream! While jam-on-toast will forever be a classic for good reason, Camilla has given us all a much wider world in which to capture and celebrate the most beautiful bounty of each season."
—ALLISON KAVE, author of First Prize Pies and Butter & Scotch

"I love this book because you really can cook from it. And you can use it however you're most comfortable. She makes good on the promise of her premise, and that's what I look for in a cookbook, along with accessibility, where she's also obviously succeeded." —Charlotte Druckman for Food52
Appetite by Random House, 9780525611080, 256pp.
Publication Date: June 1, 2021
About the Author
Camilla Wynne is a writer, recipe developer, and cooking teacher based in Toronto. She is the author of Jam Bake and Preservation Society Home Preserves. A culinary professional for twenty years, she is a trained pastry chef and one of Canada's only Master Preservers.