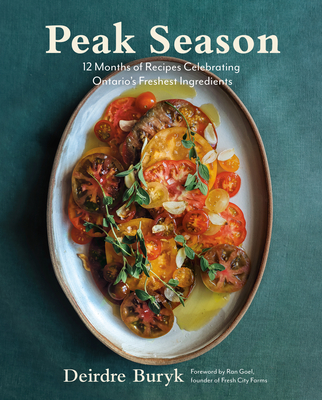 Peak Season
12 Months of Recipes Celebrating Ontario's Freshest Ingredients
Hardcover

* Individual store prices may vary.
Description
Packed with 101 enticing and accessible recipes, Peak Season showcases how to make the most of seasonal Ontario produce when it's freshest!

In Peak Season, Deirdre Buryk explores this simple idea and celebrates Ontario's seasonal bounty as she guides you through each month of the year. While cooking your way through this beautiful collec­tion of 101 recipes, you'll learn how to perfectly prepare fiddleheads in April, to then add to a Garlic Mushroom Fiddlehead Frittata; or peel what looks to be an intimidating, knobby celeriac on the coldest December evening, which will transform into a dish of Creamed Celeriac & Potatoes.

Deirdre gives you the chance to explore local ingredients with­out intimidation. After all, cooking with peak produce means sim­ple ingredients shine when effortlessly prepared. Dishes like Roasted Delicata Squash with Sage Salsa Verde and Strawberry Shortcake Scones taste better because they're made with the freshest fruits and vegetables. The simplest recipe cooked with peak produce—think roasted radishes or garlic scape pesto—will excite your taste buds, turning something basic into something remarkable.

Peak Season upholds the importance of cooking with ethically raised meat, poultry, fish, and eggs with dishes like Apricot BBQ Sticky Ribs, Baking-Sheet Coq au Vin, and Crispy Salmon on Cantaloupe Ribbons & Salty Potato Crisps. Filled with stunning photography and charming illustrations, this book will inspire you to cook with fresh ingredients available right outside your door and leave you feeling confident that it will all work out deliciously.
Praise For Peak Season: 12 Months of Recipes Celebrating Ontario's Freshest Ingredients…
PRAISE FOR PEAK SEASON

"There is a reason why chefs love to cook vegetables—because of the endless possibilities. Deirdre is an amazing culinary architect and tour guide of the seasons showcasing the very best that Ontario harvests have to offer. Peak Season will shift the way you think about good eating and delicious cooking in the most inspiring and informative way."
—LYNN CRAWFORD, chef and bestselling author of Farm to Chef

"Deirdre Buryk has written a beautiful love story about true Ontario ingredients from soil to plate. This book will find a welcome place in the home of any cook feeding friends and family, from one season to the next."
—CARL HEINRICH, chef and co-owner of Richmond Station

"Peak Season will inspire you to eat well, celebrate Ontario's agricultural abundance, and intimately connect with nature and our growing seasons. With Deirdre as your guide, visit your local farmers' market and start cooking with fresh ingredients!"
—BRIANA KIM, chef and owner of Alice restaurant

"With Deirdre's wonderful book we now have all the intel we need to deliciously cook along with the calendar, including seasonal grains, fruits, and vegetables. Within these pages, you'll learn there's more to eat from your own Ontario backyard than you ever imagined."
—AMY ROSEN, journalist and cookbook author

"I fell down the seasonal food rabbit hole and found it filled with farmers, foragers, and crazed cooks. Now, we also have Deirdre Buryk, a guide and fabulous documenter of gorgeous ingredients and recipes drawn from our plush multicultural landscape. Peak Season is a loving guide to Ontario's bounty, filled with dishes that have me hungry and struggling to decide: outside for ingredients or into the kitchen?"
—BRAD LONG, chef and owner of Cafe Belong
Appetite by Random House, 9780525611691, 288pp.
Publication Date: May 17, 2022
About the Author
DEIRDRE BURYK is a recipe and content developer who writes, styles, photographs, and films for various organizations, including Fresh City Farms, The Healthy Butcher, and The Leslieville Farmers' Market. Her background is in clinical nutrition and she takes most of her inspiration from nature and Ontario's seasons. She has been selected by Fjällräven North America to be Toronto's local guide in sustainability and leads their major events surrounding food accessibility and healthy eating. Deirdre lives in Toronto.

Find Deirdre on Instagram @deeburyk