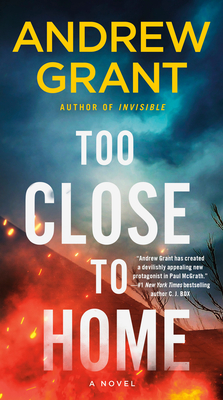 Too Close to Home
A Novel (Paul McGrath #2)
Paperback

* Individual store prices may vary.
Description
His cover: courthouse janitor. His cause: justice. But when Paul McGrath uncovers a shocking connection to a file of missing evidence, he finds the truth sometimes hits a little too close to home.
 
An intelligence agent-turned-courthouse janitor, Paul McGrath notices everything and everyone—but no one notices him. It's the perfect cover for the justice he seeks for both his father and the people who've been wronged by a corrupt system. Now he's discovered a missing file on Alex Pardew—the man who defrauded and likely murdered McGrath's father but avoided conviction, thanks in large part to the loss of this very file. And what lies behind its disappearance is even worse than McGrath had feared. 
 
Meanwhile, at the courthouse, he stumbles on the case of Len Hendrie, a small businessman who's been accused of torching a venture capitalist's mansion. Though Hendrie admits starting the fire, McGrath learns how the VC has preyed on average Joes to benefit himself—and his extensive wine collection. McGrath can't resist looking deeper into this financial predator and soon finds himself in a gray area between his avenging moral compass and the limits of the law. 
 
Then, just as the Hendrie case is heating up, McGrath receives word of the death of his father's former housekeeper, sending him back to his family home to confront unfinished business from his past. And he's about to find some unwelcome truths about the mother he lost as a child—and the father who hid even more secrets than he realized.
Praise For Too Close to Home: A Novel (Paul McGrath #2)…
Praise for Andrew Grant's Invisible
 
"Crisp pacing, complex plotting, and a sympathetic good guy all make for a most satisfying read. Grant has several great series going, and the janitor-in-the-courthouse theme is fodder for another."—Kirkus Reviews

"This is Grant's ninth thriller, and it's a very good one, suspense tempered throughout with moral dilemmas…. An intelligent, exciting novel."—Booklist

 
"[A] superior thriller . . . Grant capably combines a riveting plot and depth of character. His best outing to date, this standalone marks Grant as a rising genre star."—Publishers Weekly (starred review)

"Engrossing . . . The fast-moving plot includes a neat twist. With any luck, Grant's righteous hero will have a long career cleaning up corruption and meting out his own brand of justice."—Publishers Weekly

"Propulsive and engaging from the very first page."—C. J. Box, #1 New York Times bestselling author of the Joe Pickett series

"Paul McGrath is not just a janitor—he's a terrific new hero in what promises to be a fantastic and original series by Grant. Paul may be invisible, but his results are not, in this intense mystery thriller that will leave you wanting more. In a word? Awesome."—Allison Brennan, New York Times bestselling author of Too Far Gone
 
"Invisible is the perfect thriller for these perilous and imperfect times. Buy it. Read it. You won't regret it and you won't forget it."—Lorenzo Carcaterra, #1 New York Times bestselling author of Sleepers and The Wolf
 
"The masterful Andrew Grant outdoes himself with this deliciously twisty, magnetic thriller."—Sara Blaedel, #1 internationally bestselling author of The Forgotten Girls
Ballantine Books, 9780525619642, 384pp.
Publication Date: August 25, 2020
About the Author
Andrew Grant is the author of RUN, False Positive, False Friend, False Witness, and Invisible. He was born in Birmingham, England, and attended the University of Sheffield, where he studied English literature and drama. He ran a small independent theater company, and subsequently worked in the telecommunications industry for fifteen years. Grant and his wife, the novelist Tasha Alexander, live on a wildlife preserve in Wyoming.
or
Not Currently Available for Direct Purchase