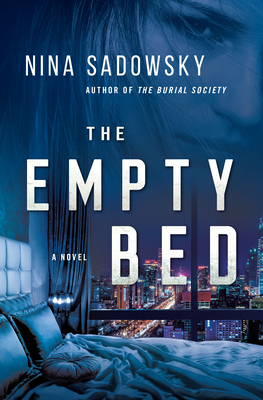 The Empty Bed
A Novel (The Burial Society Series)
Hardcover

* Individual store prices may vary.
Other Editions of This Title:
Digital Audiobook (1/27/2020)
Description
Catherine excels at helping desperate people disappear. But now she must use her unique skill set to find a missing woman in this electrifying novel from the author of The Burial Society.

Eva Lombard is being followed. Or so she suspects. . . .

Eva and her husband, Peter, are in Hong Kong on a romantic getaway from London when Peter wakes up in their hotel room to an empty bed, his wife gone without a trace. His worst fears are confirmed: Eva wasn't imagining things. Suddenly, he finds himself the number one suspect in his wife's disappearance, trapped in a foreign country with no one to turn to. He calls his boss, Forrest "Holly" Holcomb, who enlists the help of Catherine, his ex-flame and the enigmatic operator behind the darknet witness-protection program known as the Burial Society.

As a favor to Holly, Catherine sends her team of highly trained Society members on a dangerous chase through Hong Kong to find Eva—while Catherine takes care of pressing business at home. Not only is she tasked with a mission in Mexico City, protecting a family that knows too much from a vengeful pharmaceutical company, but an FBI agent tracking down the missing wife and child of a charismatic businessman is about to come dangerously close to exposing the Society's secrets.

In these intertwining story lines that converge in unexpected ways, not everyone is who they appear to be—and not everyone who is lost wants to be found.
Praise For The Empty Bed: A Novel (The Burial Society Series)…
"There's a definite cinematic vibe to [Nina] Sadowsky's novel, especially as the characters rush around Hong Kong in Jason Bourne–type chase scenes. Catherine and her mysterious network are impressively connected and intriguingly motivated, and the woman herself is a fascinating study of power, empathy, and efficiency. . . . Surrender to the action and intrigue . . . and enjoy this whirlwind adventure in Hong Kong."—Kirkus Reviews
 
"Entertaining."—Publishers Weekly
 
"A sly, wry look at privilege and the price it can exact . . . a globe-trotting, jet-setting quest to avenge some of society's most pressing ills . . . Nina Sadowsky thrills again with her filmic vision of a troupe of unlikely superheroes."—Jenny Milchman, USA Today bestselling author of Cover of Snow and Wicked River
 
"Who better to find a missing woman than an expert in making people disappear? This unputdownable novel has flawless prose, a compelling premise, and textured settings that become characters in their own right. There is no more sleep once you crawl into The Empty Bed."—K. J. Howe, internationally bestselling author of Skyjack
 
"Nina Sadowsky weaves another thrilling chapter of the Burial Society series, mixing classic Hitchcock conspiracy with the sexual tension of a modern noir. Sadowsky's characters exude a razor-sharp wit that yanks you along on an adventure that keeps you guessing until the glorious conclusion."—Ted Sullivan, producer and writer of Riverdale
Ballantine Books, 9780525619871, 320pp.
Publication Date: January 28, 2020
About the Author
Nina Sadowsky has written numerous original screenplays and adaptations for such companies as The Walt Disney Company, Working Title Films, and Lifetime Television. She was the executive producer of The Wedding Planner, has produced many other films, and was president of Meg Ryan's Prufrock Pictures. Sadowsky is the program director for NYU Los Angeles, a Global Programs initiative that provides an experiential learning environment for students preparing for careers in the entertainment and media industries. This is her third novel, following Just Fall and The Burial Society. She is at work on her next novel.