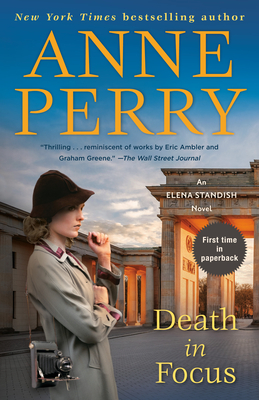 Death in Focus
An Elena Standish Novel
Paperback

* Individual store prices may vary.
Other Editions of This Title:
Library Binding, Large Print (10/23/2019)
Hardcover (9/17/2019)
Description
In the start of an all-new mystery series set in pre–World War II Europe, an intrepid young photographer carries her dead lover's final, world-shattering message into the heart of Berlin as Hitler ascends to power.

"Thrilling . . . reminiscent of works by Eric Ambler and Graham Greene."—The Wall Street Journal

On vacation from London on the beautiful Italian coast, twenty-eight-year-old Elena Standish and her older sister, Margot, have finally been able to move on from the lasting trauma of the Great War, in which the newly married Margot lost her husband and the sisters their beloved brother. Touring with her camera in hand, Elena has found new inspiration in the striking Italian landscape, and she's met an equally striking man named Ian. When Ian has to leave unexpectedly, Elena—usually the more practical of the sisters—finds she's not ready to part from him, and the two share a spontaneous train trip home to England. But a shocking sequence of events disrupts their itinerary, forcing Elena to personally deliver a message to Berlin on Ian's behalf, one that could change the fate of Europe.

Back home, Elena's diplomat father and her secretive grandfather—once head of MI6, unbeknownst to his family—are involved in their own international machinations. Worried when Elena still hasn't returned from Italy, her grandfather starts to connect the dots between her change in plans and an incident in Berlin, where Adolf Hitler and the Third Reich are on the rise. It seems the message Elena delivered has forced her into a dangerous predicament, and her grandfather's old contacts from MI6 may be the only people who can get her out alive—if Elena can tell the difference between her allies and her enemies.

New York Times bestselling author Anne Perry merges family secrets with suspense on the world stage, as darkness bubbles under the surface of a Europe on the brink of change. In these complicated times, Elena emerges as a strong new heroine who learns quickly that when nothing is certain, she can rely only on herself.

Praise for Death in Focus
 
"Masterful! It's exceedingly rare for an author to have the talent to blend classic elements of a thriller with compelling family dynamics and geopolitical intrigue, but Anne Perry pulls it off like the consummate pro that she is. And, on top of all that, Death in Focus is written in her unique literary voice. I guarantee you'll love Elena Standish. Brava!" —Jeffery Deaver, author of The Never Game

Praise For Death in Focus: An Elena Standish Novel…
"Readers who love historical mysteries know that some of the most dramatic stories are set in the interim between the two world wars. . . . Anne Perry stakes a strong claim to that unstable terrain in Death in Focus."—The New York Times Book Review

"Perry is a master of the British historical novel, this time leaving the Victorian era behind and delving into a new, but volatile century. . . . Elena Standish . . . promises to be a heroine of the first order."—New York Journal of Books

"This tale of love, danger, betrayal and murder keeps you turning pages to the last astonishing paragraph. Elena Standish is intriguing—in a world fast turning upside down, she is resourceful, brave, and achingly real as she encounters a Germany marching toward world war. Death in Focus is the debut of another great Perry series. Her best yet? You decide!" —Charles Todd, author of The Black Ascot

"[Anne Perry] has found the perfect time period to showcase a family's impassioned defense of democracy and social justice in the face of rising totalitarianism. . . . Obvious comparisons to Charles Todd's Bess Crawford and Jacqueline Winspear's Maisie Dobbs are warranted, but this novel also hearkens back to Helen MacInnes's classic spy thrillers and Mary Stewart's romantic suspense novels. At turns heartbreaking and action-packed, this gripping and superbly written story proves Perry still has what it takes."—Library Journal (starred review)

"Readers will root for the forceful, independent Elena, who will appeal to Maisie Dobbs fans. Perry knows how to ratchet up the international intrigue. . . . [A] promising series launch."—Publishers Weekly
 
"Elena's many narrow escapes and Perry's immersive re-creation of Nazi-era Europe will keep readers enthralled by this series debut. The numerous characters working behind the scenes both for and against Elena—her beloved grandfather, for example, who is the former head of MI6—are well drawn, but it is the smart, gritty heroine herself who will ensure that readers eagerly anticipate the next in the series."—Booklist

"Death in Focus, the start of a new series, is reminiscent of works by Eric Ambler and Graham Greene. Cameo appearances by historical figures including Winston Churchill and Joseph Goebbels enhance this thrilling work whose heroine proves fully up to . . . hair-raising challenges. . . . Perry conjures the mixed emotions and misplaced optimism of a period when many Establishment figures were desperate to avoid another world war."—The Wall Street Journal
Ballantine Books, 9780525621003, 336pp.
Publication Date: September 8, 2020
About the Author
Anne Perry is the New York Times bestselling author of two acclaimed series set in Victorian England: the William Monk novels, including Dark Tide Rising and An Echo of Murder, and the Charlotte and Thomas Pitt novels, including Murder on the Serpentine and Treachery at Lancaster Gate. She is also the author of a new series featuring Thomas and Charlotte Pitt's son, Daniel, including Twenty-one Days and Triple Jeopardy; as well as five World War I novels; sixteen holiday novels, most recently A Christmas Gathering; and a historical novel, The Sheen on the Silk, set in the Ottoman Empire. Anne Perry lives in Los Angeles.