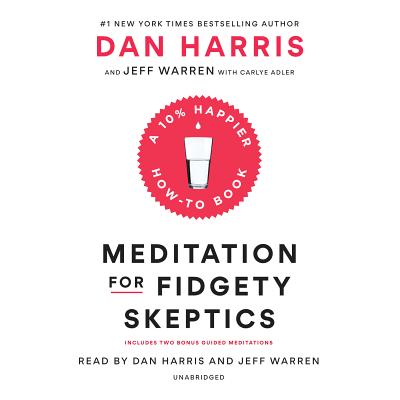 Meditation for Fidgety Skeptics
A 10% Happier How-to Book
CD-Audio

* Individual store prices may vary.
Other Editions of This Title:
Digital Audiobook (12/25/2017)
Paperback (12/31/2018)
Hardcover (12/26/2017)
Description
This book will get you to meditate. Minus the pan flutes. 
 
ABC News anchor Dan Harris used to think that meditation was for people who collect crystals, play Ultimate Frisbee, and use the word "namaste" without irony. After he had a panic attack on live television, he went on a strange and circuitous journey that ultimately led him to embrace a practice he'd long considered ridiculous. Harris discovered that meditation made him more focused and less yanked around by his emotions. According to his wife, it also made him significantly less annoying. He wrote about his experiences in the bracingly candid and extremely funny memoir 10% Happier, which became a #1 New York Times bestseller and landed Harris in the entirely unexpected position of being one of meditation's most vocal public proponents.
           
Here's what he's fixated on now: Science suggests that meditation can lower blood pressure, mitigate depression and anxiety, and literally rewire key parts of the brain, among numerous other benefits. And yet there are millions of people who want to meditate but aren't actually practicing. What's holding them back?
 
In Meditation for Fidgety Skeptics, Harris and his friend Jeff Warren, a masterful teacher and "Meditation MacGyver," embark on a cross-country quest to tackle the myths, misconceptions, and self-deceptions that stop people from meditating. They rent a rock-star tour bus (whose previous occupants were Parliament Funkadelic) and travel across eighteen states, talking to scores of would-be meditators—including parents, military cadets, police officers, and even a few celebrities. They create a taxonomy of the most common issues ("I suck at this," "I don't have the time," etc.) and offer up science-based life hacks to help people overcome them.
           
The book is filled with game-changing and deeply practical meditation instructions. You'll also get access to the 10% Happier app, where you can listen for free to guided audio versions of all the meditations in the book. Amid it all unspools the strange and hilarious story of what happens when a congenitally sarcastic, type-A journalist and a groovy Canadian mystic embark on an epic road trip into America's neurotic underbelly, as well as their own.

Includes two bonus guided meditations.
Praise For Meditation for Fidgety Skeptics: A 10% Happier How-to Book…
"If you're intrigued by meditation but don't know how to begin—or you've benefited from meditation in the past but need help to get started again, Dan Harris has written the book for you. Well researched, practical, and crammed with expert advice, it's also an irreverent, hilarious page-turner."—Gretchen Rubin, author of The Happiness Project
 
"The ABC News anchor, a 'defender of worrying' who once had an anxiety attack on air, offers a hilarious and stirring account of his two-steps-forward-one-step-back campaign to sort 'useless rumination' from 'constructive anguish' via mindfulness, along with invaluable suggestions for following in his footsteps."—O: The Oprah Magazine
 
"If your mind has a mind of its own, this is the book for you! With humor, generosity, and devastating candor, Dan Harris makes meditation make sense. This is news we can all use."—Mark Epstein, MD, author of Advice Not Given: A Guide to Getting Over Yourself and Going to Pieces Without Falling Apart
 
"A gold mine of wise guidance for fidgety skeptics and experienced meditators alike . . .With Dan's humorous, self-revelatory style and incisive questioning and Jeff's down-to-earth, transforming wisdom, this book addresses the common obstacles people face as they begin and deepen their meditation practice. . . . Highly recommended."—Joseph Goldstein, author of Mindfulness: A Practical Guide to Awakening
 
"Part romp, part travelogue, part meditation manual, Meditation for Fidgety Skeptics takes us along for the journey as Dan Harris and meditation teacher Jeff Warren traverse the country. We discover meditating police officers, moms, media figures, and the meditator on the street (literally, as they open a pop-up meditation booth). Dan discovers some things about himself as well. This book is fun, instructive, timely, and immensely helpful."—Sharon Salzberg, author of Real Happiness and Real Love
Random House Audio, 9780525631019
Publication Date: December 26, 2017
About the Author
Dan Harris is the co-anchor of ABC's Nightline and the weekend editions of Good Morning America. He wrote 10% Happier, a #1 New York Times bestseller, then launched the 10% Happier podcast and an app called 10% Happier: Meditation for Fidgety Skeptics. He lives in New York City.
 
Jeff Warren is a writer, a meditation instructor, and the founder of the Consciousness Explorers Club, a meditation adventure group in Toronto.
 
Carlye Adler is a journalist and co-author of many books, including three New York Times bestsellers.
or
Not Currently Available for Direct Purchase