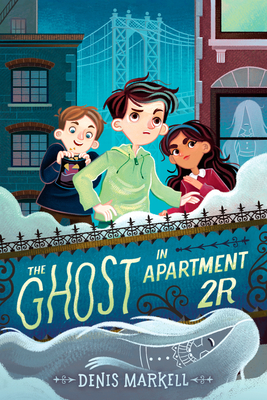 The Ghost in Apartment 2R (Hardcover)
Delacorte Books for Young Readers, 9780525645719, 320pp.
Publication Date: November 12, 2019
Other Editions of This Title:
Library Binding (11/12/2019)
* Individual store prices may vary.
Description
What if there was a ghost in your brother's room?

This kid-friendly mystery about three friends who try to help a restless spirit find peace is perfect for fans of Under the Egg and The Book Scavenger.

It stinks that Danny's older brother moved out and went to college. But you know what's worse? He left behind an angry ghost in his room!

With the help of his friends Nat and Gus, Danny interviews everyone his Brooklyn neighborhood to find out about spirits. Is it an Arabian ghoul? A Korean gwishin? A Polish haunting? Maybe the answer lies with Danny's own bubbe and her tales of a dybbuk, a Jewish mythological ghost. Regardless of its origins, what does the spirit truly want? And can Danny manage to bring the phantom to rest?

"Gently scary with plenty of fun . . . absolutely delightful." --Kirkus Reviews

"As addictive as your favorite video game. I couldn't put it down." --ADAM GIDWITZ, New York Times bestselling author of A Tale Dark and Grimm on Click Here to Start

"This is one adventure no gamer should miss!" --GORDON KORMAN, New York Times bestselling author of Restart on Game Masters of Garden Place
About the Author
Denis Markell has written all sorts of things, from sitcoms to off-Broadway musicals, but nothing has given him as much enjoyment or satisfaction as writing novels for kids--the puzzle-packed mystery Click Here to Start and the Dungeons & Dragons-inspired adventure The Game Masters of Garden Place. He lives in Brooklyn with his wife, illustrator Melissa Iwai, and his son, Jamie. Although their apartment is not haunted, they suspect their Shiba Inu puppy, Nikki, might be demonically possessed. You can find Denis on Twitter at @DenisMarkell, and yes, he'd be happy to do a Skype author visit for your kid's class.
Praise For The Ghost in Apartment 2R…
"[Danny] intersperses the narration with admiring, insightful descriptions of his robustly diverse Brooklyn community, amusing translations of his Bubbe's Yiddish expressions, and hilarious chapter headings. . . . Gently scary with plenty of fun and a sweet conclusion, and its protagonist is absolutely delightful." --Kirkus Reviews

"[An] affectionate tribute to a richly diverse, close-knit Brooklyn neighborhood and its multigenerational residents." —Publishers Weekly

PRAISE FOR CLICK HERE TO START

A School Library Guild selection 
An Amazon Best Books of the Month Selection

"As addictive as your favorite video game. I couldn't put it down." —Adam Gidwitz, New York Times bestselling author of A Tale Dark and Grimm

"In this clever debut, Markell takes readers on a clue-filled adventure...[and] maintains an energetic, entertaining balance of character-driven narrative and tricky challenges." —Publishers Weekly

"Highly entertaining...a well-paced read with fully realized and likable characters...[and] should have strong appeal to gamers, fans of video game-based stories, and reluctant readers." —SLJ

"This book will appeal to a wide audience. Readers who enjoyed Schreiber's Game Over, Pete Watson will enjoy the video game component; fans of Fitzgerald's Under the Egg will enjoy reading more about the Monuments Men; detective story aficionados will revel in the inclusion of The Maltese Falcon story. This is a great book to hand to just about any middle grade reader." —YA Books Central 

PRAISE FOR THE GAME MASTERS OF GARDEN PLACE

"This is one adventure no gamer should miss!" —Gordon Korman, NYT bestselling author of Restart

"So inventive, and so much fun!" —Wendy Mass, NYT bestselling author of the Candymakers series

"A love letter to a legendary game." —Michael Northrop, NYT bestselling author of TombQuest

"An epic adventure...for young fans of Stranger Things." —SLJ

"An exciting new adventure exploring friendship...[with] often humorous commentary on social issues. —Booklist

"Both funny and heartfelt...[it's] a story that has as much to offer diehard fans as it does newcomers to fantasy role-playing." —The Bulletin