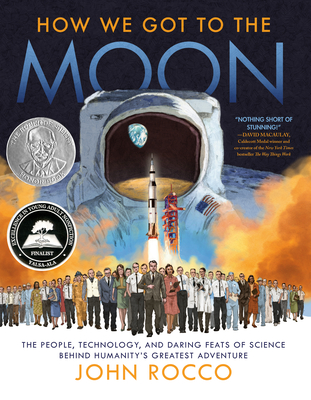 How We Got to the Moon
The People, Technology, and Daring Feats of Science Behind Humanity's Greatest Adventure
Hardcover

* Individual store prices may vary.
Other Editions of This Title:
Library Binding (10/6/2020)
Description
LONGLISTED FOR THE NATIONAL BOOK AWARD • YALSA EXCELLENCE IN NONFICTION FINALIST • A ROBERT F. SIBERT HONOR BOOK

This beautifully illustrated, oversized guide to the people and technology of the moon landing by award-winning author/illustrator John Rocco (illustrator of the Percy Jackson series) is a must-have for space fans, classrooms, and tech geeks.

Everyone knows of Neil Armstrong's famous first steps on the moon. But what did it really take to get us there?

The Moon landing is one of the most ambitious, thrilling, and dangerous ventures in human history. This exquisitely researched and illustrated book tells the stories of the 400,000 unsung heroes--the engineers, mathematicians, seamstresses, welders, and factory workers--and their innovations and life-changing technological leaps forward that allowed NASA to achieve this unparalleled accomplishment.

From the shocking launch of the Russian satellite Sputnik to the triumphant splashdown of Apollo 11, Caldecott Honor winner John Rocco answers every possible question about this world-altering mission. Each challenging step in the space race is revealed, examined, and displayed through stunning diagrams, experiments, moments of crisis, and unforgettable human stories.

Explorers of all ages will want to pore over every page in this comprehensive chronicle detailing the grandest human adventure of all time!
Praise For How We Got to the Moon: The People, Technology, and Daring Feats of Science Behind Humanity's Greatest Adventure…
"How We Got to the Moon is a story for the ages--all ages." —TOM HANKS

"As an astronaut during the Space Shuttle and International Space Station eras, I stood on the shoulders of these innovating pioneers. This fascinating book illuminates the hard work and risks taken in service of one of the crowning achievements of our history in space." —SCOTT KELLY, former NASA astronaut and commander of the International Space Station

"This spectacular book is going to inspire future generations of problem solvers and dreamers, whether it is to venture back into space or to look more closely at the seemingly overwhelming challenges we confront right here on Earth. Nothing short of stunning!" —DAVID MACAULAY, Caldecott Medal winner and co-creator of the New York Times bestseller The Way Things Work

"The extraordinary passion, ingenuity, and persistence of the 400,000 people who turned an 'impossible' dream into reality leap off every page of John Rocco's beautifully illustrated, thoroughly researched, and lucidly written book." —ANDREW CHAIKIN, author of A Man on the Moon: The Voyages of the Apollo Astronauts

"How We Got to The Moon is for everyone, the thousands on the firing line, those who developed the tools and the dreamers who wrote the books on how it could be done. It captures the time and the people not just for my generation but for all generations to come." —GENE KRANZ, retired NASA Flight Director of Apollo 11

"Rocco delivers a strikingly beautiful and highly informative account of the United States's audacious effort to send human beings to the moon." —The Horn Book, starred review

"This paean to ingenuity and collaboration, which also functions as a rocket science primer, is nothing short of stellar." —Publishers Weekly, starred review

"A soaring tribute." —Kirkus Reviews, starred review

"A triumphant undertaking that places readers in the historic moment." —Booklist, starred review

"A gorgeously illustrated nonfiction book about the Apollo program and the space race." —School Library Journal

"[Rocco] focuses on heroes from a diferent realm...[and] make[s] clear the risks and dangers of the project." —The Washington Post
Crown Books for Young Readers, 9780525647416, 264pp.
Publication Date: October 6, 2020
About the Author
John Rocco is a #1 New York Times bestselling author and illustrator of many acclaimed books for children, including Blackout, recipient of the Caldecott Honor. Rocco has illustrated the covers for Rick Riordan's internationally bestselling series Percy Jackson and the Olympians, Magnus Chase and the Gods of Asgard, and The Trials of Apollo. He also created the illustrations for the #1 New York Times bestsellers Percy Jackson's Greek Gods and Percy Jackson's Greek Heroes. Before making children's books, Rocco spent many years as creative director for Walt Disney Imagineering. If he couldn't make books, he would like to work as an engineer for NASA. He hopes this book will serve as his application. Rocco lives in Rhode Island with his wife, daughter, and several demanding animals. To find out more, visit roccoart.com, or follow him on Twitter at @johnroccoart and on Instagram at @johnrocco.