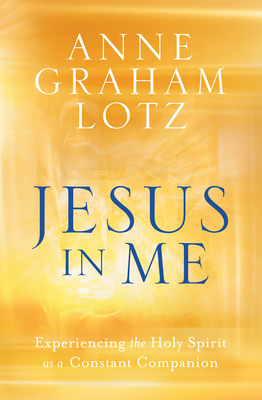 Jesus in Me
Experiencing the Holy Spirit as a Constant Companion
Hardcover

* Individual store prices may vary.
Other Editions of This Title:
Digital Audiobook (9/30/2019)
Paperback (10/6/2020)
Description
USA TODAY, PUBLISHERS WEEKLY AND ECPA BESTSELLER • The internationally recognized Bible teacher and daughter of Billy Graham combines unique biblical insights and her own personal stories to show how the Holy Spirit guides us in our decisions, comforts us in pain, and stays by our side at all times, enriching our daily lives.
 
In Jesus in Me, Anne Graham Lotz draws on her rich biblical knowledge as well as her personal journey—including her recent cancer diagnosis—to help us understand that the Holy Spirit is not a magic genie, a flame of fire, or a vague feeling. He is a Person who prays for us, guides us in our relationships and decisions, comforts us in pain, and stays by our side at all times. In this seminal teaching, she explores seven key aspects of the Holy Spirit that will revolutionize how you understand and relate to this vital third Person in the Trinity.
 
As Anne writes, "One of my deepest, richest joys has been discovering by experience who the Holy Spirit is in every step of my life's journey. Each name that He has been given—Helper, Comforter, Advocate, Intercessor, Counselor, Strengthener, and Standby—reveals another aspect of His beautiful character and has provoked in me a deep love for the One who is my constant Companion . . . Jesus in me."
 
Discover how to better love and rely on the person of the Holy Spirit—and embrace how much He loves you through His presence, power, and provision in our daily lives.

Praise for Jesus in Me

"With plentiful biblical references, Lotz encourages those who already rely on Jesus to step into a purpose-filled life led by the Holy's Spirit's guidance. Christians who desire to live a life of greater purpose to glorify God will be awed by Lotz's impassioned exploration of the role of the Holy Spirit in her life."—Publishers Weekly
Praise For Jesus in Me: Experiencing the Holy Spirit as a Constant Companion…
"Fifteen years ago, I sat in an arena with thousands of other women as Anne Graham Lotz expounded on the person and power of the Holy Spirit. Every word was like a lit match catching fire in my soul. Since then, I've gotten an up-close, personal look at Anne's relationship with the Spirit of God. She walks with Him, listens to Him, and rests on His power to fulfill the Father's purposes for her. The truths that she has taught me—and that she now shares with you in this book—have come not just from deep study but also from the personal experience of a woman who has learned the rhythms of grace through a lifetime of faithfulness."—Priscilla Shirer, Bible teacher and author

"This book is a genuine treasury of wisdom that can be attained only through a life of walking with God and being led by His Holy Spirit. I am thrilled Anne Graham Lotz has walked this walk so that she can talk this talk for our benefit! This is about the only way to fully live the life for which we were each created. Read it and rejoice!"—Eric Metaxas, #1 New York Times best-selling author of Bonhoeffer and Miracles

"One of the things I've always appreciated about Anne Graham Lotz is her passionate desire to pursue God and know Him intimately. In this recent season of suffering, Anne has learned some profound lessons and experienced the Holy Spirit as her constant companion, comforter, and friend. The result is her new book, Jesus in Me. I highly recommend it."—Greg Laurie, senior pastor of Harvest Christian Fellowship

"Most of us would give anything to be literally led through the day by the tender, firm hand of our Savior. How we'd love to hear His voice telling us clearly which way to turn and when to stop. And, oh, if we could only feel the nearness and sweetness of His presence! The good news is we can! In her new and most remarkable book, Anne Graham Lotz succinctly explains how the Spirit who resides within us is the Spirit of Jesus Himself. Hence the title Jesus in Me. My friend details not only how to lean on the Spirit of Jesus but also how to recognize His voice, perceive His touch, sense His nearness, and respond to His instruction. I heartily recommend this excellent book to anyone who desires a closer communion with Christ!"—Joni Eareckson Tada, founder of Joni and Friends International Disability Center

"I just finished spending the day reading Anne's wonder-filled book Jesus in Me. It is truly a spiritual thriller—for isn't that what it is like when a child of God discovers he or she not only is indwelt by God's Spirit but also can be divinely led and empowered by His Spirit in every circumstance of life? The theology is clear in these pages, and you'll find story after story of what this Spirit-directed walk looks like in the varied trials, twists, and turns of life."—Kay Arthur, author, Bible teacher, and cofounder of Precept Ministries International

"It is one thing to read a book about the Holy Spirit, but it is another thing altogether to read a book by an author who is experiencing the ongoing presence and power of the Holy Spirit. Jesus in Me is a living testimony that will teach you, encourage you, and inspire you to be like Christ. Regardless of where you are in your life today, God will use these transforming words to meet you at the point of your greatest need. He is with you always, even until the end of the earth."—Dr. Ronnie Floyd, senior pastor of Cross Church and president of the National Day of Prayer

"Jesus in Me is a simple yet powerful book about the truth of who the Holy Spirit is and the importance of how He works in our lives. Within every page you will discover what it means to have Jesus fully alive inside you! This book is a much-needed read for the body of Christ today."—Darryl Strawberry, evangelist and former major league baseball player

"Anne Graham Lotz stands as one of the most anointed and gifted voices in modern-day Christianity. In her new book, Jesus in Me, Anne equips us with a biblically substantiated framework for a life driven, convicted, and comforted by God's precious Holy Spirit. This book will not just inspire you; it will empower you!"—Samuel Rodriguez, lead pastor of New Season, president of the National Hispanic Christian Leadership Conference, author ofYou Are Next, and executive producer of the movie Breakthrough
Multnomah, 9780525651048, 304pp.
Publication Date: October 1, 2019
About the Author
Anne Graham Lotz, called "the best preacher in the family" by her father, Billy Graham, is an international speaker and the best-selling, award-winning author of numerous books, including Just Give Me Jesus. The New York Times named Anne one of the five most influential evangelists of her generation. She's been profiled on 60 Minutes and has appeared on programs such as Larry King Live, Today, and The Sean Hannity Show. Anne is the president of AnGeL Ministries in Raleigh, North Carolina, and the former chairperson for the National Day of Prayer.