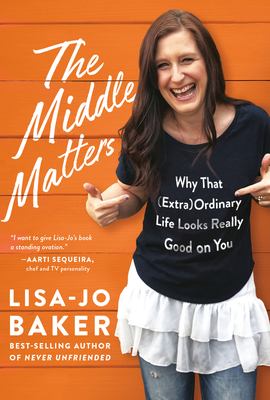 The Middle Matters
Why That (Extra)Ordinary Life Looks Really Good on You
Hardcover

* Individual store prices may vary.
Other Editions of This Title:
Digital Audiobook (7/22/2019)
Description
The best-selling author of Never Unfriended opens up about midlife and what it feels like to have outgrown those teenage jeans—but finally grown into the shape of our souls.
 
"I want to give Lisa-Jo's book a standing ovation."—Aarti Sequeira, chef and TV personality
 
Do you ever wonder how you woke up one day with all the responsibilities of a grown-up who secretly enjoys buying groceries in bulk, can no longer recognize the tween celebrities on the magazines at checkout, but is still surprised when a Starbucks barista calls you "ma'am"—because your inside self is frozen in time to about twenty years ago?
 
So does Lisa-Jo Baker.
 
In these intimate reflections on midlife, Lisa-Jo invites us to get a good look at our middles and gives us permission to embrace them—beyond what the media, the mirror, or the magazines say. Through gutsy, beautiful storytelling, she admits out loud what most of us are thinking about marriage, parenting, the bathroom scale, and how badly we all want to buy those matching Magnolia Market mugs.
 
Her delicious stories come from not being afraid of who she is, because Lisa-Jo knows that the middle might be the best part of the love story of life, kids, faith, doubt, marriage, failure, wonder, and the muffin top—and that these are all good things. She's not asking you to seize the day, just to make sure you actually see it for all its wildly ordinary glory.
 
Welcome to the middle!

Praise for The Middle Matters

"What a thought-provoking collection of reflections and wisdom! Through personal stories about love, loss, and life in the middle, Lisa-Jo invites us to take a long look inside our own mind's secret nooks and crannies, which aren't nearly as dark, scary, or ordinary as we might think."—Layla Palmer, The Lettered Cottage blog

"With captivating wit, hard-won wisdom, and breathtaking honesty, Lisa-Jo has written a love letter to the delicious middle."—Mandy Arioto, president and CEO of MOPS International and author of Have More Fun

"With Lisa-Jo's guts as our unfettered guide, may we finally learn the sumptuous truth of our years: that a grilled cheese sandwich without the middle is just toast."—Erin Loechner, founder of OtherGoose and author of Chasing Slow

"Thank you, Lisa-Jo, for reminding women everywhere how important it is to find meaning in the midst of the confusing middle."—Joy Prouty, artist and educator
Praise For The Middle Matters: Why That (Extra)Ordinary Life Looks Really Good on You…
"In a world that is telling every woman to speed up and get to the good part or slow down because you're about to miss it, I'm so grateful a message like The Middle Matters is bringing the grace and truth and good news that we need."—Jess Connolly, author of Wild and Free, Dance Stand Run, and You Are the Girl for the Job

"For any adult who still sometimes feels like the shy, insecure kid from junior high, Lisa-Jo Baker is the breath of fresh air you've been waiting for. She gives us permission to fully embrace our lives— imperfections and all—and reminds us that it's okay to feel like you totally do not have life all figured out."—Jennifer Fulwiler, SiriusXM radio host and author of One Beautiful Dream

"Lisa-Jo's hilarious and honest stories won't push and prod you toward some better version of yourself. Instead, in fun and funny prose that fairly dances off the page, The Middle Matters opens our eyes to the wonder of the lives and loves that are ours to receive in these middle years."—Christie Purifoy, author of Placemaker and cohost of the Out of the Ordinary podcast

"This is a story of every woman at some point and time, and it left me so encouraged. This is a book I want to pass along to all my girlfriends so we can discuss it together. Lisa-Jo is so relatable and likable, and it all comes across in her writing. I'm grateful for her words."—Kelly Stamps, blogger and mom of three

"In this witty and heartwarming book, Lisa-Jo Baker makes a case for why the middle matters. And just like an Oreo wouldn't be the same without the cream in the middle, those seemingly mundane and messy middle years can actually be where some of the best stuff of life happens!"—Crystal Paine, founder of MoneySavingMom, host of The Crystal Paine Show, and New York Times best-selling author

"Lisa-Jo Baker tackles middle age with her trademark wit and down-to-earth charm, making every reader feel like they're sitting on the other side of the table for a coffee chat with the author. Ultimately, this book challenges readers to not only accept but also embrace midlife with all of its messiness, in a way that makes it clear we are not alone."—Courtney Walsh, New York Times and USA Today best-selling author of Things Left Unsaid

"Lisa tells chuckle-worthy, relatable stories that unlock new places of gratitude and contentment. She reveals that the seemingly ordinary points of life are what hold the meaning and beauty of our interwoven stories."—Jessica Honegger, founder and co-CEO Noonday Collection and author of Imperfect Courage

"Whether you are entering the middle, are in it, or are beyond it, you'll find not only yourself in this book but wisdom and encouragement. The Middle Matters is a vulnerable, compelling read that I want to gift to every friend I know."—Jessica Turner, best-selling author of The Fringe Hours and Stretched Too Thin

"Life is a circus. As the ringleader, I often find myself forgetting to enjoy any of it. In The Middle Matters, Lisa-Jo gives us all a motivational mission and a plan for making it happen."—Claire Diaz-Ortiz, author and speaker
WaterBrook, 9780525652847, 272pp.
Publication Date: July 23, 2019
About the Author
With her ability to laugh at herself and her mistakes, Lisa-Jo Baker continues to gather women around her into a community that is tired of hearing how things are supposed to be (perfect or easy) and passionate about hearing how things actually are (hard, scary, stretching, and wonderful). A former attorney, sought-after national speaker, and longtime community manager at (in)courage, Lisa-Jo is the best-selling author of Never Unfriended and Surprised by Motherhood. Her writings have resonated with thousands and have been featured on HuffPost Parents, BibleGateway, Fox News, Christianity Today, IF:Table, and more. She is the cohost of the Out of the Ordinary podcast and lives just outside Washington, DC, with her husband of more than twenty years and their three very loud kids.