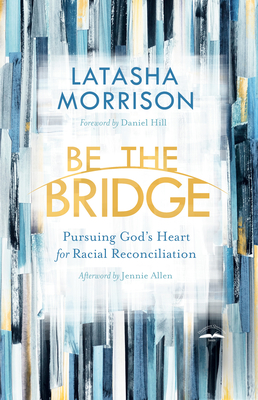 Be the Bridge
Pursuing God's Heart for Racial Reconciliation
Paperback

* Individual store prices may vary.
Other Editions of This Title:
Digital Audiobook (10/14/2019)
Description
NEW YORK TIMES BESTSELLER • ECPA BESTSELLER • "When it comes to the intersection of race, privilege, justice, and the church, Tasha is without question my best teacher. Be the Bridge is THE tool I wish to put in every set of hands."—Jen Hatmaker
 
WINNER OF THE CHRISTIAN BOOK AWARD® • Winner of the Christianity Today Book Award • A leading advocate for racial reconciliation calls Christians to move toward deeper understanding in the midst of a divisive culture.
 
In an era where we seem to be increasingly divided along racial lines, many are hesitant to step into the gap, fearful of saying or doing the wrong thing. At times the silence, particularly within the church, seems deafening.
 
But change begins with an honest conversation among a group of Christians willing to give a voice to unspoken hurts, hidden fears, and mounting tensions. These ongoing dialogues have formed the foundation of a global movement called Be the Bridge—a nonprofit organization whose goal is to equip the church to have a distinctive and transformative response to racism and racial division.
 
In this perspective-shifting book, founder Latasha Morrison shows how you can participate in this incredible work and replicate it in your own community. With conviction and grace, she examines the historical complexities of racism. She expertly applies biblical principles, such as lamentation, confession, and forgiveness, to lay the framework for restoration.
 
Along with prayers, discussion questions, and other resources to enhance group engagement, Be the Bridge presents a compelling vision of what it means for every follower of Jesus to become a bridge builder—committed to pursuing justice and racial unity in light of the gospel.
Praise For Be the Bridge: Pursuing God's Heart for Racial Reconciliation…
"Be the Bridge catalyzes a truth-filled vision of courage and hope! Drawing from a deep well of spiritual practices, historical narratives, and personal experiences, Latasha Morrison engages readers on a critical journey toward God's heart for humanity, one that promises to enlighten and unsettle us. With refreshing vulnerability and insight, this book unearths our racial brokenness and offers a communal salve of justice and restoration. A timely resource for a world in need of healing."—Jonathan Eng, justice advocate and campus pastor at Gateway Church, Austin

"When it comes to the intersection of race, privilege, justice, and the church, Tasha is without question my best teacher. Be the Bridge is THE tool I wish to put in every set of hands. Put frankly, if we followed the path she writes about, the path of humility and repentance, courage and action, we would see the end of racism. It really is that simple. Tasha is one of the most important leaders in my generation."—Jen Hatmaker, New York Times best-selling author of For the Love and Of Mess and Moxie

"This book is a must-read primer for anyone seeking to be a peacemaker rather than just a peacekeeper. Latasha Morrison equips and encourages us to do the difficult but necessary work of dismantling the walls of systemic racism, confronting implicit racial bias while establishing an anti-racist purpose. For those wanting to understand and embody the deeply woven fabric of racial reconciliation and anti-racism work, this book will expose, educate, elucidate, and ultimately make you an intentionally conscientious neighbor."—Pastor Darryl Ford, Ikon Community Church

"When I want to know how to do the hard work of reconciliation and peacemaking, Latasha Morrison is one of the first people I go to. She's introduced me to a new way of thinking while bringing together people of different perspectives, opinions, and histories. When she calls us to be a bridge to connect people to people, her challenge is more powerful, because she's already been the bridge that has gotten us this far."—Reggie Joiner, founder and CEO of Orange

"Through Be the Bridge Latasha Morrison offers a feast to the body of Christ. Vivid storytelling combines with sharp exegesis to draw readers onto the bridge of racial healing and justice. There, Morrison calls the body to face the truth—the whole truth and nothing but the truth. She does not pull punches. She does not make it pretty. Yet, this consummate bridge-builder lays foundations that hold the tension—and hold us together on the journey toward God's kind of love."—Lisa Sharon Harper, president and founder of FreedomRoad and author of The Very Good Gospel

"I have known Latasha Morrison for over for a decade. Her commitment to racial healing, reconciliation, and unity is unparalleled. Her extraordinary new book, Be the Bridge, is the blueprint the Christian church has been waiting for."—Lee Allen Jenkins, author, speaker, and senior pastor of Eagles Nest Church

"Tasha Morrison gives us much needed guidance in this book on how to explore the tough dynamics of race, identity, and culture that doesn't focus on simple, shallow solutions but helps us see in profound ways how we can transform ourselves and thus our communities in the way we act and think about race. Tasha masterfully weaves together her personal stories and experiences with history to make us aware of the human impact of racism—and then gives us the tools to respond. Tackling issues of race can seem daunting and overwhelming, but by providing us practical steps to engage laced in grace, truth, and mutuality, Tasha meets us where we are and helps us become better-formed disciples of Jesus to pursue a more holistic vision of the Good News for all people."—Jenny Yang, vice president of advocacy and policy at World Relief

"Tasha Morrison has been an encourager, a trustworthy friend, and profound teacher to me over the past few years. Through this book, she can be that to you as well. Her words are full of truth and love, and will cause you to stop and wrestle with your own biased ideas and perspectives that may otherwise go unchallenged. I'm adding this book to my 'everyone that loves Jesus should read this' list!"—Jamie Ivey, bestselling author of If You Only Knew and host of The Happy Hour with Jamie Ivey podcast

"Be the Bridge is essential reading for everyone. With great courage and compassion Latasha chose to pursue conversations on race and racial equity and in doing so birthed a global movement that reached beyond church walls and is touching society. Her work is vital because responding to racism and racial division—in our schools, businesses, communities, politics and yes even our churches—is something that we all desperately need to do. Our future depends on it. This phenomenal book is a message, a model and a mentor for exploring how to pursue justice and racial unity in the light of the gospel. It has the potential to change your life and transform your community. Buy it immediately, and join in."—Jo Saxton, co-host of Lead Stories Podcast and author of The Dream of You

"Latasha Morrison is a champion of racial reconciliation and an advocate for racial justice. Through her words and her life, she exemplifies why we must face the hard truths of history in order to affect change in the present and build a better future. Allow Latasha's words to challenge you, encourage you to question, and inspire you to be a bridge builder."—Amena Brown, author of How to Fix a Broken Record and host of HER with Amena Brown podcast 

"Tasha Morrison has the remarkable ability to listen with compassion and cast vision about the preferred future. Her serving on staff with us at Gateway Church in Austin shifted the trajectory of our church family. Now you can discover how to Be the Bridge through her thoughtful, insightful, and practical book. The world needs more Tasha Morrisons, and her book can help us make progress towards the multiethnic kingdom of God."—Dr. Eric Bryant, campus pastor at Gateway Church, South Austin, and author of Not Like Me
WaterBrook, 9780525652885, 256pp.
Publication Date: October 15, 2019
About the Author
Latasha Morrison is a bridge-builder, reconciler, and a compelling voice in the fight for racial justice. Ebony magazine recognized her as one of their 2017 Power 100 for her work as a community crusader. Tasha has spoken across the country at events that include: IF:Gathering, Justice Conference, Youth Specialties, Catalyst, Orange Conference, MOPS International and many others. A native of North Carolina, Tasha earned degrees in human development and business leadership. In 2016 she founded Be the Bridge to inspire and equip ambassadors of racial reconciliation. In addition to equipping more than 1,000 sub-groups across five countries, Be the Bridge hosts a closed, moderated online community of bridge-builders on Facebook with more than 20,000 members.