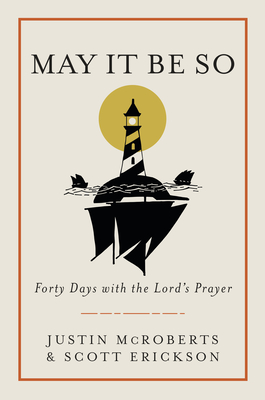 May It Be So (Hardcover)
Forty Days with the Lord's Prayer
WaterBrook, 9780525653073, 128pp.
Publication Date: September 24, 2019
* Individual store prices may vary.
Description
Combining prayers in two languages--words and images--this contemporary prayer guide will help you spend time in conversation with God.

As people of faith, we all struggle at times to sustain a flourishing prayer life--a loss felt all the more keenly in these times of confusion, political turbulence, and global calamity. This unique book offers a timeless solution for the spiritual and skeptical alike.

Combining story-driven reflections with visual and written prayers, this simple 40-day prayer guide will help you reconnect with God as you rediscover your own ongoing conversation with Him. Using the familiar refrains in the Lord's Prayer as a guide, this groundbreaking resource invites you to reconnect with God creatively and organically.
About the Author
Justin McRoberts is an author, musician, and retreat leader. He lives in the Oakland/San Francisco Bay Area with his wife and two children.

Scott Erickson is a touring painter, performance artist, and creative storyteller who mixes autobiography, biblical narrative, and aesthetics to create art that speaks to our deepest experiences. Scott lives in Portland, Oregon, with his wife and three children.
Praise For May It Be So: Forty Days with the Lord's Prayer…
"This is a must-read! If you want a book to move you, make you think, and profoundly impact you, this book is for you. What Scott and Justin have done is nothing short of bringing beauty and art and words to us in a way we desperately need."
—Jefferson Bethke, best-selling author of Jesus>Religion and Love That Lasts

"In May It Be So, Justin McRoberts and Scott Erickson persuade us to leave any old narrow or rote version of the Lord's Prayer and invite us into growth and reassurance through the daily practice of reflection and hope. When we engage with images, we utilize processes in our brain that often lay dormant when we read words alone. When the words and the images interact, a dance between the hemispheres begins, giving us even more understanding, more insight, more sensory experience than if either words or images were on the page alone. The unique integration of words and images in this book beckon us toward a new depth of understanding, causing us to see things in our prayers, in ourselves, and about God that may have been invisible to us before. Sure to transform us, this book and its practices can act as both an anchor and a map, helping us hold fast to what is true, while also giving gentle guidance to move forward."
—Hillary McBride, therapist, researcher, author, podcaster

"In May It Be So, Justin and Scott bring fresh perspective to an ancient prayer with honest, heartfelt prose, and simple, elegant illustration. They invite their reader into an unvarnished conversation with the Divine, and for this reader, that conversation was long overdue. This book is a gift."
—Cameron Dezen Hammon, author of This Is My Body