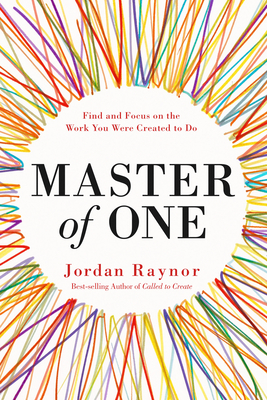 Master of One
Find and Focus on the Work You Were Created to Do
Hardcover

* Individual store prices may vary.
Other Editions of This Title:
Digital Audiobook (1/20/2020)
Description
What is your one thing? The entrepreneur, thought leader, and best-selling author of Called to Create offers a refreshing invitation: stop trying to do it all so you can thrive in your unique, God-given work.

"A compelling case for embracing our vocational limits and choosing to do our one thing well."—Emily P. Freeman, Wall Street Journal best-selling author of The Next Right Thing
 
Imagine how different your life would be if you spent your time doing the very thing that brings you the greatest joy. It's possible, but most people spend their days making incremental advances on numerous tasks, competent at many things but exceptional at none. That's because for too long we've believed the lie that more activity, more jobs, and more responsibility equals greater effectiveness. In short, we are becoming a society of "jacks-and-jills-of-all-trades and masters of none."

But what if you could shift your focus from too many things to one?

In this thought-provoking book, you'll discover the exponential power of pursuing a singular craft. Through practical principles, Jordan Raynor provides straightforward steps for finding and thriving in your calling. He also highlights more than a dozen real-life examples of high-impact individuals who have chosen to focus on and excel in their unique gifting, including:

• Chronicles of Narnia author C. S. Lewis
• Enron whistle-blower Sherron Watkins
• TV legend Mister Rogers
• Dallas Mavericks CEO Cynthia Marshall
• Reality TV star Chip Gaines
• NFL Hall of Fame coach Tony Dungy
• Biblical figures, a teacher, a pilot, a banker, and world-class entrepreneurs

Too many of us are overwhelmed, overcommitted, and overstressed. This book offers a better way—the path to becoming a master of one!
Praise For Master of One: Find and Focus on the Work You Were Created to Do…
"Raynor's sage advice will be of help to any Christian seeking guidance in finding their divine professional purpose."—Publishers Weekly (starred review)

"We are rightly inspired and grateful for all Jesus Christ did in his essential mission in life. But it is also breathtaking to consider what he didn't do. As the ultimate Essentialist, he modeled the disciplined pursuit of less. This is beautifully illustrated in Jordan Raynor's Master of One."—Greg McKeown, New York Times best-selling author of Essentialism: The Disciplined Pursuit of Less

"I tell people all the time 'You can't do it all,' but then I catch myself trying to complete just a few more things as my to-do list mushrooms every morning. I'm thankful that Jordan Raynor has set out such a clear alternative that teaches you how to choose what you want most in your career and how to ignore everything else."—Jon Acuff, New York Times best-selling author of Finish: Give Yourself the Gift of Done

"The Lord wants us to be excellent in what we do. He's placed us in our careers, and we have a responsibility to be the very best we can be in whatever field we decide to take up. We should run to win. Jordan's book will show you how."—Tony Dungy, Pro Football Hall of Fame coach and New York Times best-selling author

"The topic of this book speaks to my heart and will serve well everyone who reads it."—Horst Schulze, cofounder of Ritz-Carlton and author of Excellence Wins

"When I started my nonprofit, there were a million ideas swirling around, and a wise humanitarian encouraged me to deeply focus on one thing. That one thing was water, and that encouragement began a movement that's helped ten million people across the globe get clean water. Jordan Raynor gives the same advice in this book, showing you precisely how to find and focus on your one thing."—Scott Harrison, founder and CEO of charity: water and the New York Times best-selling author of Thirst

"In Master of One, Jordan Raynor uses real-life examples to point the way to a satisfied life, one of purpose, meaning, and happiness."—Sherron Watkins, Enron whistle-blower and Time magazine's 2002 Person of the Year 

"Christians ought to have the highest standards for excellence in our work. That's the heart of this book, and I am so grateful Jordan has written it."—Bobby Bowden, second-winningest coach in Division I college football history

"Jordan Raynor writes with a clear and powerful conviction—the path to exceptional work is not about more work but better work. Excellence is waiting for us if we will just dig in."—Carey Nieuwhof, founding pastor of Connexus Church

"My stepfather, C. S. Lewis, used to say, 'We do not need more people writing Christian books. What we need is more Christians writing good books.' This is true for any Christian in any line of work. I am thrilled that Jordan Raynor has taken the time to explore this idea more fully in Master of One."—Douglas Gresham, stepson of C. S. Lewis and executive producer of Disney's and Netflix's The Chronicles of Narnia films

"Both social science and God's Word refute the conventional wisdom that simply following your passions will lead to the ultimate satisfaction of vocation. In Master of One, Jordan Raynor articulately argues that we find true vocational happiness when we focus first on bringing joy to God and others by doing our work masterfully well."—Missy Wallace, executive director of the Nashville Institute for Faith and Work

"Work is an opportunity to serve the world. But if we are to serve well, we ought to have the highest standards of excellence in our work. This book will help you find and focus on the work you can do most masterfully well."—Jeff Goins, best-selling author of The Art of Work and Real Artists Don't Starve

"Jordan Raynor does an awesome job communicating how the gospel impacts our work—especially the work of the entrepreneur and culture maker."—Henry Kaestner, cofounder of Bandwidth and founder of Faith Driven Entrepreneur

"Jordan Raynor is definitely speaking to me when thinking about the master multitasker. I already have joy for living life for an audience of one, but I can't wait to learn the principles to find focus and precision within my life."—Tamika Catchings, four-time Olympic gold medalist, ten-time WNBA All-Star, and former WNBA MVP

"Serve the world by picking a lane and getting masterfully good at your craft. This book will show you how."—Chris Graebe, host of The StartupCamp Podcast

"I loved Master of One! Jordan's writing frees you from the paralysis of indecisiveness and provides a simple framework for choosing the work you will do most masterfully well for the glory of God."—Stefan Kunz, letterer, designer, and illustrator 

"Jordan Raynor offers a practical guide to finding and focusing on the work you can do most exceptionally well—not for your own sake but to bring benefit to the world. We need this message right now. And the great news is that this book exhibits what it teaches: it is a book on mastery that is masterfully written."—Matt Perman, director of career development at the King's College, NYC, and author of What's Best Next
WaterBrook, 9780525653332, 240pp.
Publication Date: January 21, 2020
About the Author
Bestselling author Jordan Raynor helps Christians respond to the radical, biblical truth that their work matters for eternity. He does this through his books (The Creator in You, Redeeming Your Time, Master of One, and Called to Create), podcast (Mere Christians), and weekly devotional (The Word Before Work)—content that has served millions of Christ-followers in every country on earth. In addition to his writing, Jordan serves as the executive chairman of Threshold 360, a venture-backed tech startup which he previously ran as CEO following a string of successful ventures of his own. Jordan has twice been selected as a Google Fellow and served in the White House under President George W. Bush. A sixth-generation Floridian, Jordan lives in Tampa with his wife and their three young daughters.
or
Not Currently Available for Direct Purchase