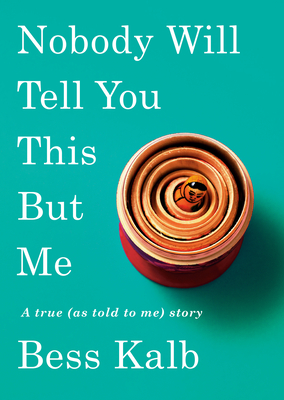 Nobody Will Tell You This But Me (Hardcover)
A true (as told to me) story
Knopf, 9780525654711, 240pp.
Publication Date: March 17, 2020
* Individual store prices may vary.
Description
A funny, warm, and brilliantly original memoir in which a grandmother speaks to her granddaughter from beyond the grave, telling, with candor and irresistible humor, stories from both their lives--of kinship, loyalty, tenacity, and love.

Bess Kalb--whip-smart, Twitter-famous TV comedy writer and regular New Yorker "Daily Shouts" columnist--has saved every voicemail message her grandmother, Bobby Bell, ever left her. The two were best friends and confidantes. Bobby doted on her granddaughter; Bess adored Bobby. In 2017, nearly ninety, Bobby died.

In this moving, wildly imaginative memoir, Bobby Bell is still speaking to Bess, her inimitable voice in Bess's head, bristling with the loving friction between one headstrong woman and the granddaughter who grew up to be an equal force of nature. Bobby gives Bess critical advice (on career and romance; lipstick and hair). And she relates the history that made her who she is, beginning with her mother's escape from the pogroms of Belarus in the 1880s to the cramped Brooklyn apartment where Bobby was born; and Bobby's own marriage to a successful businessman, which made possible the educations that helped her children and grandchildren flourish.

But from the time Bess was born, Bobby bestowed a unique flavor of love upon her granddaughter: tea at the Plaza; new dresses at Bloomingdales; and above all, her nobody-will-tell-you-this-but-me truths, full of devotion and well meaning, even when they hurt.

This unusual love story celebrates the very special bond that can skip a generation and hold iron-clad. Told through documents, photographs, and verbatim dialogues between two remarkable women, it is an unforgettable account of survival and family; of women's lives across different generations; of gratitude and grief--all rolled into one hilarious, poetic, page-turning book.
About the Author
BESS KALB is an Emmy-nominated writer for Jimmy Kimmel Live. Her writing for the show earned her a Writer's Guild Award in 2016. She has also written for the Oscars and the Emmys. A regular contributor to The New Yorker's "Daily Shouts," her work has been published in The New Republic, Grantland, Salon.com, Wired, The Nation, and elsewhere. She lives in Los Angeles.
Praise For Nobody Will Tell You This But Me: A true (as told to me) story…
"Tender, funny, fresh, and unconventional, Nobody Will Tell You This But Me manages to make something new and wonderful out of a family memoir. Kalb has a light, lovely touch and a big heart, which combine to make this book irresistible." —Susan Orlean, author of The Library Book
 
"I have not been as profoundly moved by a book in years. If you have a mother or grandmother, or ARE a mother or a grandmother, this is required reading. Bess Kalb's fictional-factual tribute to the relationship she had with her grandmother—the way her history was passed to her by blood, along with bright memories and Jewish guilt and fierce, fierce love—could have been my own story. When I stop crying, I'm calling my mother immediately and making her read it." —Jodi Picoult, author of A Spark of Light 
 
"We are the stories we leave behind, and so we must depend on the storytellers who carry forward our memories. 'Grandma Bobby' gave Bess Kalb gifts of love and language (and lunches at the Plaza!), and in this deeply moving and powerful book, Bess repays her in full with a magnificent act of conjuring. Bobby, and the line of stubborn women of which she was the keystone, lives on in this act of love. This book made me miss my own grandmother, who didn't have Bobby's style, but was just as fierce. I wish I had listened to her as carefully as Bess did to Bobby. As we Jews say, the memory of Bobby is a blessing to Kalb, and now, thankfully, to all of us." —Peter Sagal, host of NPR's Wait, Wait... Don't Tell Me!