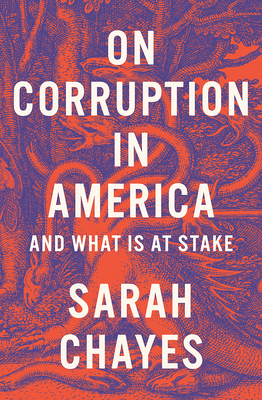 On Corruption in America
And What Is at Stake
Hardcover

* Individual store prices may vary.
Other Editions of This Title:
Digital Audiobook (8/10/2020)
Paperback (11/16/2021)
Description
From the prizewinning journalist and internationally recognized expert on corruption in government networks throughout the world comes a major work that looks homeward to America, exploring the insidious, dangerous networks of corruption of our past, present, and precarious future.
 
"If you want to save America, this might just be the most important book to read now." —Nancy MacLean, author of Democracy in Chains
 
Sarah Chayes writes in her new book, that the United States is showing signs similar to some of the most corrupt countries in the world. Corruption, she argues, is an operating system of sophisticated networks in which government officials, key private-sector interests, and out-and-out criminals interweave. Their main objective: not to serve the public but to maximize returns for network members.

In this unflinching exploration of corruption in America, Chayes exposes how corruption has thrived within our borders, from the titans of America's Gilded Age (Andrew Carnegie, John D. Rockefeller, J. P. Morgan, et al.) to the collapse of the stock market in 1929, the Great Depression, and FDR's New Deal; from Joe Kennedy's years of banking, bootlegging, machine politics, and pursuit of infinite wealth to the deregulation of the Reagan Revolution--undermining this nation's proud middle class and union members. She then brings us up to the present as she shines a light on the Clinton policies of political favors and personal enrichment and documents Trump's hydra-headed network of corruption, which aimed to systematically undo the Constitution and our laws.

Ultimately and most importantly, Chayes reveals how corrupt systems are organized, how they enable bad actors to bend the rules so their crimes are covered legally, how they overtly determine the shape of our government, and how they affect all levels of society, especially when the corruption is overlooked and downplayed by the rich and well-educated.
Praise For On Corruption in America: And What Is at Stake…
"Both right and left revile 'the swamp,' but Sarah Chayes is the first to provide a compelling--to say nothing of brave--account of how sophisticated self-dealing networks of every stripe are rigging the rules and poisoning our politics. If you want to save America, this might just be the most important book to read now." —Nancy MacLean, author of Democracy in Chains

"I can't imagine a more important book for our time." —Sebastian Junger

"Required reading." —Tom Friedman

"Compelling, fascinating . . . a call to action."—The Huffington Post
Knopf, 9780525654858, 432pp.
Publication Date: August 11, 2020
About the Author
SARAH CHAYES has served as special assistant on corruption to Mike Mullen, former chairman of the Joint Chiefs of Staff, as well as having advised David McKiernan and Stanley McChrystal (commanders of the International Security Assistant Force). She has been a reporter for National Public Radio from Paris, covering Europe and the Balkans. Chayes is the author of The Punishment of Virtue: Inside Afghanistan After the Taliban and Thieves of State: Why Corruption Threatens Global Security, winner of the 2016 Los Angeles Times Book Prize. She lives in Paw Paw, West Virginia.