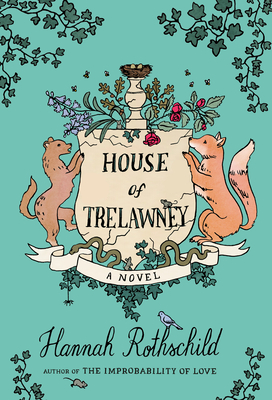 House of Trelawney
A novel
Hardcover

* Individual store prices may vary.
Other Editions of This Title:
Digital Audiobook (2/10/2020)
Paperback (5/11/2021)
Compact Disc (2/11/2020)
MP3 CD (2/11/2020)
Description
From the author of The Improbability of Love: a dazzling novel both satirical and moving, about an eccentric, dysfunctional family of English aristocrats, and their crumbling stately home that reminds us how the lives and hopes of women can still be shaped by the ties of family and love.

For more than seven hundred years, the vast, rambling Trelawney Castle in Cornwall--turrets, follies, a room for every day of the year, four miles of corridors and 500,000 acres--was the magnificent and grand "three dimensional calling card" of the earls of Trelawney. By 2008, it is in a complete state of ruin due to the dulled ambition and the financial ineptitude of the twenty-four earls, two world wars, the Wall Street crash, and inheritance taxes. Still: the heir to all of it, Kitto, his wife, Jane, their three children, their dog, Kitto's ancient parents, and his aunt Tuffy Scott, an entomologist who studies fleas, all manage to live there and keep it going. Four women dominate the story: Jane; Kitto's sister, Blaze, who left Trelawney and made a killing in finance in London, the wildly beautiful, seductive, and long-ago banished Anastasia and her daughter, Ayesha. When Anastasia sends a letter announcing that her nineteen-year-old daughter, Ayesha, will be coming to stay, the long-estranged Blaze and Jane must band together to take charge of their new visitor--and save the house of Trelawney. But both Blaze and Jane are about to discover that the house itself is really only a very small part of what keeps the family together.
Praise For House of Trelawney: A novel…
"The idea of eccentric British aristocrats in a crumbling mansion is at the heart of some of literature's greatest works . . . . Rothschild's book is the latest in a long line of novels by the likes of Jane Austen and Evelyn Waugh."
—Adam Rathe, Town & Country ("How one new novel gets British money exactly right")

"Irresistible . . . . Rothschild's tale is lively and entertaining."
--Amanda Craig, The Guardian

"Part comedy of manners, part serious meditation on money and gender roles, House of Trelawney is both deeply thought-provoking and thoroughly fun."
—BookPage

"A real page turner . . . sparklingly acerbic social satire . . . . Funny and absorbing, House of Trelawney is the perfect antidote to a grey, Scottish winter's day."
—John Badenhorst, The Courier & Advertiser

"Evelyn Waugh meets the love child of Richard Curtis and the brilliant Joanna Trollope."
—Geordie Greig, The Daily Mail

"Rothschild is a witty, stylish storyteller and her overall message feels timely."
—Lucy Atkins, The Sunday Times

"Snappy and sexy."
—Lionel Barber, Former Editor of The Financial Times

"This canny comedy of manners straddles the worlds of high finance and the crumbling aristocracy, braiding love, revenge and market meltdown . . . generous-hearted, it delights from start to finish."
—Hephzibah Anderson, The Daily Mail

"Rothschild is a writer of high intelligence . . . . House of Trelawney says a lot about the dangers of dwelling on past entitlement and the importance of unsentimental realism."
—Kate Saunders, The Times

"Nothing is left out in this madcap . . .  novel, which parodies British aristocracy on one hand and the social-climbing world of new money on the other. There are odd, unlikely romances, a suicide, and babies born out of wedlock . . . Ms. Rothschild is an intelligent writer and an elegant prose stylist. The first female chair of the National Gallery, she describes her characters' physical characteristics with the eye of someone who's spent a lifetime looking carefully at paintings . . . Britain, that "sceptered isle," is a shadow of its former self. But one thing the British haven't lost is their sense of humor, and Ms. Rothschild provides a large dose of it in this quirky satire." --Moira Hodgson, The Wall Street Journal

"A gripping saga about a once grand, now decaying, family in Cornwall whose house is literally falling down around their ears."
—Lynn Barber, The Telegraph

"Rothschild is a mischievous narrator and this story is pure pleasure from the word go."
—Stylist Online (Best Books of 2020)

"Rothschild's engaging tale House of Trelawney cleverly satirizes an unconventional aristocratic clan who have run into money troubles."
—Martin Chilton, The Independent Online

"This slyly comic novel is a great dissection of class and privilege."
—Red

"Curl up and lose yourself in this hugely entertaining satire of a deeply dysfunctional family of aristocrats desperate to save their crumbling Cornwall home."
—i paper

"[Rothschild] paces [her novel] perfectly, laying out the history of the Trelawneys and their castle vividly, and timing the orchestration of characters and events at a brisk tempo . . . when current times seem full of intractable problems and short on answers perhaps a bit of escapism tinged with schadenfreude, seen here by a sharp eye and seasoned with a tart tongue, may be just what's needed."
--Claire Hopley, The Washington Times

"[A] rollicking tale . . . . Jilly Cooper fans (and who isn't?) will love the unashamedly upmarket settings and posh characters. A romcom to beat the winter blues: funny, sharply-observed and boho-chic glamorous."
--Wendy Holden, Scottish Daily Mail

"Rothschild's style has been compared to comic writers such as Waugh and Mitford, which are apt in terms of both style and milieu, but comparisons can also be made to Austen and Dickens, as she shares their ability to create comic characters and to then put those characters in situations that allows the author to make satirical/social commentary . . . . an intelligent and entertaining romp."
--Caroline Percy, The Nerd Daily
Knopf, 9780525654919, 384pp.
Publication Date: February 11, 2020
About the Author
HANNAH ROTHSCHILD is the author of The Improbability of Love and The Baroness: The Search for Nica, the Rebellious Rothschild. She is also a company director and a filmmaker who has made documentary features and series for the BBC and HBO. She writes for The Times, The New York Times, Vogue, Bazaar and Vanity Fair. She is a vice president of the Hay Literary Festival, a former trustee of the Tate Gallery, and in 2015 became the first woman to chair the trustees of the National Gallery. In 2018, she was made a CBE for services to the arts and to philanthropy. She lives in London with her three daughters.
or
Not Currently Available for Direct Purchase