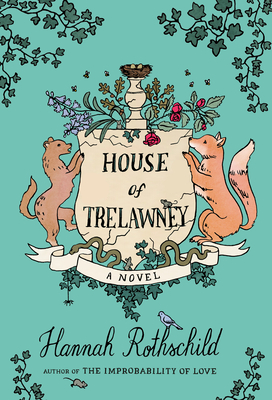 House of Trelawney (Hardcover)
A novel
Knopf, 9780525654919, 384pp.
Publication Date: February 11, 2020
* Individual store prices may vary.
Description
From the author of The Improbability of Love: a dazzling novel both satirical and moving, about an eccentric, dysfunctional family of English aristocrats, and their crumbling stately home that reminds us how the lives and hopes of women can still be shaped by the ties of family and love.

For more than seven hundred years, the vast, rambling Trelawney Castle in Cornwall--turrets, follies, a room for every day of the year, four miles of corridors and 500,000 acres--was the magnificent and grand "three dimensional calling card" of the earls of Trelawney. By 2008, it is in a complete state of ruin due to the dulled ambition and the financial ineptitude of the twenty-four earls, two world wars, the Wall Street crash, and inheritance taxes. Still: the heir to all of it, Kitto, his wife, Jane, their three children, their dog, Kitto's ancient parents, and his aunt Tuffy Scott, an entomologist who studies fleas, all manage to live there and keep it going. Four women dominate the story: Jane; Kitto's sister, Blaze, who left Trelawney and made a killing in finance in London, the wildly beautiful, seductive, and long-ago banished Anastasia and her daughter, Ayesha. When Anastasia sends a letter announcing that her nineteen-year-old daughter, Ayesha, will be coming to stay, the long-estranged Blaze and Jane must band together to take charge of their new visitor--and save the house of Trelawney. But both Blaze and Jane are about to discover that the house itself is really only a very small part of what keeps the family together.
About the Author
HANNAH ROTHSCHILD is the author of The Improbability of Love and The Baroness: The Search for Nica, the Rebellious Rothschild. She is also a film director whose documentaries have appeared at such festivals as Telluride and Tribeca. She has written for British Vanity Fair, Vogue, The Independent, and The Spectator, and is vice president of the Hay Literary Festival, a trustee of the Tate Gallery, and the first woman chair of the National Gallery in London. She lives in London.