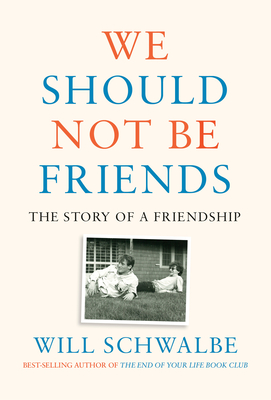 We Should Not Be Friends
The Story of a Friendship
Hardcover

* Individual store prices may vary.
Description
From the best-selling author of The End of Your Life Book Club—a warm, funny, irresistible book that follows an improbable and life-changing college friendship over the course of forty years.

By the time Will Schwalbe was a junior at college, he had already met everyone he cared to know: the theater people, the writers, a handful of visual artists and comp lit majors, and the six other students who shared his own major, Latin and Greek. He also knew exactly who he wanted to avoid: the jocks. The jocks wore baseball caps and moved in packs, filling boisterous tables in the dining hall, and on the whole seemed to be another species entirely, one Will might encounter only at his own peril.

All this changed dramatically when Will collided with Chris Maxey, known to just about everyone as Maxey. Maxey was physically imposing, loud, and a star wrestler, and thanks to the strangely liberating circumstances of a little-known secret society at Yale, the two forged a bond that would become a mainstay of each other's lives for forty years.

From New Haven to New York City, from Hong Kong and London to a remote Bahamian island—through marriages and a divorce, triumphs and devastating losses—We Should Not Be Friends tracks an extraordinary friendship through decades of challenge and change. Schwalbe's marvelous new work is a testament to the miracle of human connection.
Praise For We Should Not Be Friends: The Story of a Friendship…
"We Should Not Be Friends is as funny, warm, brutally honest and entertaining as it is profound.  It's unlike any memoir I've ever read.  Maxey and Schwalbe show us that our hearts are far bigger and more accommodating than we ever would have imagined." —Louise Penny

"One of the most important—and noble—human qualities is our ability to bond with people with whom we have absolutely nothing in common. It's pure fraternal love, entirely for its own sake. Will Schwalbe has written a gorgeous book on exactly this topic . . . what a pleasure to read about a human trait that might one day save, rather than destroy, the human race." —Sebastian Junger


"In this searching, tender, insightful, and wise memoir, Will Schwalbe traces an altogether unlikely friendship through the triumphs and vicissitudes of adult life. Reading this beautifully written and generous book, you will find yourself thinking of your own friendships and the greatest gifts we can give one another: listening deeply and taking the risk of becoming — and offering — our true selves." —Dani Shapiro
Knopf, 9780525654933, 336pp.
Publication Date: February 21, 2023
About the Author
WILL SCHWALBE has worked in book publishing (currently as an editor at Macmillan); in digital media; and as a journalist, writing for various publications, including The New York Times and the South China Morning Post. He is the author of Books for Living, The End of Your Life Book Club, and coauthor, with David Shipley, of Send. He lives in New York.