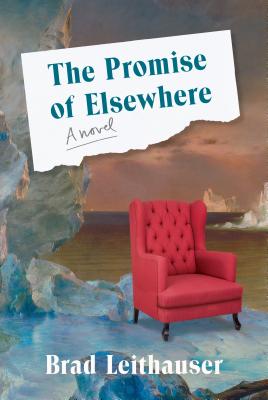 The Promise of Elsewhere (Hardcover)
A novel
Knopf, 9780525655039, 352pp.
Publication Date: March 26, 2019
Other Editions of This Title:
Digital Audiobook (3/25/2019)
Paperback (2/25/2020)
Library Binding, Large Print (1/8/2020)
* Individual store prices may vary.
Description
A comic novel about a Midwestern professor who tries to prop up his failing prospects for happiness by setting out on the Journey of a Lifetime.

Louie Hake is forty-three and teaches architectural history at a third-rate college in Michigan. His second marriage is collapsing, and he's facing a potentially disastrous medical diagnosis. In an attempt to fend off what has become a soul-crushing existential crisis, he decides to treat himself to a tour of the world's most breathtaking architectural sites. Perhaps not surprisingly, Louie gets waylaid on his very first stop in Rome--ludicrously, spectacularly so--and fails to reach most of his other destinations. He embarks on a doomed romance with a jilted bride celebrating her ruined marriage plans alone in London. And in the Arctic he finds that turf houses and aluminum sheds don't amount to much of an architectural tradition. But it turns out that there's another sort of architecture there: icebergs the size of cathedrals, bobbing beside a strange and wondrous landscape. It soon becomes clear that Louie's grand journey is less about where his wanderings have taken him and more about where his past encounters with romance have not. Whether pursuing his first wife, or his estranged current wife, or the older woman he kissed just once a quarter-century ago, Louie reveals himself to be endearing, deeply touching, wonderfully ridiculous . . . and destined to find love in all the wrong places.
About the Author
BRAD LEITHAUSER is a widely acclaimed poet and novelist and the recipient of numerous awards and honors, including a MacArthur Fellowship. This is his seventeenth book. He is a professor in the Writing Seminars at Johns Hopkins University and divides his time between Baltimore and Amherst.
Praise For The Promise of Elsewhere: A novel…
"The Promise of Elsewhere uses the ordinary as a prism, splitting the tropes with which it plays into a surprising spectrum of colors. [In Greenland] Leithauser's prose becomes giddy and lustrous: from his descriptions of the microscopic diamonds Louie perceives in his toothpaste to the disturbing erotic drawings he finds hidden in the pages of a book and finally, soaringly, to the miraculous blues and whites of the landscape of ice that surrounds him . . . I was glad that I went along for the ride." —Erica Wagner, The New York Times Book Review
 
"To find a condition of pure existential drift, head to Brad Leithauser's travel novel . . . [In Greenland] the novel taps into true strangeness . . . Amazing what a few hundred-thousand-year-old icebergs can do for one's sense of proportion." —Sam Sacks, The Wall Street Journal
 
"A serene piece of travel fiction starring Louie Hake, [who] drifts in and out of the lives of some wonderfully fascinating fellow travelers . . . Like Andrew Sean Greer's Pulitzer Prize–winning Less, Leithauser's journey novel wonderfully mixes pathos and comedy, and Louie, as he struggles for a sense of value and self, is endearingly and wonderfully human at every moment." —Alexander Moran, Booklist (starred review)

"Dazzling . . . [A] keen-eyed comic work . . .  Five months ago, Louie Hake's second marriage collapsed after his wife, a third-grade teacher and amateur actress, was arrested for 'gross indecency' with her director in a Honda Odyssey. So in June 2018, the 43-year-old 'untenured fixture' at a third-rate Michigan college embarks on his own odyssey, 'the Journey of His Life,' aiming to view great buildings in Italy, Turkey, India, and Japan. But Louie is sidetracked in ways small and large. . . . Leithauser shifts affectingly from present-day comic encounters and observations to fraught memories, from Louie's first experience of transcendence at age 9, in the delightful opening, and again in Ely Cathedral, to first love and various brushes with shame and failure. Leithauser, a poet, novelist, and MacArthur Fellow, recalls Stanley Elkin, Wilfrid Sheed, and Richard Ford in this complex anatomy of a midlife crisis and then some. An exceptional glimpse of the human comedy." —Kirkus Reviews (starred review) 

"Charming and moving . . . Leithauser's novel offers civilized comforts of beguiling characters, witty dialogue, and trenchant observations about modern life that enshrines the visceral pleasures of armchair travel." —Publisher's Weekly

"A rueful (often very funny) romp around the world, a journey that traverses a map with no provisions for the emotional curvature of the earth. . . . I found it diverting and moving." —Jay Parini