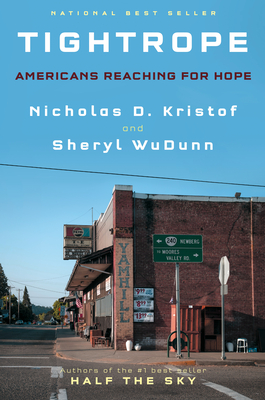 Tightrope
Americans Reaching for Hope
Hardcover

* Individual store prices may vary.
Other Editions of This Title:
Digital Audiobook (1/13/2020)
Paperback (9/1/2020)
Paperback, Large Print (1/14/2020)
Description
NEW YORK TIMES BESTSELLER •  The Pulitzer Prize-winning authors of the acclaimed, bestselling Half the Sky now issue a plea—deeply personal and told through the lives of real Americans—to address the crisis in working-class America, while focusing on solutions to mend a half century of governmental failure.

"A deft and uniquely credible exploration of rural America, and of other left-behind pockets of our country. One of the most important books I've read on the state of our disunion."—Tara Westover, author of Educated    

With stark poignancy and political dispassion, Tightrope draws us deep into an "other America." The authors tell this story, in part, through the lives of some of the children with whom Kristof grew up, in rural Yamhill, Oregon, an area that prospered for much of the twentieth century but has been devastated in the last few decades as blue-collar jobs disappeared. About one-quarter of the children on Kristof's old school bus died in adulthood from drugs, alcohol, suicide, or reckless accidents. And while these particular stories unfolded in one corner of the country, they are representative of many places the authors write about, ranging from the Dakotas and Oklahoma to New York and Virginia. But here too are stories about resurgence, among them: Annette Dove, who has devoted her life to helping the teenagers of Pine Bluff, Arkansas, as they navigate the chaotic reality of growing up poor; Daniel McDowell, of Baltimore, whose tale of opioid addiction and recovery suggests that there are viable ways to solve our nation's drug epidemic. These accounts, illustrated with searing images by Lynsey Addario, the award-winning photographer, provide a picture of working-class families needlessly but profoundly damaged as a result of decades of policy mistakes. With their superb, nuanced reportage, Kristof and WuDunn have given us a book that is both riveting and impossible to ignore.
Praise For Tightrope: Americans Reaching for Hope…
"A deft and uniquely credible exploration of rural America, and of other left-behind pockets of our country. One of the most important books I've read on the state of our disunion." —Tara Westover, author of Educated    

"Tightrope is a heroic, harrowing, and at times tender, look at the high wire act that is survival for too many people today. Kristof and WuDunn know there are no easy solutions here, but that doesn't mean we can't take action, whether by pushing for better policies, or changing our own attitudes. This book will shake you—it did me—and that is the point." —Bono

"This is a must-read that will shake you to your core. It's a Dante-esque tour of a forgotten America, told partly through the kids who rode on Kristof's old school bus in rural Oregon. A quarter are now dead, and others are homeless, in prison or struggling with drugs. They made bad choices, but so did America, in ways that hold back our entire country. Tightrope shows how we can and must do better." —Katie Couric 

"Tightrope catches what many analyses miss about struggling communities across color lines: an undercurrent of self-hatred, in which people blame themselves for bad outcomes and are loath to ask for a 'handout'. . . [The authors'] analysis of our country's class problem reads as lived understanding. . . Tightrope's greatest strength is its exaltation of the common person's voice, bearing expert witness to troubles that selfish power has wrought." —Sarah Smarsh, The New York Times Book Review  

"[Tightrope] may well be the timeliest and most engrossing work of nonfiction this year."—Newsweek 

"Shocking. . . Tightrope is a convincing argument that it's not too late to change the course of the nation. It's also an agonizing account of how apathy and cruelty have turned America into a nightmare for many of its less fortunate citizens. . . It's difficult to read, and it was surely difficult to write, but it feels—now more than ever—deeply necessary." —Michael Schaub, NPR

"Powerful. . . Kristof and WuDunn record how Americans turn barbaric toward those who struggle personally and financially. . . [Tightrope illuminates] the disparagement that the poor confront in a prosperous America."—Alissa Quart, The Washington Post 

"Tightrope manages to chronicle our worst while reminding us of our best. . .  [Kristof and WuDunn's] interweaving of the stories of their friends from Yamhill caught in the webs of misfortune, is . . . deeply humane. . . These are whole people, not statistics."—Allison Pugh, Harvard Magazine

"While [Kristof and WuDunn] cover policy failures of the last half-century, they also affirm that we're no longer dealing in Republican or Democratic issues, but issues of Americans' very survival. . . Highlighting successful small-scale programs, they emphasize that there are potentially nationwide solutions. Both researched and personal, this will be hard for readers to stop thinking about."—Annie Bostrom, Booklist [starred review] 

"With compassion and empathy, [the authors] pull readers into the lives of families who have been in a downward spiral for several generations. . . They bring a human face to issues such as drug addiction, incarceration, family dysfunction, and declining prospects for employment. Enlightening for all concerned Americans." —Caren Nichter, Library Journal [starred review]

"In addition to looking back at all that's been lost, the authors – compassionate, solutions-oriented, and ultimately optimistic – offer a path forward. . . Replacing punitive public policy with policy approaches that recognize a collective responsibility for our fellow citizens, they argue, will in the long run save billions of dollars and prevent untold suffering."—Barbara Spindel, Christian Science Monitor

"While acknowledging the need for personal responsibility—and for aid from private charities—the authors make a forceful case that the penalties for missteps fall unequally on the rich and poor in spheres that include education, health care, employment, and the judicial system; to end the injustices, the government also must act. . . An ardent and timely case for taking a multipronged approach to ending working-class America's long decline." —Kirkus  

"Kristof and WuDunn avoid pity while creating empathy for their subjects, and effectively advocate for a 'morality of grace' to which readers should hold policy makers accountable. This essential, clear-eyed account provides worthy solutions to some of America's most complex socioeconomic problems." —Publishers Weekly

"This is an unflinching book that illustrates the central, confounding American paradox—in a country that purports to root for the underdog, too often we exalt the rich and we punish the poor. With thorough reporting and extraordinary compassion, Kristof and WuDunn tell the stories of those who fall behind in the world's wealthiest country, and find not an efficient first-world safety net created by their government, but a patchwork of community initiatives, perpetually underfunded and run by tired saints. And yet amid all the tragedy and neglect, Kristof and WuDunn conjure a picture of how it could all get better, how it could all work. That's the miracle of Tightrope, and why this is such an indispensable book." —Dave Eggers, author of The Captain and the Glory
 
"A quarter of the chums Nicholas Kristof rode to school with in the 1970s in sundown rural Yamhill, Oregon, are dead, the authors of this riveting book tell us, from drugs, alcohol, obesity, reckless accidents and suicide. In this deeply empathic, important, and timely book, the authors conceive of such childhood friends and others like them across rural America as unwitting shock absorbers of cruel trends for which we have yet to acknowledge collective responsibility. Read this book and pass it on!" —Arlie Russell Hochschild, author of Strangers In Their Own Land
Knopf, 9780525655084, 320pp.
Publication Date: January 14, 2020
About the Author
Nicholas D. Kristof has coauthored several books with his wife, Sheryl WuDunn, including A Path Appears and Half the Sky. Together they were awarded a Pulitzer Prize in 1990 for their coverage of China. They also received the Dayton Literary Peace Prize for Lifetime Achievement in 2009. Now an op-ed columnist for the New York Times, Kristof was previously bureau chief in Hong Kong, Beijing, and Tokyo. He won his second Pulitzer in 2006 for his columns on Darfur. 

Sheryl WuDunn has coauthored several books with her husband, Nicholas D. Kristof, including Half the Sky and A Path Appears. Together they were awarded a Pulitzer Prize in 1990 for their coverage of China. They also received the Dayton Literary Peace Prize for Lifetime Achievement in 2009. WuDunn worked at the New York Times as a business editor and foreign correspondent in Tokyo and Beijing. She now works in banking.
or
Not Currently Available for Direct Purchase