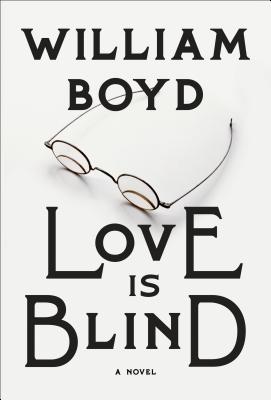 Love Is Blind (Hardcover)
A novel
Knopf, 9780525655268, 384pp.
Publication Date: October 9, 2018
Other Editions of This Title:
Digital Audiobook (10/8/2018)
Paperback (9/24/2019)
* Individual store prices may vary.
Description
When he is hired as the personal piano tuner for a brilliant pianist, Brodie Moncur suddenly finds himself swept up into a life of luxury that he could never have imagined. But while accompanying his new employer on tours from Paris to St. Petersburg, Brodie falls madly in love with the Russian soprano Lika Blum: beautiful, worldly, seductive—and forbidden. Though seemingly doomed from the start, Brodie's passion for Lika only grows as their lives become increasingly more intertwined, more secretive, and, finally, more dangerous. A tale of dizzying passion and brutal revenge; of artistic endeavor and the illusions it can create; of the possibilities that life offers and the cruel speed with which they can be snatched away, Love Is Blind is a dazzling work of historical fiction that unfolds across fin de siècle Europe.
About the Author
William Boyd is the author of fifteen novels, including A Good Man in Africa, winner of the Whitbread Award and the Somerset Maugham Award; An Ice-Cream War, winner of the John Llewellyn Rhys Prize and short-listed for the Booker Prize; Any Human Heart, winner of the Prix Jean Monnet and adapted into a BAFTA-winning Channel 4 drama; Restless, winner of the Costa Novel Award, the Yorkshire Post Novel of the Year and a Richard & Judy Book Club selection; the Sunday Times best seller Waiting for Sunrise; and Solo, a James Bond novel. William Boyd lives in London and France.
Praise For Love Is Blind: A novel…
Praise for Love Is Blind

"This audaciously unpredictable tale of passion and pianos in 1880s France and Russia is worthy of adulation. . . . William Boyd has pulled of an audaciously cunning trick, a literary bait and switch that both delights and surprises. . . . Boyd has always been a brilliant chronicler of both character and place . . . Vibrantly alive, full of the hum and filth of life . . . hugely readable, entirely engaging and frequently funny."
—Alexander Larman, The Guardian
 
"Perfectly pitched . . . On the surface Love Is Blind has all the hallmarks of a slow-burning thriller—the event packed story of a single decade in [a character's] life. . . . [But] the book balances the sad and ordinary randomness of life—its bathos even—with a kind of transcendence. . . . A finely judged performance: a deft and resonant alchemy of fact and fiction, of literary myth and imagination."
—Carys Davies, The Guardian
 
"William Boyd is in his element with this sweeping, involving tale. . . . A novelist on top form . . . There are few reading pleasures as great as giving in to a William Boyd novel when he's on song. The best are beautifully plotted, arcing across and expansive stretch of time, and stuffed with wonderfully individuated characters who will be quirky without being ridiculous. . . . If you like 'disappearing into a book' then Boyd is on form in the ultimate in immersive fiction, and Love Is Blind is Boyd at the top of his game. . . . He conjures up a world and a story so extraordinary and yet so convincing you feel they must be real."
—David Mills, The Times (London)
 
"Boyd is a golden combination of high literary credibility and popular acclaim. . . . Love Is Blind is part adventure and part misguided romance. Beneath the surface are two ghosts—Robert Louis Stevenson and the wise, sad Russian realist Anton Chekhov."
—Bryan Appleyard, The Sunday Times (London)

"Like [Sebastian] Falks, Boyd . . . has that rare gift of being popular and literary at the same time. His 15th book will surely be complementing living rooms across the country soon."
—Johanna Thomas-Corr, Evening Standard (London)

"Boyd has long been a master of the technical aspects of fiction-writing, and in Love Is Blind this is again in evidence: plotting, pacing and historical detail are all adroitly handled, and he succeeds in making the world of piano tuning—as well as the wider milieu of fin de siècle Europe—come alive. . . . Extremely enjoyable."
—William Skidelsky, Financial Times
 
"[Boyd] is exceptionally good at evoking a vivid sense of place. . . . Love is Blind is a cautionary tale in how passion can both lift up and destroy lives."
—Amy Scribner, BookPage

"Reading this masterly novel from Boyd is like easing into a comfortable prose chair. The language, story, and setting all converge in a richly satisfying human drama; highly recommended."
—Henry Bankhead, Library Journal (starred review)
 
"Boyd's lively 15th novel careens across the world . . . a wild story . . . ageless and very entertaining."
—Publishers Weekly
 
Praise for William Boyd
 
"Britain's greatest living novelist . . . [Boyd] has probably written more truly classic books than any of his contemporaries. . . . There's a rare, graceful permanence to Boyd's work."
―Tom Cox, Daily Telegraph (London)
 
"A worthy heir to Waugh and Amis . . . Boyd seems singularly blessed with both an innate love of storytelling and the talent to render those stories in swift, confident prose."
—Michiko Kakutani, The New York Times
 
"To read a William Boyd novel is to open a bottle of wine, light a fire, sit back in your favorite armchair and trust that the master practitioner will take you on an intriguing and unpredictable journey."
—Charles Cumming, The Spectator (London)
 
"A 21st-century avatar of Graham Greene . . . [and] the most reliably page-turning of modern English novelists, full of old-fashioned storytelling virtues, of place evocation, pace, drama and sex. . . . [A] prodigiously gifted master storyteller."
—John Walsh, Independent (London)
 
"[Boyd is] a debonair, versatile, casually philosophical literary entertainer—clever and thoughtful."
—Terrence Rafferty, The New York Times Book Review
 
"Boyd is a born story teller whose clear, taut prose never gets in the way of his characters and their unpredictable fates."
—Cynthia Crossen, The Wall Street Journal
 
"Few contemporary writers are able to evoke the ambiance and drama of our recent past as forcefully as Boyd . . . And [his] characters are as beguiling as his prose."
―Stephen Amison, The Washington Post
 
"One of the very best prose stylists and storytellers in the English language."
—Benjamin Healy and Benjamin Schwarz, The Atlantic Monthly