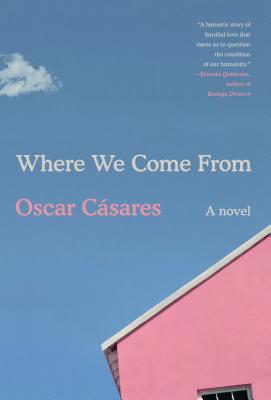 Where We Come From
A novel
Hardcover

* Individual store prices may vary.
Other Editions of This Title:
Digital Audiobook (5/20/2019)
Paperback (4/7/2020)
Library Binding, Large Print (12/25/2019)
Description
A stunning and timely novel about a Mexican-American family in Brownsville, Texas, that reluctantly becomes involved in smuggling immigrants into the United States.

From a distance, the towns along the U.S.-Mexican border have dangerous reputations--on one side, drug cartels; on the other, zealous border patrol agents--and Brownsville is no different. But to twelve-year-old Orly, it's simply where his godmother Nina lives--and where he is being forced to stay the summer after his mother's sudden death.

For Nina, Brownsville is where she grew up, where she lost her first and only love, and where she stayed as her relatives moved away and her neighborhood deteriorated. It's the place where she has buried all her secrets--and now she has another: she's providing refuge for a young immigrant boy named Daniel, for whom traveling to America has meant trading one set of dangers for another. 

Separated from the violent human traffickers who brought him across the border and pursued by the authorities, Daniel must stay completely hidden. But Orly's arrival threatens to put them all at risk of exposure.

Tackling the crisis of U.S. immigration policy from a deeply human angle, Where We Come From explores through an intimate lens the ways that family history shapes us, how secrets can burden us, and how finding compassion and understanding for others can ultimately set us free.
Praise For Where We Come From: A novel…
"Cásares beautifully shows us that anyone can become part of a family and that where you come from is 'nothing more than that'—where you come from. . . . Instead of being just a border novel or a novel about immigration writ large, it becomes more than that: It's a novel about the great lengths humans will go to in order to be seen, to be touched, to be loved."
—Javier Zamora, The New York Times Book Review

"An instant classic. . . . If I had to recommend just one book to comprehend the ongoing nightmare of human trafficking, the inequality along the border, the state of mind of the undocumented and the various parties—innocent and complicit—caught in this global capitalist struggle, this would be the one."
—Anis Shivani, Texas Observer

"[A] deeply human novel. . . . Concerned with what it means to make a life in a place where so many systems and institutions are designed to make you feel precarious and, in some way, permanently unrooted. . . . There are many moments of quiet power. . . . A story about the meaning of family and home."
—Omar El Akkad, BookPage
 
"[Where We Come From] is remarkable for its efficiency. Cásares writes with a leanness evident in a short story, but the thematic content is grand and provocative. . . . The book has an unnerving amount of tension. . . . A concise and thoughtful meditation on spaces: particularly the idea of home, both ancestral and structural."
—Andrew Dansby, Houston Chronicle

"A story that transcends politics—a fiction to tell a truer truth. . . . A thought-provoking read from a master storyteller whose unrelenting realism is often heartrending."
—Joseph Peschel, The Brooklyn Rail
 
"Through this deeply human and intensely powerful story of identity and family, Cásares beautifully explores American immigration and the power of compassion."
—Deep South Magazine
 
"[An] instant classic. . . . Cásares tight-weaves his words together as if he were working a loom on a fabric that is guaranteed to last."
—Dennis Haritou, Litbreak Magazine
 
"We need more border stories like this: insightful, compassionate, and not actually about politics or walls or you-know-who, but about humanity, family, and home—also known as the things that really matter."
—Emily Temple, Lit Hub

"Well-researched, not sensationalized and related with a dispassionate yet tender voice. . . . Cásares' narrative soars . . . with moments of humane beauty."
—Cory Oldweiler, amNewYork
 
"Evenly and quickly paced . . . this novel is suffused with boredom and menace—twins of a fugitive existence, punctuated by moments of pure terror. . . . Cásares's characters are finely wrought. . . . Cásares doesn't flinch from the ugliness, neither does he hit you over the head with it. Cásares is making a bid for our humanity, but he isn't peddling fairy tales. Even so, the end . . . which is pitch-perfect, gave me goosebumps and left me nodding, with a small smile on my face."
—Michelle Newby Lancaster, Lone Star Literary Life

"Potent. . . . Powerful. . . . A novel that addresses the complexities of immigration, identity, and assimilation while telling close, intimate stories. . . . Each voice in this chorus has something urgent to say. . . . Helping us learn the truth about who we are individually and as a society. . . . Delivers a truly timeless emotional punch."
—Kirkus Reviews (starred review)

"Thoughtful and quietly suspenseful. . . . While keeping the focus on family dynamics and the characters' internal struggles, Cásares frequently, and often heartbreakingly, sets this domestic story in a wider context by stepping back to investigate the stories of people with whom the main characters interact only tangentially (a waiter who provides room service for Orly's father in San Francisco; the gardener who cleans the gutters at Orly's house in Houston). With understated grace and without sermonizing, Cásares brilliantly depicts the psychological complexity of living halfway in one place and halfway in another."
—Publishers Weekly
 
"In this gentle novel, Cásares has done a beautiful job. . .creating a vivid portrait of a boy caught between two worlds. The story is a necessary exercise in empathy at a time when there is too little. . . . [A] heartfelt story about an intensely timely subject that demands attention."
—Booklist
Knopf, 9780525655435, 272pp.
Publication Date: May 21, 2019
About the Author
Oscar Cásares is the author of Brownsville, a collection of stories that was an American Library Association Notable Book, and the novel Amigoland. He is the recipient of fellowships from the Guggenheim Foundation, the National Endowment for the Arts, the Copernicus Society of America, and the Texas Institute of Letters. Originally from Brownsville, he now lives in Austin with his family and teaches creative writing at the University of Texas at Austin.
or
Not Currently Available for Direct Purchase