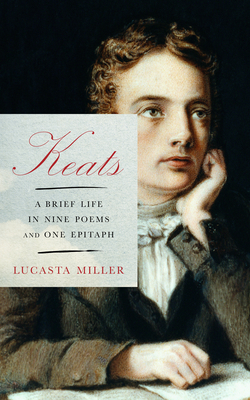 Keats
A Brief Life in Nine Poems and One Epitaph
Hardcover

* Individual store prices may vary.
Other Editions of This Title:
Digital Audiobook (4/18/2022)
Description
A dazzling new look into the short but intense, tragic life and remarkable work of John Keats, one of the greatest lyric poets of the English language, seen in a whole new light, not as the mythologized Victorian guileless nature-lover, but as the subversive, bawdy complex cynic whose life and poetry were lived and created on the edge.

In this brief life, acclaimed biographer Lucasta Miller takes nine of Keats's best-known poems—"Endymion"; "On First Looking into Chapman's Homer"; "Ode to a Nightingale"; "To Autumn"; "Bright Star" among them—and excavates how they came to be and what in Keats's life led to their creation. She writes of aspects of Keats's life that have been overlooked, and explores his imagination in the context of his world and experience, paying tribute to the unique quality of his mind.

Miller, through Keats's poetry, brilliantly resurrects and brings vividly to life, the man, the poet in all his complexity and spirit, living dangerously, disdaining respectability and cultural norms, and embracing subversive politics. Keats was a lower-middle-class outsider from a tragic and fractured family, whose extraordinary energy and love of language allowed him to pummel his way into the heart of English literature; a freethinker and a liberal at a time of repression, who delighted in the sensation of the moment.

We see how Keats was regarded by his contemporaries (his writing was seen as smutty) and how the young poet's large and boisterous life—a man of the metropolis, who took drugs, was sexually reckless and afflicted with syphilis—went straight up against the Victorian moral grain; and Miller makes clear why his writing—considered marginal and avant-garde in his own day—retains its astonishing originality, sensuousness and power two centuries on.
Praise For Keats: A Brief Life in Nine Poems and One Epitaph…
A New Yorker Best Book of the Year

"[Miller] digs into the backstories of her subject's most famous poems to uncover aspects of his life and work that challenge well-worn romantic myths. The irresistible result: an often irreverent yet compassionate approach to the poet that cuts through the hagiography . . . Her unpacking of his language, which is so brilliantly suited to representing material bodily experience, is often refreshingly matter of fact . . . Keats the man also emerges as fully embodied." —Elizabeth Lowry, Wall Street Journal
 
"Detailed and original . . . intimate . . . Miller conveys a strong personal connection with the poet . . . This penetrating and charming study will enchant Keats's fans." —Publishers Weekly
 
"Subtly intertwining biographical detail with crisp readings of the poetry, Miller creates an insightful, vibrant portrait." --Kirkus (starred)
 
"[Miller's] knowledge of all things Keatsian is formidable . . . she untangles the richly sensuous language of Keats's poems . . . The best short introduction I have come across." —John Carey, The Sunday Times
 
"Miller disrobes the myth, while helping us to appreciate what she calls Keats's 'vertiginous originality'. As a wittily perceptive introduction to (or reminder of) the poet and his work, her book is unlikely to be surpassed any time soon." —Miranda Seymour, Financial Times
 
"Lucasta Miller's task, which she carries out very successfully, is to strip away what we think when we think about Keats . . . Miller is empathetic, and relishes Keats's best phrases." —Philip Hensher, Spectator
 
"Miller's brilliant life of Keats, told through a close reading of 'nine poems and one epitaph', reminds us more than once of the way in which Keats can deploy Shakespearean techniques to stop us in our readerly tracks . . . timely and fresh . . . satisfying, engaging and accessible." —Rowan Williams, New Statesman
Knopf, 9780525655831, 368pp.
Publication Date: April 19, 2022
About the Author
Dr. Lucasta Miller is a British critic and historian who has lectured and broadcast widely on 19th-century literature. Her influential afterlife study, The Bronte Myth, first published in 2001, was reissued in a new edition in 2020; her pioneering biography of the 'female Byron' Letitia Landon was shortlisted for the NBCC awards in 2019. She has worked as a profile-writer for the Guardian and contributed to the Financial Times, the Daily Telegraph and the BBC. A former visiting fellow at Lady Margaret Hall, Oxford, she is currently Royal Literary Fund Fellow at the Courtauld Institute and reviews for The Spectator.