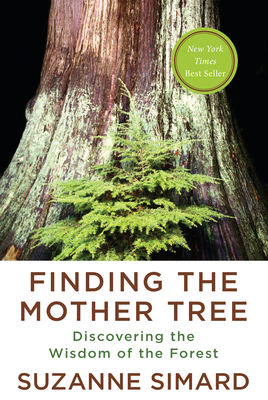 Finding the Mother Tree
Discovering the Wisdom of the Forest
Hardcover

* Individual store prices may vary.
Other Editions of This Title:
Digital Audiobook (5/3/2021)
Paperback (6/21/2022)
Paperback, Large Print (6/8/2021)
Description
NEW YORK TIMES BEST SELLER • From the world's leading forest ecologist who forever changed how people view trees and their connections to one another and to other living things in the forest—a moving, deeply personal journey of discovery

Suzanne Simard is a pioneer on the frontier of plant communication and intelligence; her TED talks have been viewed by more than 10 million people worldwide.

In this, her first book, now available in paperback, Simard brings us into her world, the intimate world of the trees, in which she brilliantly illuminates the fascinating and vital truths--that trees are not simply the source of timber or pulp, but are a complicated, interdependent circle of life; that forests are social, cooperative creatures connected through underground networks by which trees communicate their vitality and vulnerabilities with communal lives not that different from our own.

Simard writes--in inspiring, illuminating, and accessible ways—how trees, living side by side for hundreds of years, have evolved, how they learn and adapt their behaviors, recognize neighbors, compete and cooperate with one another with sophistication, characteristics ascribed to human intelligence, traits that are the essence of civil societies--and at the center of it all, the Mother Trees: the mysterious, powerful forces that connect and sustain the others that surround them.

And Simard writes of her own life, born and raised into a logging world in the rainforests of British Columbia, of her days as a child spent cataloging the trees from the forest and how she came to love and respect them. And as she writes of her scientific quest, she writes of her own journey, making us understand how deeply human scientific inquiry exists beyond data and technology, that it is about understanding who we are and our place in the world.
Praise For Finding the Mother Tree: Discovering the Wisdom of the Forest…
One of the Wall Street Journal's Ten Best Books of the Year • One of the Best Books of the Year: TIME, The Washington Post

"Vivid and inspiring . . . For Simard, personal experience leads to revelation, and scientific revelation leads to personal insight . . . Finding the Mother Tree helps make sense of a forest of mysteries. It might even persuade you that organisms other than ourselves—even fungi—have agency."—Eugenia Bone, The Wall Street Journal
 
"Simard creates her own complex network in this memoir, by weaving the story of [her] discoveries with vignettes from her past. The themes of her research—cooperation, the legacies that one generation leaves for the next, the ways in which organisms react to and recover from stress and disease—are also themes in her own life. The network of friends, family and colleagues who support Simard, as a scientist and as a woman, is visible throughout . . . It feels like a privilege to be let into her life."—Emma Marris, Nature
 
"Simard's memoir describes the intersecting webs of her career and private life that brought her to rewrite not only the forestry canon but our understanding of nature itself. She is an intellectual force whose powerful ideas overshadow her name . . . Like Charles Darwin's findings, Simard's results are so revolutionary and controversial that they have quickly worked their way into social theory, urban planning, culture and art. Simard's work knocked 19th-century notions of inevitable competition off their pedestals. If a forest is a commons where the fate of the weakest is tied to that of the strongest, then we have a lot of rethinking to do."—The Washington Post

"Simard has spent decades with her hands in the soil, designing experiments and piecing together the remarkable mysteries of forest ecology . . . elegantly detailed . . . deeply personal . . . A testament to Simard's skill as a science communicator. Her research is clearly defined, the steps of her experiments articulated, her astonishing results explained and the implications laid bare: We ignore the complexity of forests at our peril."—The New York Times

"[Simard] shares the wisdom of a life of listening to the forest . . . a scientific memoir as gripping as any HBO drama series."—The Observer

"Finding the Mother Tree reminds us that the world is a web of stories, connecting us to one another. Her vivid manuscript carries the stories of trees, fungi, soil and bears--and of a human being listening in on the conversation. The interplay of personal narrative, scientific insights and the amazing revelations about the life of the forest make a compelling story. Dr. Simard's journey as a scientist embodies the power of curiosity coupled to commitment to listen to the natural world and the courage to share what she has learned, against the resistance of scientific establishment. I have great admiration for her science and her storytelling alike. These are stories that the world needs to hear."—Robin Wall Kimmerer, author of Braiding Sweetgrass

"It completely overturned my view of nature."--Kristin Ohlson, New York Times bestselling author

"I can think of no one better suited to bring humanity into the process of science."--J. C. Cahill, professor of plant ecology at the University of Alberta

"What Simard is revealing here has implications and potential on the scale of mapping the human genome. Simard is one of this planet's most insightful and eloquent translators."--John Vaillant, bestselling author of The Tiger, Jaguar's Children, and The Golden Spruce

"The stories Simard tells, and the insights she draws from them, will inspire readers and change the way they think about the world around them."--Catherine Gehring, professor of biology at Northern Arizona University

"This book will have profound implications for our human relationships with the natural world. The insights presented by Dr. Simard point toward a complete paradigm shift in the ways we humans interact with forests, trees, and other species."--Nancy Jean Turner, professor of ethnobotany at the University of Victoria, author of The Earth's Blanket

"Galvanizing . . . As Simard elucidates her revolutionary experiments, replete with
gorgeous descriptions and moments of fear and wonder, a vision of the forest as an 'intelligent, perceptive and responsive,' comes into focus . . . A masterwork of planetary significance." —Booklist (starred review)
 
"Simard artfully blends science with memoir in her eye-opening debut on the 'startling secrets' of trees . . . As moving as it is educational, this groundbreaking work entrances."—Publishers Weekly (starred review)
 
"Simard tells the fascinating story that led Richard Powers to base a character on her in his Pulitzer Prize–winning novel The Overstory . . . intimate . . . absorbing . . . engaging . . . the science is solid, and the author's overarching theme of stewardship is clear, understandable, and necessary."—Kirkus 

Knopf, 9780525656098, 368pp.
Publication Date: May 4, 2021
About the Author
SUZANNE SIMARD was born in the Monashee Mountains of British Columbia and was educated at the University of British Columbia and Oregon State University. She is Professor of Forest Ecology in the University of British Columbia's Faculty of Forestry.