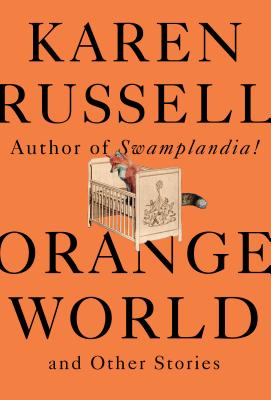 Orange World and Other Stories (Hardcover)
Knopf, 9780525656135, 288pp.
Publication Date: May 14, 2019
* Individual store prices may vary.
Description
From the Pulitzer finalist and universally beloved author of the New York Times best sellers Swamplandia! and Vampires in the Lemon Grove, a stunning new collection of short fiction that showcases her extraordinary gifts of language and imagination

These eight exuberant, arrestingly vivid, emotionally precise stories present one of America's most gifted young writers at the top of her form.

In "Bog Girl," a young man falls in love with a two-thousand-year-old girl that he's extracted from a mass of peat in a Floridian bog. In "The Bad Graft," a couple on a road trip stop in Joshua Tree National Park, where the spirit of a giant tree accidentally infects the young woman, their fates becoming permanently entangled. In the brilliant, hilarious "Orange World," a new mother desperate to ensure her daughter's health strikes a diabolical deal--she agrees to breastfeed the devil in exchange for his protection. In "The Prospectors," two opportunistic young women fleeing the depression strike out for new territory, and find themselves fighting for their lives.

Survival stories, love stories, stories of surreal and magnificent transformation--this is haunting and beautiful work from a true modern master.
About the Author
KAREN RUSSELL won the 2012 and the 2018 National Magazine Award for fiction, and her first novel, Swamplandia! (2011), was a finalist for the Pulitzer Prize. She has received a MacArthur Fellowship and a Guggenheim Fellowship, the "5 under 35" prize from the National Book Foundation, the NYPL Young Lions Award, the Bard Fiction Prize, and is a former fellow of the Cullman Center and the American Academy in Berlin. She currently holds the Endowed Chair at Texas State University's MFA program, and lives in Portland, Oregon with her husband and son.