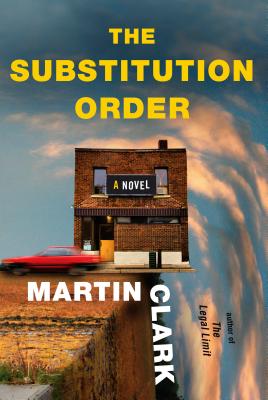 The Substitution Order
A novel
Hardcover

* Individual store prices may vary.
Other Editions of This Title:
Digital Audiobook (7/8/2019)
Paperback (6/23/2020)
Library Binding, Large Print (12/11/2019)
Description
A NEW YORK TIMES EDITORS' CHOICE

Kevin Moore, once a high-flying Virginia attorney, hits rock bottom after a tumultuous summer leaves him disbarred and separated from his wife. Short on cash and looking for work, he lands in the middle of nowhere with a job at SUBstitution, the world's saddest sandwich shop. His closest confidants: a rambunctious rescue puppy and the twenty-year-old computer whiz manning the restaurant counter beside him.

Kevin's determined to set his life right again, but the troubles keep coming, including a visit from a mysterious stranger who wanders into the shop armed with a threatening "invitation" to join a multimillion-dollar scam. Before long, Kevin will need every bit of his legal savvy just to stay out of prison.

In The Substitution Order, Martin Clark—hailed by Entertainment Weekly as "hands down our best legal-thriller writer"—takes readers on a remarkable tour of the law's tricks and hidden trapdoors and delivers a wildly entertaining novel that will keep you guessing and rooting for its tenacious hero until the very last page.
Praise For The Substitution Order: A novel…
"The Substitution Order is not merely a good legal thriller; it's a great one . . . . Clark cleverly weaves together . . . a truly thrilling ending." —Alafair Burke, The New York Times  

"The prizewinning Clark, a 59-year-old retired Virginia judge, has been compared to Carl Hiaasen and Nick Hornby. I would add 'Better Call Saul,' with its satisfying blend of satire and humanity. Clark's appealingly imperfect hero, Kevin Moore, is less of a mess than Saul Goodman but just as unlucky." —Richard Lipez, The Washington Post

"Once again, retried Virginia circuit court judge Martin Clark proves how adept he is at writing the contemporary legal thriller. The Substitution Order  is totally disarming. It never cheats; its clues are always in evidence. It is so tightly woven that its final chapter—its 'epilogue'—is going to leave readers smiling for days even as it brings an occasional tear to the eye. It is, in short, the best book so far from one of the South's best-kept secrets."  —Steven Whitton, Anniston Star

"Ingenious . . . terrifically entertaining [with] a truly diabolical plan of revenge that will bring gladness to every listener's ears." —Katherine Powers on audiobook, The Washington Post

"Clark, a retired judge-turned-author, has been injecting new life into the legal drama in recent years. Now he's back with another engaging, subversive story, this time about a Virginia attorney who finds himself disbarred and down-on-his-luck. Clark spins an intricate crime story around his protagonist, one that will draw readers in deeper and deeper, but the atmospherics and surprising relationships are what really drive the story." —Dwyer Murphy, Lit Hub

"Clark's trademark witty prose and mind-bending legal plotting get a welcome workout in this engaging thriller in which blackmail, financial derring-do, technical wizardry, a canny bit of pet training, and a bucolic rural Virginia setting converge in a pleasurably heady mixture."—Daneet Steffens, The Seattle Review of Books

"Clark's a genius in mixing in his extensive legal expertise and a healthy dose of wry humor and coming up with very good novels that win awards and frequent, well-deserved praise as the best legal thrillers going. The Substitution Order is another outstanding one, a story rich with atmosphere, memorable characters . . . and intriguing plot twists and surprises. Ingeniously plotted . . . with surprises right up to the end."—Linda Brinson, Greensboro News & Record

"Clark peoples his novel with a cast of fully realized characters who give the story an appealing familiarity. For 350 pages, he makes his corner of Virginia feel as recognizable as home, and the story will have most readers rooting for the good guys as if they were close friends . . . The Substitution Order contains dozens of moments that linger in memory long after the plot has been resolved."—Sean Kinch, Chapter 16


"Exceptional . . . Clark does a masterly job combining Kevin's plans to get himself out from under with a powerful portrayal of human frailty. John Grisham fans won't want to miss this one." — Publishers Weekly (starred)

"Deeply satisfying . . . Not nearly as well known as he should be, Clark is a retired Virginia circuit court judge [who] knows his way around the system, using the law as a foundation for novels that explore the rural South and the people who live there." —Kirkus Review

"The Substitution Order is remarkably lighthearted, in no small part because Clark has created likable and adaptable protagonists in Kevin and his sidekick, Nelson, the mongrel dog.  How they turn a doomed situation around is ingenious and unexpected." —Lorraine W. Shanley, Bookreporter

"An enjoyable read. As . . . thrillers go, this one is a cut above most of them.  Clark writes very well, and the reader will keep turning pages to find out what will happen next. " —Jerry Ridling, The Decatur Daily.

"Tightly plotted . . . In The Substitution Order, Martin Clark—often acclaimed as the country's best writer of legal thrillers—tells the tale of Kevin Moore.  Clark writes crisply about encounters among people, and sharply of the shortcomings of the legal and health care systems. There's plenty here to engage."  —Claire Hopley, Washington Times

"A wickedly clever, tenderhearted, and intricately plotted novel about a hard-luck lawyer's refusal to concede defeat, even as fate, the court system, and a gang of untouchable con artists conspire against him." —Civilian Reader

"Author Martin Clark, retired judge and master of colorful legal thrillers, is back with another page turner. Clark's narrator is smart and observant, and the reader is in good hands throughout the quickly moving plot." —Book City Roanoke
Knopf, 9780525656326, 352pp.
Publication Date: July 9, 2019
About the Author
Martin Clark is a retired Virginia circuit court judge who served twenty-seven years on the bench. His novels have appeared on several best-seller lists and have been chosen as a New York Times Notable Book, a Washington Post Book World Best Book of the Year, a Bookmarks Magazine Best Book of the Year, a Boston Globe Best Book of the Year, a Book of the Month Club selection, a finalist for the Stephen Crane Award for First Fiction, and the winner of the Library of Virginia's People's Choice Award in 2009 and 2016. He received the Patrick County Outstanding Community Service Award in 2016 and the Virginia State Bar's Harry L. Carrico Professionalism Award in 2018. Martin's wife, Deana, is a photographer, and they live on a farm with dogs, cats, chickens, guinea fowl, and three donkeys.
or
Not Currently Available for Direct Purchase