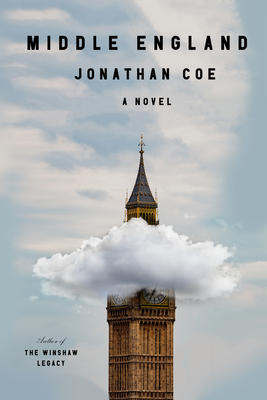 Middle England (Hardcover)
A novel
Knopf, 9780525656470, 448pp.
Publication Date: August 20, 2019
Other Editions of This Title:
Digital Audiobook (8/19/2019)
* Individual store prices may vary.
Description
From the acclaimed author of The Rotters' Club and The Closed Circle comes the novel for our strange contemporary times.

Beginning nine years ago on the outskirts of Birmingham, where car factories have been replaced by chain retail, and London, where both frenzied riots and Olympic fever plague the streets, Middle England tracks a brilliantly vivid cast of characters through the transformation of their society.
There are newlyweds Ian and Sophie, who disagree about England's future and, possibly, their relationship; Doug, the political commentator who writes impassioned columns about austerity from his Chelsea townhouse while his radical, teenage daughter undertakes a relentless quest for universal justice; Benjamin Trotter, who embarks on an apparently doomed new career in middle age, and his father Colin, whose last wish is to vote LEAVE in the Brexit referendum. Through all these lives we see this very tentatively united kingdom itself: a place of nostalgia and delusion, bewilderment and barely suppressed rage.
As acutely alert to the absurdity of the political classes as it is compassionate about those left behind by elites of all sorts, this is a novel only Jonathan Coe could have written.
About the Author
JONATHAN COE's awards include the John Llewellyn Rhys Prize, the Prix du Meilleur Livre Étranger, the Prix Médicis Étranger, and the Bollinger Everyman Wodehouse Prize for Comic Writing. He lives in London with his wife and their two daughters.
Praise For Middle England: A novel…
"In the three years since the E.U. referendum the only piece of writing I have found to really get under the skin of the mess that Britain is now has been Jonathan Coe's Brexit novel Middle England. It's funny, compassionate and completely clearsighted. Sometimes you want to thank an author for writing a certain book, and this is one of those times." —Nina Stibbe, The New York Times

"The book everyone is talking about." —The Times (London)

"[A] wild jaunt. . . . An incisive and often scabrously funny satire and a compelling portrait of the way we live now." —Minneapolis Star Tribune

"Coe's witty and knowing satire exposes the deepest feelings of a bunch of entertaining Brits facing an uncomfortable future—in a world very like our own." —People
 
"Middle England tracks a vivid cast of characters through the U.K.'s social and political transformation to its current troubled Brexit era, attuned to absurdity and suffused with compassion." —USA Today
 
"Brilliant. Read it too fast, finished it too soon." —Nigella Lawson
 
"Coe's writing is as smoothly accomplished as ever. His comic set pieces—funerals, dinners, clown fights—are very funny." —The Guardian
 
"A pertinent, entertaining study of a nation in crisis." —Financial Times
 
"A sweeping and very funny state-of-the-nation novel . . . Coe—a writer of uncommon decency—reminds us that the way out of this mess is through moderation, through compromise." —The Observer 

"[Coe] far outranks many Booker winners in his talent for characterization and captivating narrative." —Literary Review
 
"Brilliantly funny. . . . A compelling state-of-the-nation novel, full of light and shade, which vividly charts modern Britain's tragicomic slide." —The Economist
 
"At times uproarious and always on-the-money, without ever feeling didactic." —Evening Standard
 
"The first great Brexit novel." —Sathnam Sanghera
 
"Timely and timeless. . . . Coe's singular achievement is the dexterity with which he illustrates the generational conflicts and the nuanced experiences of aging. . . . This plaintive, clarion call is an acerbic, keenly observed satire peppered with the penetrating wit for which Coe is so justly admired." —Bill Kelly, Booklist (starred review)

"Sharply observed, bitingly witty yet emotionally generous. . . . Coe's marvelous humor is still in evidence, but it's got a decided edge. . . . With his usual acuity, [he] tells the story of a collective meltdown through its impact on individuals." —Kirkus Reviews (starred review)
 
"Excellent. . . . A neat pastiche of the cultural flash points of the past decade, done with humor and empathy. . . . A remarkable portrait of a country at an inflection point." —Publishers Weekly

"As Brexit throws Britain into another protracted turmoil, Jonathan Coe once again turns his talents to documenting the state of the nation. . . . Middle England is a hilarious, nuanced and well-observed novel that keeps the pages turning while leaving a smile on readers' faces." —BookPage
 
"The Rotters are back. . . . With stories ranging from the heady days of the London Olympics to the unholy mess that is Brexit, this multistranded novel depict[s] the ever-widening gulf between the well-intentioned but misguided Left and the angry Right. Coe astutely blends political insight with assured storytelling." —Library Journal