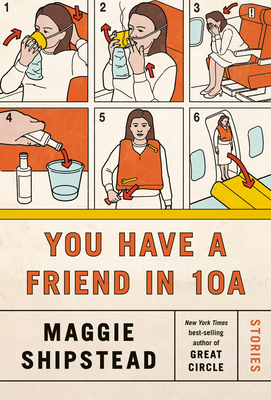 You Have a Friend in 10A
Stories
Hardcover

* Individual store prices may vary.
Other Editions of This Title:
Digital Audiobook (5/16/2022)
Description
From the Booker Prize nominee and New York Times best-selling author of Great Circle, a piercing, irresistible first collection of short stories exquisite in their craft and audacious in their range


A love triangle plays out over decades on a Montana dude ranch. A hurdler and a gymnast spend a single night together in the Olympic village. Mistakes and mysteries weave an intangible web around an old man's deathbed in Paris, connecting disparate destinies. On the slopes of an unfinished ski resort, a young woman searches for her vanished lover. A couple's Romanian honeymoon goes ominously awry, and, in the mesmerizing title story, a former child actress breaks with her life in a Hollywood cult.

In these and other stories, knockout after knockout, Maggie Shipstead delivers another "extraordinary" (New York Times) work of fiction and seals her reputation as a writer of "breathtaking range and skill" (Kirkus Reviews). Rich in imagination and dazzling in its shapeshifting style, You Have a Friend in 10A excavates the complexities of love, sex, and life in ways unsparing and hilarious, sharp-eyed and tender.

Praise For You Have a Friend in 10A: Stories…
"Brilliant, funny, and occasionally alarming . . . Maggie Shipstead's first story collection, You Have a Friend in 10A, reinforces the extensive talent on display in her first three novels. The work is convincing in any setting and any mode, whether it be quiet years on a Montana ranch ("The Cowboy Tango"), exploration of the Parisian catacombs ("Souterrain"), or a showcase of celebrity-infused horrors in Los Angeles (the titular story.) Shipstead seems to move effortlessly from plane to plane, bringing trademark eloquence and humor to each landscape she chooses . . .
[You Have a Friend in 10A] exhibits flourishing talent and general curiosity." – Minneapolis Star Tribune

"Immersive . . . [Shipstead] likes to ground her fiction in reality and has a penchant for research, with an ear tuned to social codes and niche terminology . . . There is a generous spirit beneath Shipstead's controlled, sometimes finicky style." –The New York Times

"The stories in You Have a Friend in 10A chart the evolution over more than a decade of [Shipstead's] unnerving ability to capture a character's inner life in a few choice phrases and to pinpoint the unique collision of personality flaws that will trigger the story's drama . . . It's a rare writer who can create a world as convincingly over a few pages as in a 600-page novel; Shipstead's fluency in both forms is testament to the skill she modestly casts as a work in progress." –The Guardian

"This snappy collection of ten short stories—each exhibiting Shipstead's dazzling knack for conjuring darkly complex characters—reaches the emotional depths of her previous works . . . But the limited word count sharpens Shipstead's prose in a tight, compelling assortment of dramas. Exacting in her language as ever, Shipstead presents a unified body of work while maintaining remarkable range of voice. If you struggle to keep from starting a few too many books at once—or in this writer's case, waaay too many books—You Have A Friend In 10A offers an array of intriguing, satisfying, quick reads perfect for punctuating your May rotation." –AV Club

"Maggie Shipstead's greatest talent is the exquisite control she exercises over all her writing. Like her novels, the stories in this collection exhibit precision handling of plot, pacing, and the relations between characters . . . Shipstead is masterful at using revelation to create meaning and impact. Read the book and you will be in good hands." –Pittsburgh Post-Gazette

"[You Have a Friend in 10A] gives readers the inspiring experience of charting the maturation of one of America's finest authors . . . The finest stories in You Have a Friend in 10A show that perpetual grief may not necessarily lead to great lives, but it can produce scintillating fiction." - BookPage

"You Have a Friend in 10A displays impressive range in these variegated narratives, whether it's MFA dude-bro culture in 'Acknowledgments' or a cult-involved movie star in the collection's title story. [Shipstead's] writing leans long—all of the stories but one run at least twenty pages—but as a result, Shipstead is able to construct fully-functioning worlds and then provide the characters within them the breadth to both breathe and grow . . . [Her] aim is always latitudinous precision that serves both the ampleness of storylines and her enduring characters." –The Sewanee Review

"A collection of tightly woven, sharply drawn short stories that explore love, longing, destiny and human entanglement. Each story is a fresh discovery and an exciting surprise, and you won't want to miss a single one." –Good Housekeeping

"Acclaimed author Shipstead turns her considerable talent to the short story, offering readers this sweeping collection crafted over the course of a decade . . . the resulting collection is an effortlessly transporting and piercing journey . . . Reaching across decades and set in a diverse array of locations both domestic and exotic, Shipstead's latest will find a home on bookshelves next to the work of Andre Dubus III, Jane Smiley, and Richard Russo." –Booklist [Starred Review]

"The 10 stories in this daring, wide-ranging debut collection from Shipstead (after the novel Great Circle) resonate as they leap across time and space . . . The masterwork is the deeply unsettling "La Moretta." Interspersed with segments from an enigmatic inquisition, it documents a honeymoon excursion gone horribly wrong. Here and throughout, Shipstead demonstrates a remarkable ability to interlace the events of ordinary life with a mythological sense of preordained destruction. Both formally inventive and emotionally complex, this pays off with dividends." –Publishers Weekly  [Starred Review]

"In this follow-up to her Booker short-listed Great Circle, Shipstead displays luminous, exacting language as she demonstrates her flair for creating distinctive characters who deal more or less successfully with what life has handed them . . . In the standout "Souterrain" ("subterranean" in French), feckless Iris inherits a house in Paris from her blind grandfather, Pierre, and a story unfolds of a family tragedy during World War II; Pierre's guilt over his inadvertent role in events, despite his youth; the painfully suppressed past of his housekeeper, Madame Harmou; and the tragic misunderstanding that dooms her son. Here as elsewhere, the characters' lives are shaped by unexpected or hidden events, large and small, and in the end Pierre's memories 'will join the dark matter that surrounds the living: the memories of the dead, undetectable but still exerting force.'" –Library Journal [Starred Review]
Knopf, 9780525656999, 272pp.
Publication Date: May 17, 2022
About the Author
MAGGIE SHIPSTEAD is the New York Times-bestselling author of three novels and a short story collection. Her novel Great Circle was shortlisted for the Booker Prize and is currently a finalist for the Women's Prize. She is a graduate of the Iowa Writers' Workshop, the recipient of a fellowship from the National Endowment for the Arts, and the winner of the Dylan Thomas Prize and the L.A. Times Book Prize for First Fiction. She lives in Los Angeles.