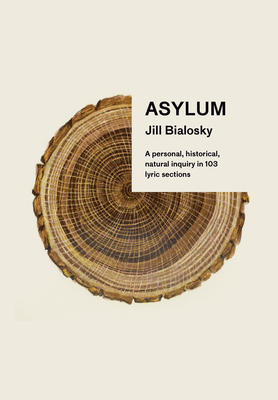 Asylum
A personal, historical, natural inquiry in 103 lyric sections
Hardcover

* Individual store prices may vary.
Other Editions of This Title:
Paperback (7/12/2022)
Description
This book-length sequence by the critically acclaimed poet is a seeker's story, revealing personal and historical traumas and how we search for understanding and meaning in their wake.

In Asylum, poet Jill Bialosky embarks on a Virgilian journey, building a narrative sequence from 103 elegant poems and prose sections that cohere in their intensity and their need to explore darkness and sustenance both.

Taken together, these piercing pieces--about her nascent calling as a writer; her sister's suicide and its still unfolding aftermath; the horror unleashed by World War II; the life cycle of the monarch butterfly; and the woods where she seeks asylum--form a moving story, powerfully braiding despair, survival, and hope. Bialosky considers the oppositions that govern us: our reason and unreason, our need to preserve and destruct. "What are words when they meet the action of what they attempt to modify?" she asks, exploring the possible salve of language in the face of pain and grief.

What Asylum delivers is a form of hard-won grace and an awareness of the cost of extreme violence, inexplicable loss, and the miraculous cycles of life, in work that carries Bialosky's art to a new level of urgency and achievement.
Praise For Asylum: A personal, historical, natural inquiry in 103 lyric sections…
National Jewish Book Award Finalist

"Asylum is a searching and epic work of lyric, a prismatic meditation that alternately reflects, rejoices, grieves, rages, hopes, and wonders as it sings . . . At once classical and deeply innovative . . . Bialosky delivers stunning variety in form, structure, scope, and modes of inquiry . . . I found myself reading and re-reading each of my favorite pieces, wanting to map the cosmos constructed by its language." —Jessica Tanck, Kenyon Review

"Asylum's form—a hybrid, nonlinear series of numbered, untitled lyric poems and fragments—gives Bialosky's lyric instincts a more epic platform, allowing her to play daringly and inquisitively with time and place . . . By turns symphonic, operatic, Dantean, intimate, timeless, and mythic, this quietly ambitious project is very much a book for the autumn of 2020." —Lisa Russ Spaar, Los Angeles Review of Books

"As we grapple with a new normal, Jill Bialosky's poetry might be the antidote we all need. Her new book Asylum, a compilation of prose and poetry, evokes despair, survival—and most importantly, hope." —Katie Couric, Wake Up Call

"Haunted by her sister's suicide and by political and environmental collapse, Bialosky finds refuge in nature and language, all the ways 'the mind seeks / to keep itself from torture.'" —The New York Times Book Review

"[Asylum] accrues power poem by poem." —Dan Giancola, The East Hampton Star

"Her most ambitious work to date—demonstrates both searching consciousness about life and its meanings and a careful braiding of literary histories and contemporary influences . . . Inquiry unfolds through these poems as intellectual interest melded with open-hearted curiosity . . . Piecing together narrative from Dante or savoring meaning with Celan in the twentieth century delights the speaker in these poems. Bialosky rigorously grounds these poems in the literary traditions . . . With attention from both the mind and the heart to language's sonorous resonances, transformation and reimagination are both at hand." —Julie R. Enszer, Tikkun

"Deeply profound in its exploration of life, death, nature, war, suicide, and spirituality . . . What makes these poems so powerful is Bialosky's honest and illuminating perspective paired with the solid, but gentle music of her poetic voice." —Andrea Syzdek, Against the Grain

"The elegiac fifth collection from Bialosky transcends genre, weaving tragedy, language, and perception in a poignant work of personal and public exploration . . . Here she explores language as an all-encompassing source of longing, consolation, redemption, and preservation . . . Erudite and devastating, Bialosky's timely collection reverberates with a rare empathy and resilience." —Publisher's Weekly (starred review)

"This graceful, spiraling, often elegiac, always vivid book-length meditation casts shifting light on family, self, and the drama of the living world. Whatever is illuminated, so precisely, so gracefully, is also shadowed. [Bialosky's] touch is light yet trenchant, her cadence entrancing, her wonder elating, her sorrows chilling . . . We enter 'asylum of thought / & afterthought,' the inner precincts of a poet tracing the nexus between mind and body, human and nature, life and death, while sheltering the small flame of hope, so tenuous, so necessary." —Donna Seaman, Booklist

"Reading Jill Bialosky's poems feels like taking a slow and lone journey into the depth of the human heart, yet all the while being accompanied and guided by an intimate voice. An urgent and expansive book, Asylum is a must-read for anyone who ponders over life and death and all that comes in between." —Yiyun Li

"Jill Bialosky's Asylum is a collection of terse forms and psalms that add up to a powerful, full-throated deliverance. Each trope captures life and death matters—a singing, a keening, within each taut, well-made release. Rather than craving a physical space, asylum is sought in language, metaphor, meditation, yoga, query, and hope. And one of the joys of reading this collection is to feel its poignancy through verbal accretion. Asylum is experimental and, at times, nearly classical, but always intently alive with lyrical truths." —Yusef Komunyakaa

"Bialosky's strongest collection to date. So compelling is her vision, so urgent her perceptions, that her grief becomes our grief, her world ours. We are with her on every step of a search that ends in art, and in a language that can save us." —Grace Schulman

"From personal story of a sister's suicide, to chants and whispers and lullabies assembled in a way as to create a book of days for this moment of terror and elegy, this book investigates into the ability of language to provide answers and comfort at the moment when there is no comfort to be found, and no answers: when all we can do is 'at the edge of the Hudson to watch the tugboats / & remind ourselves we live on an island of buildings. / The mayor warned us not to go out.' And yet, the poet insists—beautifully, gracefully, memorably—on seeking a sanctuary: 'asylum / in which the mind seeks / to keep itself from torture, asylum of thought / & afterthought, asylum / where birds mate & nourish.' Indeed. May we all find such asylum." —Ilya Kaminsky

"A refuge; from grief, and from threat of extinction. Bialosky weaves together the big cosmic time of trees and the natural world, with the detailed, apparently ordinary time of one woman's everyday life. The litany of memory, individual and collective, becomes fugue, becomes mantra. Whether you are a yoga lover, a tree lover, a mother, a reader, a sister, you will find something to love in this luminous collection." —Sarah Ruhl
Knopf, 9780525657095, 144pp.
Publication Date: August 4, 2020
About the Author
JILL BIALOSKY is the author of four acclaimed collections of poetry, most recently The Players; three critically acclaimed novels, most recently, The Prize; a New York Times best-selling memoir, History of a Suicide: My Sister's Unfinished Life; and Poetry Will Save Your Life: A Memoir. Her poems and essays have appeared in Best American Poetry, The New Yorker, The Atlantic, Harper's Magazine, O, The Oprah Magazine, The Kenyon Review, Harvard Review, and The Paris Review, among others. She coedited, with Helen Schulman, the anthology Wanting a Child. She is executive editor and vice president at W. W. Norton & Company. Her work has been a finalist for the James Laughlin Prize, the Patterson Prize, and Books for a Better Life. In 2014, she was honored by the Poetry Society of America for her distinguished contribution to poetry. She lives in New York City.
or
Not Currently Available for Direct Purchase