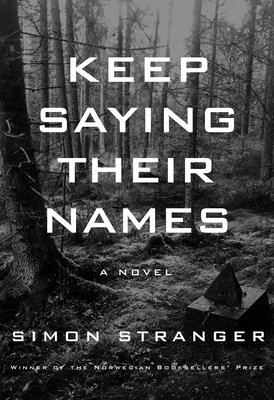 Keep Saying Their Names
A novel
Hardcover

* Individual store prices may vary.
Description
An extraordinary work of fiction, inspired by historical events--an exquisitely crafted double portrait of a Nazi war criminal and a family savaged by World War II, conjoined by an actual house of horrors they both called home

On a street in modern-day Norway, a writer kneels with his son and tells him that according to Jewish tradition, a person dies twice: first when their heart stops beating, and then again the last time their name is read or thought or said. Before them is a stone engraved with the name Hirsch Komissar, the boy's great-great-grandfather who was murdered by Nazis.

The man who sent Komissar to his death was one of Norway's vilest traitors, Henry Oliver Rinnan, a Nazi double agent who set up headquarters in an unspectacular suburban house and transformed the cellar into a torture chamber for resisters, a place to be avoided and feared.

That is until Komissar's own son, Gerson, and his young wife, Ellen, take up residence in the house after the war. While their daughters spend a happy childhood playing in the same rooms where some of the most heinous acts of the occupation occurred, the weight of history threatens to pull the couple apart.

In Keep Saying Their Names, Simon Stranger uses this unusual twist of fate to probe five generations of intimate and global history, seamlessly melding fact and fiction, creating a brilliant lexicon of light and dark. The resulting novel reveals how evil is born in some and courage in others--and seeks to keep alive the names of those lost.
Praise For Keep Saying Their Names: A novel…
"An utterly moving story, reminding us how in the end all we have are the names of those who came before us and the memories attached to those names. Rippling across generations, Keep Saying Their Names is as haunting for its characters as it will be for its readers." —Oscar Cásares, author of Where We Come From

"Keep Saying Their Names is a deep, yet gentle, exploration of how we become who we are, and how our individual decisions can impact the lives of others. Through the vivid scenes he creates, Stranger allows us to get closer to understanding how war creeps into every fabric of our lives, how it can possess places, buildings, objects, people. Ultimately, Stranger's masterful book is a pledge for taking individual responsibility: by remembering those who are no longer here, by keeping their stories alive, and by recognizing that we are made of our past. Reading this book is a deeply emotional experience, especially during a time of reemerging anti-Semitism. Its humaneness leaves you hopeful." —Nora Krug, author of Belonging: A German Reckons with History and Home 

"Keep Saying Their Names is a cut diamond of a book.  Both brutal and tender, it drills toward its dark truths with hypnotic force while glimmering with the bright hope that we all might be redeemed." —Joshua Furst, author of Revolutionaries

"Haunting . . . Stranger succeeds in shining a light of hope by keeping the memory of the dead alive. This tale of triumph and compassion is a testament to courage in the face of the darkest evil." —Publishers Weekly
Knopf, 9780525657361, 304pp.
Publication Date: May 19, 2020
About the Author
Born in 1976, SIMON STRANGER is the author of four previous novels and several books for children. His work has been translated into twelve languages, but Keep Saying Their Names is his first to be published in English. It was awarded the highly prestigious Norwegian Booksellers' Prize in 2018. He lives in Norway. Translated from Norwegian by Matt Bagguley.