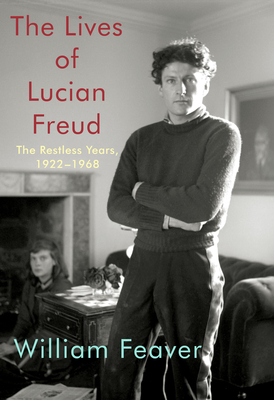 The Lives of Lucian Freud
The Restless Years: 1922-1968
Hardcover

* Individual store prices may vary.
Other Editions of This Title:
Digital Audiobook (1/18/2021)
Digital Audiobook (11/11/2019)
Hardcover (1/19/2021)
Description
The first biography of the epic life of one of the most important, enigmatic and private artists of the 20th century. Drawn from almost 40 years of conversations with the artist, letters and papers, it is a major work written by a well-known British art critic. 

Lucian Freud (1922-2011) is one of the most influential figurative painters of the 20th century. His paintings are in every major museum and many private collections here and abroad. William Feaver's daily calls from 1973 until Freud died in 2011, as well as interviews with family and friends were crucial sources for this book. Freud had ferocious energy, worked day and night but his circle was broad including not just other well-known artists but writers, bluebloods, royals in England and Europe, drag queens, fashion models gamblers, bookies and gangsters like the Kray twins. Fierce, rebellious, charismatic, extremely guarded about his life, he was witty, mischievous and a womanizer.
    This brilliantly researched book begins with the Freuds' life in Berlin, the rise of Hitler and the family's escape to London in 1933 when Lucian was 10. Sigmund Freud was his grandfather and Ernst, his father was an architect. In London in his twenties, his first solo show was in 1944 at the Lefevre Gallery. Around this time, Stephen Spender introduced him to Virginia Woolf; at night he was taking Pauline Tennant to the Gargoyle Club, owned by her father and frequented by Dylan Thomas; he was also meeting Sonia Orwell, Cecil Beaton, Auden, Patrick Leigh-Fermor and the Aly Khan, and his muse was a married femme fatale, 13 years older, Lorna Wishart. But it was Francis Bacon who would become his most important influence and the painters Frank Auerbach and David Hockney, close friends.
    This is an extremely intimate, lively and rich portrait of the artist, full of gossip and stories recounted by Freud to Feaver about people, encounters, and work. Freud's art was his life—"my work is purely autobiographical"—and he usually painted only family, friends, lovers, children, though there were exceptions like the famous small portrait of the Queen. With his later portraits, the subjects were often nude, names were never given and sittings could take up to 16 months, each session lasting five hours but subjects were rarely bored as Freud was a great raconteur and mimic. This book is a major achievement, a tour de force that reveals the details of the life and innermost thoughts of the greatest portrait painter of our time. Volume I has 41 black and white integrated images, and 2 eight-page color inserts.
Praise For The Lives of Lucian Freud: The Restless Years: 1922-1968…
"Gossipy, enthralling…this book captures the age in which Freud lived during the first half of his long life…One could say that "The Restless Years," with its vivid anecdotes and rakish candor, is a kind of collaboration between Freud and Mr. Feaver."—Dominic Green, The Wall Street Journal

"It is rare that a subject's voice rings so clearly through his own biography, and its salty, bragging, screw-you tone, its barbed humor and sudden darts into seriousness, fleet as a fish, are among the main pleasures of this book…the writer's deep background as a critic shines through."—Jan Dalley, The Financial Times

"Art, debauchery, nightlife, and lowlifes fill out this rollicking biography of the celebrated British painter…the result is a riotously entertaining narrative that immerses readers in Freud's beguiling sensibility." –Publishers Weekly (Starred Review)

"As entertaining, and full of twists and turns, as a picaresque novel … It has amazing zip and gusto, and leaves you wanting more. Which is just as well: there is a second volume to follow. I can't wait." —Craig Brown, Mail on Sunday

"Authoritative and exhaustive. Happy accident that it's so lovely to read." —Rumaan Alam, The New Republic
"Sensational . . . Rich with gossip and stories." —Vogue

"One of the most intimate biographies of an artist ever written … A delight" —Literary Review

"Lucian Freud never wanted anyone to understand him.  He wanted to be known as a painter but not as a person and during his lifetime he largely succeeded. But William Feaver . . . has done a brilliant job of illuminating his difficult, provocative personality."—Lynn Barber, The Daily Telegraph (Starred Review)

"Lucian Freud lived recklessly and selfishly—and made paintings unlike anything in the history of art… Freud didn't want a biography published in his lifetime, but he chose to talk amply with Feaver . . . with a dictaphone stretched to the limits, Feaver had the most superlative material—and he was bound to it. Large tracts of what we have here are Freud by Freud." —Alexandra Harris, The Guardian

"Mesmerizing, almost surreal in its headlong layering of detail, memory and gossip. Propelled by Freud's sardonic recollections, and lit throughout by William Feaver's impeccable, penetrating analysis of the work, this is a monstrously brilliant portrait." —Jenny Uglow, author of Mr. Lear: A Life of Art and Nonsense

"Lucian Freud was unique; unique in intensity, in affection, in interest and in fun. This brilliant and compendious biography has the same qualities. It does justice to Lucian." —Frank Auerbach

"The young Lucian Freud was 'a comet of astonishing brilliance,' said one writer. In William Feaver's The Lives of Lucian Freud: The Restless Years, 1922-1968, based upon decades of conversation with the painter, we hear Freud's remarkable voice on almost every page. The result is a vivid, intimate biography of one of the 20th century's most storied artists." —Annalyn Swan and Mark Stevens, authors of de Kooning: An American Master


Knopf, 9780525657521, 704pp.
Publication Date: October 29, 2019
About the Author
WILLIAM FEAVER is an art critic, and curator. He was the chief art critic for The Observer from 1975-1998, and has curated exhibitions from George Cruikshank to Frank Auerbach and Lucian Freud. He is the author of Frank Auerbach (Rizzoli, 2009). He lives in London.
or
Not Currently Available for Direct Purchase