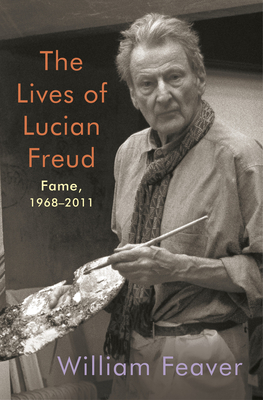 The Lives of Lucian Freud
Fame: 1968-2011
Hardcover

* Individual store prices may vary.
Other Editions of This Title:
Digital Audiobook (1/18/2021)
Digital Audiobook (11/11/2019)
Hardcover (10/29/2019)
Description
LONGLISTED FOR THE 2020 BAILLIE GIFFORD PRIZE

In this brilliant second and final volume of the definitive biography of Lucian Freud—one of the most influential, enigmatic and secretive artists of the twentieth century—William Feaver, the noted art critic, draws on years of daily conversations with Freud, on his private papers and letters and on interviews with his friends and family to explore the intimate life of Freud, from age forty-five to his death in 2011 at the age of eighty-nine.

The final forty years of Freud's life were a period of increasing recognition and fame, and of prodigious output. He was obsessed with his art, and with the idea of producing paintings that "astonish, disturb, seduce, convince." He was equally energetic and ambitious in his private life.  This book opens with his dramatic affair with Jacquetta Eliot, which led to some of his most intimate portraits and to the start of two important, lifelong friendships, with Jane Willoughby and Susanna Chancellor. Freud talks about his art at all stages, how it changed in the seventies and his first retrospective in London in 1974. His move to a new studio in Holland Park in the late seventies marked an important increase in the scale of his work, such as Large Interior W11 (After Watteau), which was his breakthrough painting. In this space, people would come and go—his children, his lover, the painter Celia Paul and all the sitters from his nightlife. His close friendship with Francis Bacon would end and be replaced with that of Frank Auerbach. His obsession with gambling would give way to work, and from the nineties through the 2000s, a wide range of subjects would sit for him, including the performance artist Leigh Bowery; Kate Moss; Jerry Hall; supervisor Sue Tilley; his longtime assistant, David Dawson; his own children; and, in 2001, Queen Elizabeth. Two phenomenally successful exhibitions would transform his international reputation: the Hirshhorn Museum in Washington DC in 1988 and a retrospective at the Tate in 2002.

Here is Freud's voice—still as fierce, complicated, witty and charismatic as in his youth—talking about his art, his friends and lovers and the gossip about them all, making this volume, like the first, a nod to autobiography. Vivid and engrossing, The Lives of Lucian Freud is a dazzling and authoritative tour de force that reveals important new details about the thoughts, the life and the work of this elusive artist.
Praise For The Lives of Lucian Freud: Fame: 1968-2011…
"The painter's most creative and flamboyant years are brilliantly captured in the final part of this landmark biography . . . Feaver regales us with personalities and anecdotes until the effect is almost like the "novel" Freud joked that he wanted . . . Detail, quotes, asides, descriptions are thickly layered on to the narrative canvas; there's a sense that no snippet has been left aside . . . Pictures are studied in detail, the mechanics of the artist's growing fame — the galleries, the exhibitions, the dealers, the prices — come in for careful reporting . . . Feaver, who [ . . . ] spoke to Freud on the phone most days and was regularly summoned to survey work in progress, writes with insight about the making of the most famous canvases . . . [A] magnificent book."
—Jan Dalley, The Financial Times

"The second volume of Feaver's compelling biography reveals the ruthlessness behind the artist's brilliance . . . [E]xtremely juicy . . . you can hear Freud's voice on the page." 
—Rachel Cooke, The Guardian

"Exemplary . . . The Lives of Lucian Freud: Fame is everything an artist's biography ought to be—illuminating, allergic to cant, personal, enormously picaresque—but so seldom is. Mr. Feaver's "Lives" of Freud cannot be praised too highly . . . Mr. Feaver did well not to belabor his subject's family tree, engaging the reader instead with improbable, mostly unsavory, often hilarious doings . . . The balance of Mr. Feaver's narrative is an impressionistic blur of friends and enemies made (primarily the latter), serial romance and ill-use and increasing dedication to craft . . . Mr. Feaver does not do grandiose exegesis. Insights are gleaned from conversation and canny observation . . . It is this that separates his magnificent likeness of Freud [. . .] from the rest—real character."
--Maxwell Carter, The Wall Street Journal
 
"Feaver doesn't provide a fixed portrait of Freud, the great realist painter, so much as he leads us into a studio filled with crusty brushes, scrapers, half-completed canvases, easels, dirty floorboards, mahlsticks and distilled turpentine, and lets us poke through the detritus as if to assemble a likeness for ourselves . . . Freud painted slowly, by accretion. Feaver's life of Freud is compiled similarly. The author, a gifted critic, knew Freud well during the last decades of his life, and they talked frequently on the telephone . . . Everybody has an opinion about Freud's art, and no one is wrong, exactly. I tend to align myself, as Feaver seems to, with Robert Hughes, who asserted in 1987 that Freud was "the greatest living realist painter." He made the ordinary gravid, and sublime."
--Dwight Garner, The New York Times Book Review

"A mesmerizing, entertaining account of Freud's life and art." 
—Marina Vaizey, The Arts Desk

"The concluding volume of Feaver's unmissable biography sees the great painter evolving from enfant terrible into Old Devil—although really was a man ever so uncompromisingly himself from cradle to grave? As a life it's both a horrible warning and a shining example, and Feaver does it justice."
—The Daily Telegraph

"Diverting … Freud played the mischievous bar-room raconteur, chuckling over bygone stunts and scrapes, and sticking the knife into old foes with venomous relish."
—Alastair Sooke, The Sunday Telegraph

"The first volume of Feaver's biography of the artist was highly acclaimed. This second one covers his most productive years." 
—The Sunday Times

"The latest installment of the epic biography of Lucian Freud finds him at the height of his fame. An unusually horrible but talented man."
—The Times

"More of the feel of a picaresque novel than would normally be expected of a biographical work."
—Rachel Campbell Johnston, The Times

"A mesmerizing picture of a paintaholic who was incorrigibly on the make … Feaver's vastly detailed biography is the ideal companion to Freud's work. It resembles nothing so much as a large Freud canvas: hypnotic, occasionally reiterative, quirkily dark in places, proceeding by a process of obsessive accretion." 
—Elizabeth Lowry, The Guardian

"An extremely juicy biography … What's good about this is that you can hear Freud's voice on the page, which is thrilling when he's talking about art … the book bulges with gossipy stuff … he was more vivid than other people – more nervous, more simple, more honest and Feaver's great and generous achievement in his book is to enable us to imagine this."
—Rachel Cooke, The Observer

"Does justice to Freud's pitiless genius as an artist."
—Ysenda Maxtone Grahame, The Daily Mail

"If Freud's pictures are at heart all about palpable reality, the same is true of Feaver' daunting enterprise. His subject – his friend – is selfish, often reprehensible, spoilt and sometimes vicious (not above posting dog faeces through an enemy's letterbox), but also generous, honest about his failings and capable of inspiring great loyalty in others. David Hockney, another sitter, described Freud's portraits as being essentially "an account of looking," and that's just what Feaver's book is too." 
—The Sunday Times

"The result is a biography that is as generous and unsparing as Freud's own best work. At once personally intimate and critically detached, perceptive on the art (his summary of one etching is that the model has "the look of one who rather thought she'd just forgotten something frightfully important") but never trying to compete with it, Feaver's biographical portrait is an unforgettable achievement." 
—The Prospect

"The second instalment of a much-lauded biography." 
—Andrew Holgate, The Sunday Times

"Feaver won plaudits aplenty for the first volume of this intimate biography of his long-time friend, which covers the years 1922-68 and has delighted readers with its 'high-grade gossip'. The second volume picks up from where he left off, and runs to the painter's death in 2011."
—Sophie Barling, Apollo Magazine

"[A] monumental new biography."
--Tom Shone, Avenue
 
"This volume will appeal to those readers more fascinated by the artistic than the social life; who want a behind-the-scenes account of Freud's succession of gallerists (and his rows and fallings-out with them), of the critical opinions of his work (and why they were wrong), of the staging of progressively more significant exhibitions . . . This biography deals with a grandson of the founding father of psychoanalysis. It is about a painter who famously conjured up a disconcerting aura of mental tension in his pictures."
--Rachel Campbell-Johnson, Air Mail
 
"Feaver's recollections of Freud's conversation provide insights into the painter's thoughts about art . . . Feaver also dishes up gossip, including the artist's sniping at his ally-competitor Francis Bacon . . . Freud's good qualities—empathy with animals, dedication to work, artistic independence—are rightly highlighted . . . The author uses contemporaneous notes of numerous meetings and telephone conversations with Freud—as well as extensive interviews with sitters and dealers—to provide much valuable first-hand testimony."
--Alexander Adams, The Art Newspaper
Knopf, 9780525657668, 576pp.
Publication Date: January 19, 2021
About the Author
WILLIAM FEAVER is an art critic, and curator. He was the chief art critic for The Observer from 1975-1998, and has curated exhibitions from George Cruikshank to Frank Auerbach and Lucian Freud. He is the author of Frank Auerbach (Rizzoli, 2009). He lives in London.
or
Not Currently Available for Direct Purchase