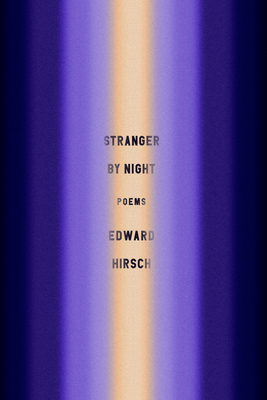 Stranger by Night
Poems
Hardcover

* Individual store prices may vary.
Other Editions of This Title:
Paperback (3/1/2022)
Description
In his seventieth year, the award-winning poet looks back on what was and accepts what is, in a deeply moving and beautiful sequence about what sustains him.

Beginning with "My Friends Don't Get Buried," the lament of a delinquent mourner as his friends have begun to die, and ending with the plaintive note to self "don't write elegies/anymore," Edward Hirsch takes us backward through the decades in these memory poems of startling immediacy. He recalls the black dress a lover wore when he couldn't yet know the tragedy of her burning spirit; the radiance of an autumn day in Detroit when his students smoked outside, passionately discussing Shelley; the day he got off late from a railyard shift and missed an antiwar demonstration. There are direct and indirect elegies to lost contemporaries like Mark Strand, William Meredith, and, most especially, his longtime compatriot Philip Levine, whom he honors in several poems about daily work in the late midcentury Midwest. As the poet ages and begins to lose his peripheral vision, the world is "stranger by night," but these elegant, heart-stirring poems shed light on a lifetime that inevitably contains both sorrow and joy.
Praise For Stranger by Night: Poems…
"Bring[s] new life to the elegy . . . Hirsch compresses molten emotions into spare, columnar lyrics ignited by exhilarating enjambments and cadences supple and musical . . . In singing, earthy, and soulful poems, Hirsch muses over age and the loss of friends, including fellow poets Philip Levine and Mark Strand . . . The poet also reaches back to his first hard-labor jobs, his teaching stints in coal country, and pilgrimages in Poland and Russia . . . Consummate, passionate, generous, and resplendent, Hirsch's poems vanquish the static of our lives and guide us back to a place of contemplation and gratitude." —Donna Seaman, Booklist (starred review)
 
"Tender and unflinching . . . Hirsch balances heartfelt elegy with a celebration of the everyday. In these 48 poems of sensory remembrance, any door might open on the past . . . While later poems address Hirsch's loss of eyesight, giving resonance to the collection's title, readers will be grateful that the poet's inner eye remains as observant and compassionate as ever." —Publishers Weekly (starred review)
Knopf, 9780525657781, 80pp.
Publication Date: February 11, 2020
About the Author
EDWARD HIRSCH, a MacArthur Fellow, has published nine previous books of poetry, including The Living Fire: New and Selected Poems and Gabriel: A Poem, a book-length elegy for his son. He has also published five books of prose, among them How to Read a Poem and Fall in Love with Poetry, a national best seller. He has received numerous prizes, including the National Book Critics Circle Award. A longtime teacher, at Wayne State University and in the Creative Writing Program at the University of Houston, Hirsch is now president of the John Simon Guggenheim Memorial Foundation. He lives in Brooklyn.
or
Not Currently Available for Direct Purchase