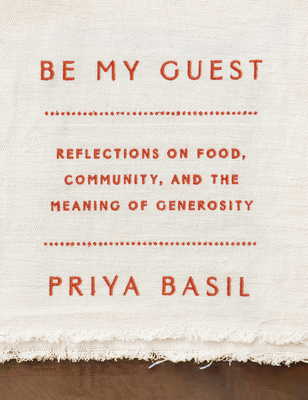 Be My Guest
Reflections on Food, Community, and the Meaning of Generosity
Hardcover

* Individual store prices may vary.
Other Editions of This Title:
Digital Audiobook (11/2/2020)
Hardcover (11/5/2019)
Description
A thought-provoking meditation on food, family, identity, immigration, and, most of all, hospitality--at the table and beyond--that's part food memoir, part appeal for more authentic decency in our daily worlds, and in the world at large.

Be My Guest is an utterly unique, deeply personal meditation on what it means to tend to others and to ourselves--and how the two things work hand in hand. Priya Basil explores how food--and the act of offering food to others--are used to express love and support. Weaving together stories from her own life with knowledge gleaned from her Sikh heritage; her years spent in Kenya, India, Britain, and Germany; and ideas from Derrida, Plato, Arendt, and Peter Singer, Basil focuses an unexpected and illuminating light on what it means to be both a host and a guest. Lively, wide-ranging, and impassioned, Be My Guest is a singular work, at once a deeply felt plea for a kinder, more welcoming world and a reminder that, fundamentally, we all have more in common than we imagine.
Praise For Be My Guest: Reflections on Food, Community, and the Meaning of Generosity…
"Basil draws on memoir, storytelling, religion, politics, and philosophy in this delightful and ruminative culinary cultural study . . . . [Her] powerful intellectual curiosity is sure to intrigue readers."
—Publishers Weekly (Starred Review)

"Basil explores what it means to be a woman, an immigrant, a host, and a guest through the backdrop of food, specifically the Indian food that reflects her Sikh background . . . . Pungent details help bring readers into the moment . . . . [Basil] also touches on deep subjects such as racism, food waste, and how food can be healing, seductive, or even used as a weapon."
—Kirkus 

"An intimate, delicious and thought-provoking story, told with warmth, humor and generosity."
—Nigel Slater, food journalist and author

"If the whole world digested Be My Guest, we'd be OK. It won't happen, of course, and Basil doesn't pretend that it will. Chauvinists, xenophobes, climate change deniers—inhospitable people the world over—will detest her compellingly beautiful book."
—Alexander Gilmour, The Financial Times
 
"Reading this slender, rich exploration of what it means to cook for others is like pulling up a chair at the ideal dinner party."
—Hephzibah Anderson, The Guardian
 
"A powerful meditation on hospitality . . . . Packed with such brilliance."
—Gareth Grundy, The Observer

"[A] philosophical meditation on the meaning of hospitality in forms large and small. It was directly inspired by Basil's experiences with that nonprofit, founded to help refugees who arrived in Berlin at the climax of the refugee crisis . . . [A] slim yet powerful collection of theories on hospitality both given and received . . . Basil works through her own memories and experiences as a child, then a young woman hungering for the comfort of her mother's cooking, and, finally, a grown-up learning to extend generosity to those in need." 
—Luisa Weiss, Publishers Weekly
 
"[A]n alluring philosophical exploration of hospitality, food culture, community, inequities, and the meaning of sharing meals in various contexts. Part personal history and part cultural exploration, Be My Guest is an elegant little book that feels all the more welcome in the time of Covid, when people are daydreaming more than ever about getting together over meals." 
—Sarah Neilson, Shondaland 
 
"This memoir is a self-reflection on how food and the act of serving it are used to express love and support. Basil draws on food, family, identity, immigration and hospitality to look at the world at large and how food plays a central part in its dynamics. Basil draws on some of her earliest memories of food and how it affected her upbringing and relationship with her parents. Now a parent herself, she centers food in her book's exploration of that transition." 
—Urmila Ramakrishnan, KQED 

"Written with poetry and heart, Basil manages to unite huge themes that affect us all while capturing the beauty of sharing."
—Francesca Brown, Stylist Magazine
 
"A brave and beautiful exploration into food, race, memory and the very meaning of life. I read it greedily—and so will you."
—Meera Sodha, food writer and columnist
 
"Be My Guest offers a rare combination of intellectual sophistication and emotional warmth. I enjoyed it very much."
—Sarah Moss, author of Ghost Wall
 
"The subject of food and its many-threaded associations – of generosity and privation, sharing and hoarding, diversity and denial, pleasure and fear – is the starting point for this absorbing meditation on the interface of self with other in contemporary Europe. Priya Basil writes with honesty, clarity and wit about what it means to be hospitable in a culture of selfishness, and the problems and possibilities of commonality."
—Rachel Cusk, author of the Outline trilogy

"A beautiful and personal book."
—Fernando Augusto Pacheco, Monocle 
 
"Buy the beautiful Be My Guest by Priya Basil for anyone you know who has incorrect political thoughts, including yourself. We all need to learn to be more generous hosts."
—Sophie Morris, inews.co.uk
 
"A very elegant meditation . . . . It's clever, it's political, but it's also incredible emotional . . . . I recommend it very highly. It's just a lovely, intellectual and emotional reset to read."
—Octavia Bright, Literary Friction
 
"A candid, often very funny, insightful look at food and the complexity of hospitality - a brilliant book."
—Jenny Lindord, author of The Missing Ingredient 
 
"Subtle, funny and incisive, Be My Guest can be read in a day, but it will take weeks to digest it fully."
—The Eden Magazine
Knopf, 9780525657859, 144pp.
Publication Date: November 3, 2020
About the Author
PRIYA BASIL was born in London to a family with Indian roots and grew up in Kenya. In 2002 she moved to Berlin, where she still lives. She has published two novels and a novella, as well as numerous essays for various publications, including The Guardian. Her fiction has been nominated for the Commonwealth Writers' Prize, the Dylan Thomas Prize, and the International IMPAC Dublin Literary Award. Basil is also the cofounder of Authors for Peace, a political platform for writers and artists, established in 2010.