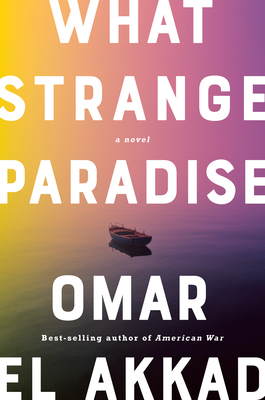 What Strange Paradise
A novel
Hardcover

* Individual store prices may vary.
Other Editions of This Title:
Digital Audiobook (7/19/2021)
Paperback (6/7/2022)
Paperback, Large Print (8/3/2021)
Description
A NEW YORK TIMES NOTABLE BOOK OF THE YEAR • From the widely acclaimed, bestselling author of American War—a beautifully written, unrelentingly dramatic, and profoundly moving novel that looks at the global refugee crisis through the eyes of a child.

"Told from the point of view of two children, on the ground and at sea, the story so astutely unpacks the us-versus-them dynamics of our divided world that it deserves to be an instant classic." —The New York Times Book Review

More bodies have washed up on the shores of a small island. Another overfilled, ill-equipped, dilapidated ship has sunk under the weight of its too many passengers: Syrians, Ethiopians, Egyptians, Lebanese, Palestinians, all of them desperate to escape untenable lives back in their homelands. But miraculously, someone has survived the passage: nine-year-old Amir, a Syrian boy who is soon rescued by Vänna. Vänna is a teenage girl, who, despite being native to the island, experiences her own sense of homelessness in a place and among people she has come to disdain. And though Vänna and Amir are complete strangers, though they don't speak a common language, Vänna is determined to do whatever it takes to save the boy.
 
In alternating chapters, we learn about Amir's life and how he came to be on the boat, and we follow him and the girl as they make their way toward safety. What Strange Paradise is the story of two children finding their way through a hostile world. But it is also a story of empathy and indifference, of hope and despair—and about the way each of those things can blind us to reality.
Praise For What Strange Paradise: A novel…
ONE OF THE BEST BOOKS OF THE YEAR: THE NEW YORK TIMES, THE WASHINGTON POST, NPR, BuzzFeed • Winner of the 2021 Scotiabank Giller Prize • Finalist for the 2022 Aspen Words Literary Prize • Finalist for the 2022 Oregon Book Award

"Extraordinary . . . Told from the point of view of two children, on the ground and at sea, the story so astutely unpacks the us-versus-them dynamics of our divided world that it deserves to be an instant classic. I haven't loved a book this much in a long time."
—Wendell Steavenson, The New York Times Book Review

"Riveting . . . Nothing I've read before has given me such a visceral sense of the grisly predicament confronted by millions of people expelled from their homes by conflict and climate change. Though What Strange Paradise celebrates a few radical acts of compassion, it does so only by placing those moments of moral courage against a vast ocean of cruelty."
—Ron Charles, The Washington Post

"Hope and kindness light the story in unexpected ways . . . El Akkad's precise prose allows him to inject heartfelt observations throughout the novel . . . Perhaps El Akkad's biggest accomplishment with What Strange Paradise is that it manages to push past political talking points and shocking statistics to rehumanize the discussion about migration on a global scale, and it does so with enough heart to be memorable."
—Gabino Iglesias, NPR

"[What Strange Paradise is] simple in the way that novels like The Stranger or Of Mice and Men are: brief, taut, cooly delivered but with seas of emotion swirling underneath."
—Mark Athitakis, Minneapolis Star Tribune

"In his acclaimed bestselling debut, American War, El Akkad demonstrated his ability to capture complex political events and place them on a personal scale. With his new novel, What Strange Paradise, he has done it again, this time asking questions about the global refugee crisis."
—The Millions, "Most Anticipated: The Great Second-Half 2021 Book Preview"

"What Strange Paradise is by turns tender and brutal in its truths. It is tremendously written, propulsive as it is expansive as it is granular in its specificities. Omar El Akkad writes with such emotional precision, power, and grace. Here we get the wondrousness of children set in sharp relief against a backdrop of the all too common dehumanization then dismissal of refugees everywhere. The book devastates and uplifts, somehow, and we are not left with hope—that isn't the point—but asked to witness, to see what is here, with clarity, and with fullness of heart."
—Tommy Orange, author of There There

"What Strange Paradise by Omar El Akkad just resuscitated my heart. This novel—following a boy who survives a refugee passage, and a girl whose homeland feels fractured—dares to unite us on the shore of shared human experience, and redefines hope in the face of despair. I want to read this book every single day. I want to live in a world where the beauty of strangers is a heartsong." 
—Lidia Yuknavitch, author of Verge

"It is one thing to put a human face on a migrant crisis and another to do so in so compelling a way that a reader simply cannot put your book down. I read this in one sitting, my heart pounding the whole way—in a strange paradise, you might say. Marvelous."
—Gish Jen, author of The Resisters

"What an imaginative, touching, and necessary novel Omar El Akkad has brought to us. It reminds us of the human stories behind headlines and statistics, and gives us one of the most memorable children characters, whose story adds urgency and poignancy to that 'awfully big adventure' stated by Peter Pan."
—Yiyun Li, author of Must I Go

"Impassioned and richly detailed, What Strange Paradise moves like a thriller and punches like a work of art. With this haunting story of refugees, high seas, sharks and Samaritans, Omar El Akkad continues on his impressive exploration of our contemporary world."
—Aravind Adiga, author of The White Tiger and Amnesty

"Great literature about migration should rehumanize the discourse surrounding it. What Strange Paradise does a fantastic job of that. Touching, gritty, and told in a unique voice that places childhood at the center of the discussion, this is a tender, haunting work about refugees everyone should read."
—NPR, "July Book-Ahead: What We're Excited to Read Next Month"

"Searing, lyrical . . . A beguiling parable of dispossessed peoples and the burning desire for home."
—Oprah Daily, "18 of the Best Books to Pick Up This July"

"Riveting . . . an intimate action-adventure story that's laced with hope and compassion, emotions with the power to transcend borders and worldly disputes."
— G. Robert Frazier, BookPage

"El Akkad. . . expertly contrasts the well-paced story of Amir's predicament with the ill-fated voyage that brought him to Greece. The ragtag bunch of strangers on the boat forms an incredibly well-drawn portrait of humanity as everyone bonds together initially, even with dollops of humor thrown in . . . A suspenseful and heartbreaking painting of the refugee crisis as experienced by two children caught in the crosshairs."
—Booklist, starred

"El Akkad's compelling, poetic prose captures the precarity and desperation of people pushed to the brink . . . A compassionate snapshot of one Syrian refugee's struggle to plot a course for home."
—Kirkus Reviews


Knopf, 9780525657903, 256pp.
Publication Date: July 20, 2021
About the Author
OMAR EL AKKAD is an author and a journalist. He has reported from Afghanistan, Guantánamo Bay, and many other locations around the world. His work earned Canada's National Newspaper Award for Investigative Journalism and the Goff Penny Award for young journalists. His writing has appeared in The Guardian, Le Monde, Guernica, GQ, and many other newspapers and magazines. His debut novel, American War, is an international bestseller and has been translated into thirteen languages. It won the Pacific Northwest Booksellers Association Award, the Oregon Book Award for fiction, and the Kobo Emerging Writer Prize, and has been nominated for more than ten other awards. It was listed as one of the best books of the year by The New York Times, The Washington Post, GQ, NPR, and Esquire, and was selected by the BBC as one of 100 Novels That Shaped Our World.
or
Not Currently Available for Direct Purchase