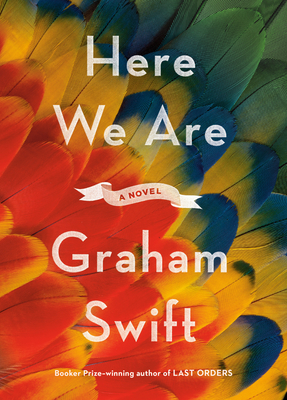 Here We Are
A novel
Hardcover

* Individual store prices may vary.
Other Editions of This Title:
Paperback (8/10/2021)
Compact Disc (9/22/2020)
MP3 CD (9/22/2020)
October 2020 Indie Next List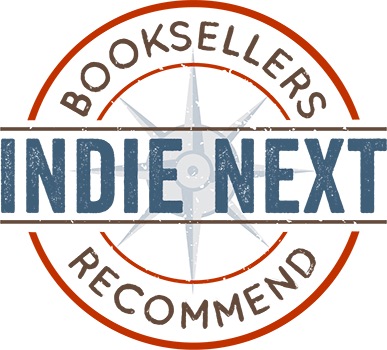 "
Here We Are
is a beautiful evocation of love, memory, and magic. With mesmerizing prose, Swift tells the tale of Jack, Ronnie, and Evie, who form a bond in the summer of 1959 when they work together at a variety show in Brighton, England. Ronnie hires Evie to be part of his magic act, and the two soon fall in love. Jack, the show's master of ceremonies, is Ronnie's best friend but he knows little about Ronnie's childhood experiences during the war. Fifty years later, Evie is looking back at their lives and what happened during the summer that changed everything. This quiet, compact novel soars with the grace and poignant feeling of Swift's masterful writing."
— Lori Feathers, Interabang Books, Dallas, TX
View the List
Description
This novel of love in the world of 1950s vaudeville is a masterwork of literary magic from the Booker Prize-winning author of Last Orders and Mothering Sunday

It is 1959 in Brighton, England, and the theater at the end of the famous pier is having its best summer season in years. Ronnie, a brilliant young magician, and Evie, his dazzling assistant, are top of the bill, drawing a full house every night. And Jack is everyone's favorite master of ceremonies, holding the whole show together. But as the summer progresses, the drama among the three begins to overshadow their success onstage, setting in motion events that will reshape their lives. Vividly realized, tenderly comic, and quietly shattering, Here We Are is a masterly work of literary magic.
Praise For Here We Are: A novel…
"Graham Swift appreciates the transcendent artistry of small works perfectly performed. His slim new novel transports us to a seaside theater in Brighton, England, during the summer of 1959 . . . This stylish narrator keeps the story sliding along so quickly that you'll barely notice his sleight of hand . . . With a sigh, Swift captures the tragicomedy of human life." —Ron Charles, Washington Post

"A beautiful new novel . . . Here We Are is fiction for the thinking person, for the reader who notices details and patterns. It is also a strangely emotional work . . . And this book itself is a work of magic: neither trick nor illusion, but a flash of truth . . . Rather in the manner of James Joyce or Virginia Woolf, Swift composes his fiction like a musical composition. Like them too, he is intently concerned with history: the forward and backward movement of individual lives in time, played out against the backdrop of seismic social change." —Brooke Allen, Wall Street Journal

"A paragon of the magic of compressed narration . . . Don't be fooled by the deceptive simplicity of Here We Are, which at first appears to be a light little story about a love triangle between three variety show performers in seaside Brighton, England in 1959 [but] turns out to be about nothing less than life's frequently baffling illusions and transformations . . . Once again, Swift has demonstrated wizardry in his ability to conjure magic out of ordinary lives." —Heller McAlpin, NPR
 
"Swift's closing account of a mundane world momentarily pierced by a shaft of numinous mystery is magnificent. It is what he did so brilliantly in Waterland . . . How delightful it is, then, to see a glimpse of that other Graham Swift—flamboyant, luxurious, outrageous even—back before our very eyes." —Kathryn Hughes, New York Times Book Review

"Quietly brilliant . . . A powerful study of fame, identity, and lost love . . . Swift has worked his magic to produce a novel fueled by, and consequently alive with, creative brilliance and emotional intensity." —Malcolm Forbes, Minneapolis Star-Tribune

"A jewel of a novel . . . Saturated with images and metaphors that recur like melodies . . . Swift's brief, magical tale demonstrates one more brilliant example of his talent for pulling universal themes out of the hats of ordinary lives." —Publishers Weekly (starred)
 
"Deeply moving . . . [Written] in the crisp, eloquently understated prose that has been a hallmark of Swift's award-winning career." —Bill Ott, Booklist (starred)

"A marvellous tale of post-war love and magic . . . Swift brings his old lyricism to a new landscape . . . Sensuous . . . A delight." —Nikhil Krishnan, Daily Telegraph 

"Some writers are like old friends—you can lose touch with their work and pick up right where you left off . . . Brilliant . . . This is a beautiful, gentle, intricate novella, the kind of book that stays with you despite not appearing to do anything particularly new or special. In fact, perhaps that's what makes it so very good: Here We Are smuggles within the pages of a seemingly commonplace tale depths of emotion and narrative complexity that take the breath away." —Alex Preston, The Observer

"A magical piece of writing: the work of a novelist on scintillating form . . . As enthralling as anything that will be published this year . . . The book wonderfully captures the experience of evacuation during the second world war. It's also a profoundly important story to tell in its own right . . . I don't know quite how Swift does it." —Barney Norris, The Guardian
 
"The book's power comes precisely from the fact that it performs its magic in front of your eyes, leaving nowhere to hide . . . You wonder how he does it." —Oliver Hurst, Financial Times
 
"A haunting read . . . Pitch-perfect . . . The compactly brilliant Mothering Sunday watched belated aftereffects of the First World War painfully working themselves out in 1924. A kind of companion piece, Here We Are watches consequences of the Second World War still cruelly making their presence felt . . . With a wizardry of his own, Swift conjures up an about-to-disappear little world and turns it into something of wider resonance." —Peter Kemp, The Sunday Times
 
"Here We Are is a subtle portrait of a vanished world . . . Moving." —Martin Chilton, The Independent
 
"Master novelist Swift invites readers to see parallels between the tricks he is pulling and the magic act that is the ostensible subject of his novel. Or is it? As Swift writes of a magician and the assistant to whom he is betrothed, 'The act had become a fluid phenomenon, yet full of a thrilling tension. You never knew what might happen next. This in itself became part of the attraction.'" —Kirkus Reviews
 
"Graham Swift is one of Britain's finest and most understated writers . . . None of his earlier books strays as deeply into the farther realms of the extraordinary as this latest work . . . Here We Are is not a fat novel, but it is a richly rewarding one, every line playing its part. The variety of voices and its historical and emotional reach are so finely entwined, it is as perfect and smooth as an egg. Passages leap out all the time, demanding to be reread, or committed to memory . . . Swift gives a lesson in sleight of hand, artistic control and the gear-changes involved in the slow and startling reveal . . . It is perhaps too simple to say that Swift creates a form of fictional magic, but what he can do with a page is out of the ordinary, far beyond most mortals' ken." —Rosemary Goring, The Herald (Scotland)
 
"Swift has been turning out literature of wit, intelligence and insight for a remarkable 40 years [and] has never lost his footing . . . Here We Are is a welcome addition to a proud legacy." —Jane Graham, Big Issue
 
"A quietly devastating, magical novel . . . Swift's prose is restrained but emotionally charged . . . Mothering Sunday was quite possibly the loveliest book I've ever read. Here We Are is in elegiac mode once more." —Francesca Carington, The Telegraph
 
"Graham Swift has never written anything that wasn't interesting and pleasing. He is powerful in an always understated way." —Alan Massie, The Scotsman



Australia:
 
"A short, word-perfect novel . . . Graham Swift is the quiet master of fiction, the magic of fiction, and in Here We Are, he returns us again to that 'tilt of the world,' the subject of all his novels, variations on the workings of class and history, the great changes and losses, the power of events accumulating, a single event that lives on in absence." —Drusilla Modjeska, Sydney Morning Herald
 
"An ethereal foray into the vanishing world of the magician . . . Beautiful, breathtaking and heart-wrenching." —Australian Women's Weekly
 
Germany:
 
"A magical book and great storytelling art." —Berliner Zeitung 
 
"With his book Mothering Sunday Graham Swift reached a high plateau of storytelling art . . . His new novel Here We Are is on the same high plateau." —Süddeutsche Zeitung 
 
"Graham Swift remains the master of the literary twinkling of an eye. Here We Are proves that deep seriousness and the greatest possible lightness can go together." —Abendzeitung 

"The beauty of Graham Swift's books is that he gives you what you want without you knowing that you wanted it. How does he achieve this magical feat? It remains his secret. What a magician." —Tagesspiegel
 
"With a few masterly strokes Swift evokes the privations of a wartime and post-war age . . . The world of 'variety,' of magic, of stage lights seems like a counter-world . . . but life, especially in these years, is both sweet and bitter . . . So Graham Swift relates in his quiet, beautiful and moving novel." —Frankfurter Rundschau
 
"From the light-footed world of show business he produces a story of depth." —WDR
 
"Graham Swift tells this story without any flamboyance of effect, yet it reverberates for days all the more. The question is always how do we become who we are? What can a soul undergo?" —NDR
 
"The greatest magician, there is no doubt about it, is Graham Swift himself." —Deutschlandfunk Kultur
 
Austria:
 
"Swift is a master of the nuance, the hint, of what remains unsaid. In this respect a novel about magic and illusion seems exactly the right terrain for him . . . Swift's novel itself has something magical about it, an enormous force that grows from the fact that so much is understated . . . Once again he proves that he is one of the great conjurers of contemporary literature." —Wiener Zeitung
 
"What flows from the British writer's pen is pure magic." —Kleine Zeitung 
 
Switzerland:
 
"Graham Swift takes on the trickery of the entertainment world for his magical storytelling, a virtuoso leading us into glittery deceptive zones and revealing a completely different side to the great British novelist." —Neue Zürcher Zeitung
 
Netherlands:
 
"Swift employs an unadorned but intense, musical prose that bathes the events described in an elusive gleam . . . Not for the first time Graham Swift captures the magic and mystery of 'ordinary' lives." —Het Parool
 
"Graham Swift gives you the feeling of entering another's life. How does he do it? I wonder this every time after reading a book by Graham Swift. You read it, you're close to it, yet you don't see how he does it. Swift's new novel Here We Areis about an illusionist—so fitting for a writer whose secret you just can't unravel." —Trouw
 
Belgium:
 
"The author knows, as always, how to render the human condition with a light touch . . . to catch the magic of life in words, that is an undertaking Graham Swift has mastered like no one else." —De Telegraaf
 
"A masterpiece of nuance and literary art." —BRF
 
"With a love story set in the variety-theatre world of post-war England, Graham Swift once again proves his skills as a literary acrobat who knows how to capture the abiding sadness of human existence in elegantly executed leaps of time and shifts of perspective. Swift has never been afraid of big themes like love and grief, but he treats them ever more delicately. The multi-award-winning writer, a craftsman who has nothing to prove, but still a lot to tell, delivers pure reading pleasure." —Humo
 
Sweden:
 
"With just a few pen strokes Graham Swift gives things a presence." —Dagens Nyheter
 
"In Here We Are everything is concentrated on only the most essential . . . Swift lets us get close to three characters one by one, so that they stay extraordinarily alive in the mind even after the book is finished." —Sydsvenskan
 
"A book that shines with magic . . . An extremely readable novel, skillfully narrated and raising many fundamental questions without feeling artificial or contrived." —Alba-nu
 
"A masterfully compressed triangular drama. Swift's ability to enter three people's entire lives in so few pages, deftly shifting between different points of view and at the same time giving the reader a palpable sense of the fragility of existence itself is narrative art of the highest order . . . His previous novel Mothering Sunday was hailed unanimously by critics. In its seemingly effortless composition Here We Are echoes that novel. Here too is the ability of great literature to move us by capturing the transience of life." —Barometern
 
"A masterly magic novel." —Kristianstadsbladet
Knopf, 9780525658054, 208pp.
Publication Date: September 22, 2020
About the Author
GRAHAM SWIFT was born in 1949 and is the author of ten novels; two collections of short stories; and Making an Elephant, a book of essays, portraits, poetry and reflections on his life in writing. With Waterland he won The Guardian Fiction Award, and with Last Orders the Booker Prize. Both novels have since been made into films. His work has appeared in more than thirty languages
or
Not Currently Available for Direct Purchase