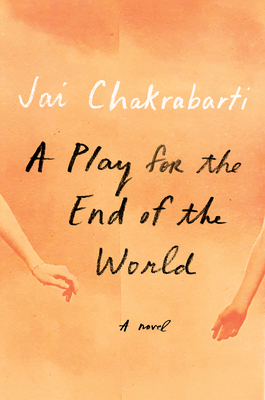 A Play for the End of the World
A novel
Hardcover

* Individual store prices may vary.
Other Editions of This Title:
Digital Audiobook (9/6/2021)
Description
"Looks deeply at the echoes and overlaps among art, resistance, love, and history ... an impressive debut." —Meg Wolitzer, best-selling author of The Female Persuasion

Oprah Daily's "30 of the Best Fall Books of 2021 to Cuddle Up With"
Vol. 1 Brooklyn's "Books of the Month"
Alma's "Favorite Books for Fall 2021"
Paperback Paris's "Debut Books We're Excited To Read"
Jewish Insider's "10 new books to read in September"

A dazzling debut novel—set in early 1970's New York and rural India—the story of a turbulent, unlikely romance, a harrowing account of the lasting horrors of the Second World War, and a searing examination of one man's search for forgiveness and acceptance.

New York City, 1972. Jaryk Smith, a survivor of the Warsaw Ghetto, and Lucy Gardner, a southerner, newly arrived in the city, are in the first bloom of love when they receive word that Jaryk's oldest friend has died under mysterious circumstances in a rural village in eastern India.
 
Travelling there alone to collect his friend's ashes, Jaryk soon finds himself enmeshed in the chaos of local politics and efforts to stage a play in protest against the government—the same play that he performed as a child in Warsaw as an act of resistance against the Nazis. Torn between the survivor's guilt he has carried for decades and his feelings for Lucy (who, unbeknownst to him, is pregnant with his child), Jaryk must decide how to honor both the past and the present, and how to accept a happiness he is not sure he deserves.
 
An unforgettable love story, a provocative exploration of the role of art in times of political upheaval, and a deeply moving reminder of the power of the past to shape the present, A Play for the End of the World is a remarkable debut from an exciting new voice in fiction.
Praise For A Play for the End of the World: A novel…
"A Play for the End of the World looks deeply at the echoes and overlaps among art, resistance,love, and history. Jai Chakrabarti is a lyrical writer, and this is an impressive debut." —Meg Wolitzer, best-selling author of The Female Persuasion

"Like Jhumpa Lahiri's The Lowland, Chakrabarti explores his flawed, bewildered characters' fine-grained emotional shifts when confronted with confusing, violent political movements. . . . These novelists are, at their hearts, elegists for time gone by." —The Washington Post

"The haunted man at the heart of Jai Chakrabarti's A Play for the End of the World is one of the few survivors of a generation, a Polish immigrant in New York who can't forget the makeshift family that was transported to Treblinka without him. . . . As the novel moves between [America and India] with interludes that return to the Warsaw ghetto, we come to understand Jaryk's guilt-stricken 'need to burrow into oblivion'—and to hope that another need will somehow uproot it." —The New York Times Book Review

"Based on a historical account, Chakrabarti's searing debut is a paean to art that transcends even the atrocities of genocide." —Oprah Daily

"There's nothing like losing a loved one to inspire a critical look at the idea of strictly linear time, and from there, a flirtation with the idea of parallel universes. Such speculative exercises are usually the domain of sci-fi, but Jai Chakrabarti's A Play for the End of the World manages to elicit a similar effect while remaining in the realm of literary realism. . . . The love between friends, the struggle to survive a relentless state, and the art that aids that struggle bring many lives into an eternal present." —The Paris Review

"Time, geographies and backgrounds all seem to flow effortlessly through Jai Chakrabarti's exquisite debut novel. . . . Chakrabarti, born in Kolkata and living in Brooklyn, N.Y., creates a gorgeous international, intercultural mosaic, revealing intricate pieces readers must carefully parse. That intimate engagement promises sublime insights about survival, everlasting guilt, the many layers of longing and the challenges of learning to love. Elegantly assured, Chakrabarti's storytelling proves revelatory." —Shelf Awareness

"In this beautiful, deeply imagined first novel Jai Chakrabarti combines widely disparate moments of the twentieth century: 1970s New York, the Warsaw Ghetto, a pilgrimage to India. In the heat of his art these very different elements are melted down and forged into something suspiciously like hope." —John Benditt, author of The Boatmaker, winner of the National Jewish Book Award for Debut Fiction

"[An] arresting debut. . . . Chakrabarti moves the reader seamlessly through the nonlinear narrative and brilliantly conveys . . . survivor's guilt. . . . This trenchant story will move readers." —Publishers Weekly

"Rich and complex. There are no simple answers in A Play for the End of the World: it shows how survival can feel morally ambiguous to those who wonder why they escaped death when others were not as lucky." —The Reporter

"An exceptional work of fiction. Expertly plotted and masterfully crafted, A Play for the End of the World is an unforgettable song that honors millions of lives lost due to genocide and political oppression. Already an award-winning short story writer, Jai Chakrabarti pens with the economic intensity and the power of observation that resurrects the past and shines the light of understanding onto the present and future. I could not put this book down!" —Nguyễn Phan Quế Mai, internationally best-selling author of The Mountains Sing

"Spanning continents and generations, Jai Chakrabarti's A Play for the End of the World is about love, art, performance, and the enduring weight of history. It's a beautiful, engrossing novel." —Joshua Henkin, author of The World Without You and Morningside Heights

"Chakrabarti's absorbing debut is an ode to art, friendship, and love. . . . At its heart this is a love story, and literary readers not used to cheering for a happy ending may find themselves doing just that." —Booklist

"Elegantly constructed and deeply moving, this stunning debut novel is a meditation on the emotional costs of survival, the role of art in desperate circumstances, and the redemptive possibilities of love. Jai Chakrabarti writes with poetic precision, psychological acuity, and great compassion." —Amy Gottlieb, author of The Beautiful Possible

"Chakrabarti deftly explores the weight of history, a touching love story, and . . . heart-wrenching survivor's guilt." —Kirkus Reviews

"Jai Chakrabarti's deeply moving novel poses the age-old question: can art save the world? His characters—masterfully connected through landscapes of war agony and unimaginable happinesses—ultimately reinforce the wisdom that stories are our way out. Storytelling will redeem us. A Play for the End of the World will stun you with its light and generosity. I couldn't put it down." —Carolyn Ferrell, author of Dear Miss Metropolitan

"A moving story on grief, surviving atrocities and finding love." —Alma

"Dazzling in its scope, uplifting in its vision, heart-wrenching in its intertwined narratives of trauma and survival, Jai Chakrabarti's A Play for the End of the World spans three continents and three decades in the life of Jaryk Smith, a Holocaust survivor whose journey is a testament to human resilience and an affirmation of the idea that art can save lives." —Elizabeth Gaffney, author of When the World Was Young and Metropolis
Knopf, 9780525658924, 304pp.
Publication Date: September 7, 2021
About the Author
JAI CHAKRABARTI's short fiction has appeared in numerous journals and has been anthologized in The O. Henry Prize Stories, The Best American Short Stories, and awarded a Pushcart Prize. Chakrabarti was an Emerging Writer Fellow with A Public Space and received his MFA from Brooklyn College. He was born in Kolkata, India, and now lives in Brooklyn, New York, with his family. A Play for the End of the World is his first novel.