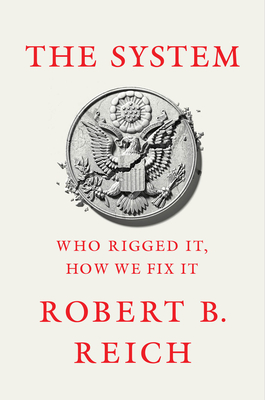 The System
Who Rigged It, How We Fix It
Hardcover

* Individual store prices may vary.
Other Editions of This Title:
Digital Audiobook (3/23/2020)
Paperback (2/2/2021)
Description
From the bestselling author of Saving Capitalism and The Common Good, comes an urgent analysis of how the "rigged" systems of American politics and power operate, how this status quo came to be, and how average citizens can enact change.

There is a mounting sense that our political-economic system is no longer working, but what is the core problem and how do we remedy it? With the characteristic clarity and passion that have made him a central civil voice, bestselling author of Saving Capitalism and The Common Good Robert B. Reich shows how wealth and power have combined to install an oligarchy and undermine democracy. Reich exposes the myths of meritocracy, national competitiveness, corporate social responsibility, the "free market," and the political "center," all of which are used by those at the top to divert attention from their takeover of the system and to justify their accumulation of even more wealth and power. In demystifying the current system, Reich reveals where power actually lies and how it is wielded, and invites us to reclaim power and remake the system for all.
Praise For The System: Who Rigged It, How We Fix It…
"Reich has an almost unmatched ability to make insightful observations about the nation's inequities, and in The System, he observes that the question is no longer Democrat versus Republican or left versus right, but 'democracy versus oligarchy'. . . Valuable. . . the anger [it] will generate may prove politically energizing."—Jeff Madrick, The New York Times Book Review 

"Reich does a brilliant job succinctly reminding us of the scale and scope of corporate corruption, economic inequality, and political spinelessness in America."—William Hawes, New York Journal of Books

"[The System] is ultimately an examination of the nature of power. Such an examination easily dispels the demagogic narrative, pulling back the curtain of wealth and power that currently obscures those with both from careful examination of how they secured and perpetuate such privilege. . . For decades, [the market] has been serving fewer and fewer, and the only way to turn the tide back in the favor of the many is for citizens to re-engage and raise our voices."—Dylan Schleicher, Porchlight 

"Incisive. . . [A] much-needed, readably concise political and economic analysis."—Kirkus 

"[Reich's] critique of the current system is evidence-based and authoritative. This call-to-action will resonate with progressive readers."—Publishers Weekly 

"Robert Reich is one of our country's most insightful commentators on politics and economics. Both a diagnosis and a call to arms, The System shows how our economy and our democracy are rigged to work for the wealthy and well-connected. Change is possible - if we are willing to fight for it."—Sen. Elizabeth Warren

"Robert Reich is one of the most important voices in America, fighting for an economy that works for all people and not just those at the top. Understanding what is happening in our country is critical if we want to fix it and Robert Reich is an exceptional teacher."—Sen. Bernie Sanders

"In this book Robert Reich exposes the con job of America's present manic hyper-capitalism. He exposes a 'system' that is defined less by free markets than by elite capture. He shatters the myths about rising tides and boats and slices of pie and whatever else those hackneyed people say, propelled by the insight that while money may not be a zero-sum situation, power is. And when America's plutocrats use money to capture power to make sure that they monopolize future money, rage swells, human potential withers on the vine, and the soul of the country changes."—Anand Giridharadas, author, Winners Take All
Knopf, 9780525659044, 224pp.
Publication Date: March 24, 2020
About the Author
ROBERT B. REICH is Chancellor's Professor of Public Policy at the Goldman School of Public Policy at the University of California, Berkeley. He has served in three national administrations and has written fifteen books, including The Work of Nations, which has been translated into twenty-two languages, and the best sellers The Common Good, Saving Capitalism, Supercapitalism, and Locked in the Cabinet. His articles have appeared in The New Yorker, The Atlantic, The New York Times, The Washington Post, and The Wall Street Journal, and he writes a weekly column for The Guardian and Newsweek. He is co-creator of the award-winning film Inequality for All, and the Netflix original Saving Capitalism, and co-founder of Inequality Media. He lives in Berkeley and blogs at robertreich.org.