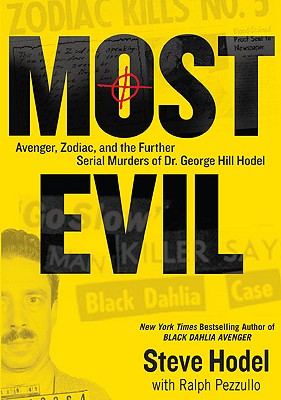 Most Evil
Avenger, Zodiac, and the Further Serial Murders of Dr. George Hill Hodel
Hardcover

* Individual store prices may vary.
Other Editions of This Title:
Mass Market (9/7/2010)
Hardcover, Large Print, Large Print (1/1/2010)
Compact Disc (2/24/2015)
MP3 CD (1/13/2015)
MP3 CD (9/22/2009)
MP3 CD (9/22/2009)
Compact Disc (9/22/2009)
Description
Twenty Years after shocking the world in Los Angeles, could Dr. George Hill Hodel have returned to terrorize California as the killer known as Zodiac?

When veteran LAPD homicide detective Steve Hodel discovered that his late father had known the victim of the infamous Black Dahlia murder case in 1947 Los Angeles, the ensuing three-year investigation became the New York Times bestseller Black Dahlia Avenger. Publication led directly to the discovery of a cache of hidden documents covered up for decades, that confirm George Hodel had long been law enforcement's number one suspect in Elizabeth Short's grisly death. A lurid murder mystery that had endured for more than fifty years was finally resolved.

But for Steve Hodel, that revelation was only the beginning. With twenty-five years of experience investigating homicides, Hodel's instincts told him that a man capable of bisecting Elizabeth Short's body, arranging it in gruesome and public tableau, and taunting the police and public with notes and phone calls, did not begin or end his killing career with the Black Dahlia.

In Most Evil, Steve Hodel compiles never-before-seen visual, circumstantial, and forensic evidence to make the case that his father was a prolific serial killer whose signature is visible not in any single method of murder, type of victim, or specific killing ground, but rather as a series of complex arrangements, installations, and obscure references to art, culture and film, that, taken together, reveal a chilling and never-before-documented variety of serial murder: murder as a fine art. Among his crimes may be some of the most enduring and infamous murders of the last century, including Chicago's "Lipstick Murders" in 1945 Chicago, the "Jigsaw Murdered" in Manila, as well as the series of killings in California in the 1960's by the man who called himself Zodiac.

Steve Hodel's relentless and compelling investigation, detailed in Most Evil, revolutionizes the way we think about some of the most brutal and previously unconnected murders in American history--and may change our understanding of serial killers altogether.
Dutton Adult, 9780525951322, 320pp.
Publication Date: September 22, 2009
or
Not Currently Available for Direct Purchase