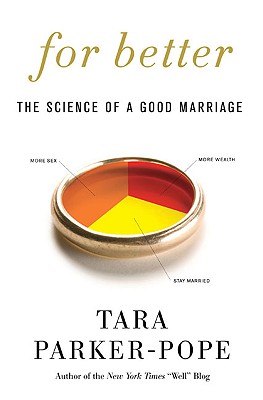 For Better: The Science of a Good Marriage (Hardcover)
The Science of a Good Marriage
Dutton Adult, 9780525951384
Publication Date: May 6, 2010
* Individual store prices may vary.
or
Not Currently Available for Direct Purchase
Description
Take The For Better Quiz #3: Defining Your Love Style.
One of the New York Times' most popular journalists presents groundbreaking scientific news about marriage. And, surprise: It's good news.

We've all heard the statistic: Fifty percent of marriages end in divorce. It's enough to make many couples give up when the going gets rough, thinking that's what everybody else does. But what if it weren't true? What if, in fact, it's not only possible but often easier than you think to save a seemingly troubled relationship? These are the questions Tara Parker-Pope asked herself after her own divorce. An investigative journalist on the health and wellness beat, she turned to some of the top biologists, neuroscientists, psychologists, and other scientists for the facts about marriage and divorce.

Those facts were more positive and provocative than she'd ever expected, and For Better offers page after page of astonishing, eye-opening good news. Parker-Pope presents the science behind why some marriages work and others don't; the biology behind why some spouses cheat and others remain faithful; the best diagnostic tools created by the most cutting-edge psychologists to assess the probability of success in getting married, staying married, or remarrying. There are questionnaires to uncover potentially damaging hidden attitudes toward spouses. There are tools to show the impact of routine, fresh activity and how small adjustments can make a huge difference. Tara Parker- Pope's genius is for exploring the science behind the big issues that affect our lives every day and translating that science into advice that we can use-every day.

For Better is the definitive guide to the most profound relationship of our lives.
About the Author
Tara Parker-Pope, who writes the "Well" blog for "The New York Times," is one of the newspaper's most popular and most e-mailed journalists. She appears regularly on radio and television, including "Today," "Good Morning America," and CNN. Parker-Pope lives in Bucks County, Pennsylvania.
Praise For For Better: The Science of a Good Marriage…
"This terrific informative book on marriage should be given out with every marriage license! There is something here for everyone, gay or straight, newly married or celebrating many years! Highly recommended."
-Susan M. Love author of Dr. Susan Love's Breast Book and Live a Little

"Finally! A real guide to making your marriage work. Tara Parker-Pope gives us all the latest concrete scientific information about how to get and keep life's greatest prize-a good partnership. It's educated; accurate; and honest. And it's a good read."
-Helen Fisher, Ph.D., author of The New York Times Bestseller Anatomy of Love

"Tara Parker-Pope has crafted a jam-packed, lucid survey of the science behind a sound marriage. No wonder she is so popular."
-Mehmet Oz, M.D., host of The Dr. Oz Show and Vice-Chair and Professor of Surgery at Columbia University

"This is science writing at its best. Tara Parker-Pope has as keen an eye for sociological spiderwebs as Malcolm Gladwell. She takes the most hidden-in-plain-sight situation-a struggling marriage-and cleverly follows all the causative strands. Take the transparent properties of sweatpants: until I read For Better, I had no idea that dirty laundry isn't just annoying-for many men, it's literally invisible. 'The explanation for this may be rooted in the earliest days of human couples,' Parker-Pope begins, and with that, you're off on a deep dive into love, life, and the true tale of how German neuroscientists got a handle on hot sex."
-Christopher McDougall, author of The New York Times bestseller Born to Run: A Hidden Tribe, Super Athletes, and The Greatest Race the World Has Never Seen

"Step by step, Tara Parker-Pope demystifies our most entrenched assumptions about love, sex and marital bonds. By translating the latest science into engagingly told, smartly considered insights, Tara has given us a landmark look at marriage-and profound reasons for optimism about the love in our lives."
-Jeffrey Zaslow, author of The New York Times bestseller The Girls From Ames

"A truly excellent exploration of marriage, written in clear and compelling prose, delighting the reader with surprising observations."
-Jerome Groopman MD, author of The New York Times bestseller How Doctors Think

"I couldn't wait to read Tara Parker-Pope's For Better, consuming it in one swoop. Tara takes her rigorous reporting in a field swamped with self-help books and cuts through to the science of marriage, returning with lessons that are counterintuitive: it's the little gestures that matter, eye-rolling is a predictor of divorce rates, and having outside friends can help strengthen a marriage. This is a book that parents will give to their children, groomsmen give to their friends, and spouses will give to each other for a long time to come."
-Jennifer 8. Lee, author of the Fortune Cookie Chronicles

"Tara Parker-Pope's new book For Better is a savvy, practical guide for side-stepping the doggy poop and dead ends that all couples encounter along that zany, zig-zaggy path we travel from 'I do' to 'I can...and will!'"
-Harvey Karp, MD, author of The New York Times bestseller The Happiest Toddler on the Block

"Tara Parker-Pope has written a gem of a book on marriage. It is chock full of rich scientific findings and tips on how the male and female brain can love better and live better together. Reading this book will absolutely improve your marriage."
-Louann Brizendine, M.D. author of The Female Brain and The Male Brain
Coverage from NPR
Advertisement