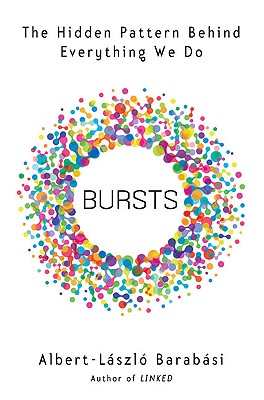 Bursts
The Hidden Pattern Behind Everything We Do
Hardcover

* Individual store prices may vary.
Other Editions of This Title:
Paperback (5/31/2011)
Description
A revolutionary new theory showing how we can predict human behavior-from a radical genius and bestselling author

Can we scientifically predict our future? Scientists and pseudo scientists have been pursuing this mystery for hundreds and perhaps thousands of years. But now, astonishing new research is revealing patterns in human behavior previously thought to be purely random. Precise, orderly, predictable patterns...

Albert Laszlo Barabasi, already the world's preeminent researcher on the science of networks, describes his work on this profound mystery in Bursts, a stunningly original investigation into human nature. His approach relies on the digital reality of our world, from mobile phones to the Internet and email, because it has turned society into a huge research laboratory. All those electronic trails of time stamped texts, voicemails, and internet searches add up to a previously unavailable massive data set of statistics that track our movements, our decisions, our lives. Analysis of these trails is offering deep insights into the rhythm of how we do everything. His finding? We work and fight and play in short flourishes of activity followed by next to nothing. The pattern isn't random, it's "bursty." Randomness does not rule our lives in the way scientists have assumed up until now.

Illustrating this revolutionary science, Barabasi artfully weaves together the story of a 16th century burst of human activity-a bloody medieval crusade launched in his homeland, Transylvania-with the modern tale of a contemporary artist hunted by the FBI through our post 9/11 surveillance society. These narratives illustrate how predicting human behavior has long been the obsession, sometimes the duty, of those in power. Barabási's astonishingly wide range of examples from seemingly unrelated areas include how dollar bills move around the U.S., the pattern everyone follows in writing email, the spread of epidemics, and even the flight patterns of albatross. In all these phenomena a virtually identical, mathematically described bursty pattern emerges.

Bursts reveals what this amazing new research is showing us about where individual spontaneity ends and predictability in human behavior begins. The way you think about your own potential to do something truly extraordinary will never be the same.
Praise For Bursts: The Hidden Pattern Behind Everything We Do…
"In Linked, Barabasi showed us how complex networks unfold in space. In Bursts, he shows us how they unfold in time. Your life may look random to you, but everything from your visits to a web page to your visits to the doctor are predictable, and happen in bursts."
-Clay Shirky, author of Here Comes Everybody

"Barabasi is one of the few people in the world who understand the deep structure of empirical reality."
-Nassim Nicholas Taleb, author of The Black Swan

"Barabßsi brings a physicist's penetrating eye to a sweeping range of human activities, from migration to web browsing, from wars to billionaires, from illnesses to letter writing, from the Department of Homeland Security to the Conclave of Cardinals. Barabßsi shows how a pattern of bursts appears in what has long seemed a random mess. These bursts are both mathematically predictable and beautiful. What a joy it is to read him. You feel like you have emerged to see a new vista that, while it had always been there, you had just never seen."
-Nicholas A. Christakis, M.D., Ph.D., coauthor of Connected: The Surprising Power of Our Social Networks and How They Shape Our Lives

"Bursts is a rich, rewarding read that illuminates a cutting-edge topic: the patterns of human mobility in an era of total surveillance. The narrative structure of Barabßsi's provocative book mimics the very pattern of bursts, as abrupt jumps through the lives of a post-modern sculptor, a medieval Hungarian revolutionist, and Albert Einstein eventually converge on a single theme: that our unthinking behaviors are governed by a deeper meaning that can only be deciphered through the brave lens of mathematics."
-Ogi Ogas, Ph.D., and Sai Gaddam, Ph.D., Boston University

"Barbasi, a distinguished scientist of complex networks, bravely tests his innovative theories on some historic events, including a sixteenth-century Crusade that went terribly wrong. Whether or not the concept of "burstiness" is the key to unlocking human behavior, it is nonetheless a fascinating new way to think about some very old questions."
-Thomas F. Madden, Ph.D., Professor of Medieval History, Saint Louis University, author of The New Concise History of the Crusades
Dutton Adult, 9780525951605
Publication Date: April 29, 2010
About the Author
Albert-Laszlo Barabasi is a pioneer of real-world network theory and author of the bestseller, "Linked: How Everything is Connected to Everything Else and What It Means for Business, Science, and Everyday Life." At 32, he was the youngest professor to be named the Emil T. Hofmann Professor of Physics at the University of Notre Dame and has won numerous awards for his work, including the FEBS Anniversary Prize for Systems Biology and the John von Neumann Medal for outstanding achievements. He currently lives in Boston and is Distinguished Professor and Director of the Center for Network Science at Northeastern University.
or
Not Currently Available for Direct Purchase