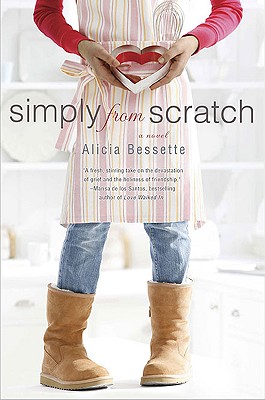 Simply from Scratch (Hardcover)
Dutton Adult, 9780525951827
Publication Date: August 5, 2010
Other Editions of This Title:
Hardcover, Large Print (12/1/2010)
* Individual store prices may vary.
Description
Read Alicia Bessette's blogs and view other content on the Penguin Community.
Alicia Bessette writes with compassion and tenderness to illuminate the many unexpected ways people save each others' lives every day-often without even knowing it. Poignant, bittersweet, and strikingly honest,
Simply from Scratch
is a radiant celebration of friendship and the strength of the human spirit.
Rose-Ellen ("Zell") Carmichael Roy wears her late husband Nick's camouflage apron even when she's not in the kitchen. That's her widow style.
It's been over a year since Nick died tragically during a post-Katrina relief mission in New Orleans. Long enough, according to the grief pamphlets, to have begun to move on with her life. But Zell is still unable to enter her attic, which is full of Nick memories. She hasn't even turned on her oven because cooking was Nick's chore. That is, until she decides to enter the first annual
Desserts that Warm the Soul
baking contest, hoping to donate the grand prize to Katrina survivors in Nick's memory.
Meanwhile, Zell's nine-year-old neighbor, Ingrid Knox, is learning to cope with the loneliness of growing up without a mother. With an imagination as big as her heart, Ingrid treasures her doting father but begins to plot how she will meet the woman who abandoned her so many years ago. When an embarrassing baking mishap brings Zell and Ingrid together, they form an unlikely friendship that will alter both of their lives forever. Together, and with the help of a lively and loveable cast of friends and family, Zell and Ingrid embark on winning the
Desserts that Warm the Soul
contest - and learn that through the many sorrows and joys of life, with a little bit of flour and a pinch of love, anything is possible.
Watch a Video
About the Author
Alicia Bessette was born and raised in central Massachusetts and graduated from La Salle University in Philadelphia. A pianist and freelance writer, she and her husband, novelist Matthew Quick, live near Philadelphia with their adopted racing greyhound, Stella. Simply from Scratch is Alicia's first novel.
Praise For Simply from Scratch…
"This story of a young widow edging warily back into the world is full of vivid characters and grace. Imbued with hope but blessedly lacking in sentimentality, it is a fresh, stirring take on the devastation of grief and the holiness of friendship."
-Marisa de los Santos, bestselling author of Love Walked In and Belong to Me

"Newcomer Alicia Bessette has written a love-letter of a novel. There's enough warmth here to fill your house on the coldest night. You'll wish you knew these people, this world."
-Justin Cronin, author of The Passage

"An utterly charming read about love and loss and what makes people go on with their lives after tragedy. Ultimately uplifting. . . striking and evocative."
-Patricia Wood, author of Lottery

"Intricately plotted, peopled with quirky, small-town heroes that come alive on the page, Simply from Scratch is a wonderful debut. Without shirking from the pain of bereavement and without wallowing in sentimentality, it offers, as a counterbalance to life's sadness, the sweet taste of human connectedness and caring. Alicia Bessette's novel is tender and deft and full of heart, touched with good humor and compassion, a modern hymn to friendship and love."
-Roland Merullo, author of Breakfast with Buddha

"Simply from Scratch is a sweet story of regeneration and hope, delivered by a writer of generous spirit and great heart."
-Rachel Simon, author of Riding the Bus with My Sister

"Readers will fall for the characters of this New England town who try to rescue the worn-through heart of one of their own. Told with equal parts warmth, hope, and humor, SIMPLY FROM SCRATCH is destined to be passed among friends who've shared in each other's grief, and honored it with love and compassion. It's a triumph of the heart."
-Amy MacKinnon, author of Tethered

"In her wise and delightfully fresh debut, Alicia Bessette has composed a tender song that rises through the clouds of loss and grief until it bursts into a joyous celebration of the human heart. To read this story is to embrace life."
-Beth Hoffman, New York Times bestselling author of Saving CeeCee Honeycutt

"Nicely wrought debut. . . charming, with a dash of romance."
-Kirkus Reviews
Book Videos
or
Not Currently Available for Direct Purchase