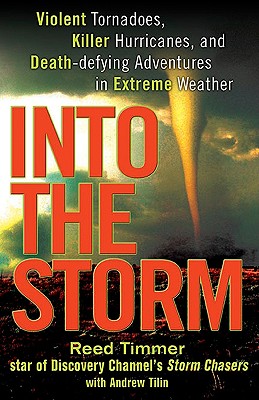 Into the Storm (Hardcover)
Violent Tornadoes, Killer Hurricanes, and Death-defying Adventures in Extreme Weather
Dutton Adult, 9780525951933, 288pp.
Publication Date: October 14, 2010
* Individual store prices may vary.
or
Not Currently Available for Direct Purchase
Description
Reed Timmer, a star of the top rated "Storm Chasers" on the Discovery Channel is one of the most successful and most extreme storm chasers in the world. His is a job that requires science and bravado, knowledge and instinct just to survive, never mind excel. Now, in "Into the Storm," he takes readers inside the terrifying and awe-inspiring world of big weather.
Published to coincide with the fourth season's premiere, "Into the Storm" is Timmer's dramatic account of his extraordinary profession. Featuring stories of the three-hundred-plus extreme tornados, hurricanes, or blizzards that Timmer has watched ring-side over the last decade-storms that include the killer F5 tornado that struck Moore, Oklahoma, in May 1999; the unprecedented, devastating storm surge of Hurricane Katrina; and the little-studied but enormously powerful storm systems in places like Canada and Argentina. As a Ph.D. candidate in meteorology, Timmer is after more than just an adrenaline rush-his stories feature fascinating insights into the science of storms, and how the data he is collecting will could possibly save lives. With a firsthand perspective on the storm-chasing community, Timmer also takes readers inside this world, examining his controversial obsession and the ethical debates it sparks.
Featuring the same you-are-there immediacy that attracts hundreds of thousands of visitors to Timmer's web site tornadovideos.net, every month, "Into the Storm" is one wild-and informative-ride.
Watch a Video
About the Author
Reed Timmer is one of the most successful and daring storm chasers in the world. Not only has he intercepted over 250 tornadoes and a dozen powerful hurricanes during the last decade, Timmer is also one of the few people in the field to document both an F5 tornado (the strongest level possible) and the most devastating hurricane in U.S. history Hurricane Katrina. He stars on one the of Discovery Channel s most popular series, "Storm Chasers" (19.3 million viewers in season 2). Timmer has also appeared on "The Today Show, Good Morning America, The Early Show," CNN and been featured in documentaries and on other television shows ( When Nature Strikes, Full Force Nature ). Every YouTube video he posts gets hundreds of thousands of views. He will graduate with a Ph.D. in Meteorology from the University of Oklahoma in 2010. Timmer is a disaster educator, and conducts storm spotter seminars for the National Weather Service, emergency managers, and the general public. He lives just outside Oklahoma City, Oklahoma."
Book Videos
Advertisement