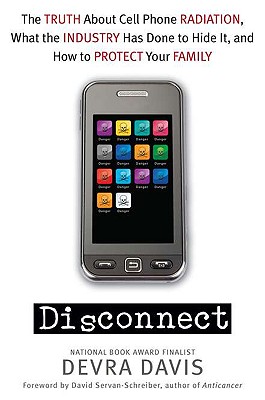 Disconnect
The Truth About Cell Phone Radiation, What the Industry HasDone to Hide It, and How to Protect Your Family
Hardcover

* Individual store prices may vary.
Other Editions of This Title:
Digital Audiobook (9/22/2010)
Paperback (11/21/2013)
MP3 CD (9/23/2010)
Compact Disc (9/23/2010)
Compact Disc (9/23/2010)
MP3 CD (9/23/2010)
Paperback (11/24/2011)
Description
For more information, visit www.devradavis.com.The much-anticipated, explosive expose of how cell phone use damages brain cells, especially in children, by one of the world's foremost scientific experts in the field.
Devra Davis presents an array of recent and long suppressed research in this timely bombshell. Cell phone radiation is a national emergency. Stunningly, the most popular gadget of our age has now been shown to damage DNA, break down the brain's defenses, and reduce sperm count while increasing memory loss, the risk of Alzheimer's disease, and even cancer. The growing brains of children make them especially vulnerable. And half of the world's four billion cell phone used by people under twenty.
Davis, the founding director of the toxicology and environmental studies board at the U.S. National Academy of Sciences, takes readers through the dark side of this trillion-dollar industry. Health experts have long been frozen out of policy-making decisions about cell phones; federal regulatory standards are set by the cell phone industry itself. Cell phone manufacturers have borrowed the playbook of the tobacco industry. One secret memo reveals their war plan against reports of cell phone dangers.
Among a host of fascinating characters, Davis introduces Om P. Gandhi, a world expert on how cell phone radiation penetrates the human brain. Once a consultant to major cell phone companies, Gandhi now refuses to work with them. Franz Adlkofer led the multi-lab study that showed once and for all that brain cell DNA is unraveled by cell phone microwave radiation-and, as Davis dramatically portrays, it nearly cost him his career.
As this eye-opening call to action shows, we can make safer cell phones now. Why would we put our children at risk of a devastating epidemic of brain illness in the years to come?
Praise For Disconnect: The Truth About Cell Phone Radiation, What the Industry HasDone to Hide It, and How to Protect Your Family…
Davis makes a strong case in her book that we've underplayed the possible threat from cell phones for too long...Time and again, she shows the way that industry has been able to twist science just enough to stave off the possibility of any regulation."—Time Magazine



"Disconnect will surprise many and anger some. It tells all too human stories behind the science and engineering of cell phones and raises important unresolved questions about this universal technology."—Frank A. Barnes, Professor, University of Colorado at Boulder, Member of the National Academy of Engineering



"A critically important book that is a must—read for parents and policy makers. A surprising, well—documented, and compelling call for action."—Phil Lee, M.D., former United States assistant secretary for health, Chancellor Emeritus, University of California, San Francisco



"An amazing and important book that must be read to be believed. Are these devices safe for humans? The 'don't ask, don't tell' approach of the industry is irresponsible at best, criminal at worst. Read and learn why and how to protect yourself and your loved ones."—Mark Hyman, M.D., author of The UltraMind Solution, Chairman, The Institute for Functional Medicine



"A brilliant and courageous tour de force by one of our nation's leading environmental health experts. Davis provides a detailed exposé that forces us all to take a good, hard look at what we know and what we don't know about cell phones." —Ronald B. Herberman, M.D., Founding Director Emeritus, University of Pittsburgh Cancer Institute



"Devra Davis has written a book that will change the way the world thinks about cell phones and the potential public heath disaster they represent."—Carlos Santos—Burgoa, M.D., M.P.H., Ph.D., Past President, International Society for Environmental Epidemiology



"This book will be a must—read for anyone who cares about our children's brains."—David Servan-Schreiber, M.D., Ph.D., author of Anticancer


Dutton Adult, 9780525951940, 271pp.
Publication Date: September 23, 2010
About the Author
Devra Davis, Ph. D., M. P. H., is a scientist, professor, speaker, and acclaimed author, and recently testified before a United States Senate committee about the dangers of cell phone use. Her first book, "When Smoke Ran Like Water," was a National Book Award finalist. She is the founder of Environmental Health Trust, www.environmentalhealthtrust.org. She lives in Washington, D.C., and Jackson, Wyoming.
or
Not Currently Available for Direct Purchase