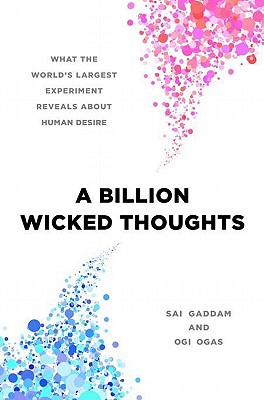 A Billion Wicked Thoughts
What the World's Largest Experiment Reveals about Human Desire
Hardcover

* Individual store prices may vary.
Other Editions of This Title:
Paperback (5/29/2012)
Description
Two maverick neuroscientists use the world's largest psychology experiment-the Internet-to study the private activities of millions of men and women around the world, unveiling a revolutionary and shocking new vision of human desire that overturns conventional thinking.
For his groundbreaking sexual research, Alfred Kinsey and his team interviewed 18,000 people, relying on them to honestly report their most intimate experiences. Using the Internet, the neuroscientists Ogas and Gaddam quietly observed the raw sexual behaviors of "half a billion" people. By combining their observations with neuroscience and animal research, these two young neuroscientists finally answer the long-disputed question: what do people "really" like? Ogas and Gaddam's findings are transforming the way scientists and therapists think about sexual desire.
In their startling book, Ogas and Gaddam analyze a "billion wicked thoughts" on the Internet: a billion Web searches, a million individual search histories, a million erotic stories, a half-million erotic videos, a million Web sites, millions of online personal ads, and many other enormous sources of sexual data in order to understand the true differences between male and female desires, including:
?Men and women have hardwired sexual cues analogous to our hardwired tastes-there are sexual versions of sweet, sour, salty, savory, and bitter. But men and women are wired with different sets of cues.
?The male sexual brain resembles a reckless hunter, while the female sexual brain resembles a cautious detective agency.
?Men form their sexual interests during adolescence and rarely change. Women's sexual interests are plastic and change frequently.
?The male sexual brain is an "or gate": A single stimulus can arouse it. The female sexual brain is an "and gate": It requires many simultaneous stimuli to arouse it.
?When it comes to sexual arousal, men prefer overweight women to underweight women, and a significant number of men seek out erotic images of women in their 40s, 50s, and 60s.
?Women enjoy writing and sharing erotic stories with other women. The fastest growing genre of erotic stories for women are stories about two heterosexual men having sex.
?Though the male sexual brain is much more different from the female sexual brain than is commonly believed, the sexual brain of gay men is virtually identical to that of straight men.
Featuring cutting-edge, jaw-dropping science, this wildly entertaining and controversial book helps readers understand their partner's sexual desires with a depth of knowledge unavailable from any other source. Its fascinating and occasionally disturbing findings will rock our modern understanding of sexuality, just as Kinsey's reports did sixty years ago.
Praise For A Billion Wicked Thoughts: What the World's Largest Experiment Reveals about Human Desire…
"In a stroke of ingenuity, Ogas and Gaddam circumvent the deepest limitation of standard psychological surveys: that they merely tap undergraduates' socially acceptable responses, a flaw nowhere more damaging than in the touchy realm of sexuality. A Billion Wicked Thoughts is a goldmine of information about this hugely important topic, and, not surprisingly, gripping and sometimes disturbing reading."
-Steven Pinker, Harvard College Professor of Psychology, Harvard University, and author of How the Mind Works and The Blank Slate

"A refreshing look at the big picture of human sexuality, informed by the ultimate unobtrusive source of data, the internet... Regardless of your background, you're in for a treat... If you want answers to pretty much anything about sexual desire, this is the book for you."
-From the Foreword by Catherine Salmon, coauthor of Warrior Lovers: Erotic Fantasies, Evolution and Female Sexuality and author of The Secret Life of Middle Children

"This is an amazing book. For the first time ever, Ogas and Gaddam skillfully tie together the latest findings from neuroscience, evolutionary biology, social psychology, and millions of internet users. Everything you always wanted to know about your desires in the bedroom."
-Daniel J. Levitin, bestselling author of This Is Your Brain on Music and The World in Six Songs

"Every invention in communication technology--the printing press, photography, motion pictures, videotape, the Internet--was quickly co- opted to produce and disseminate erotica. Just as the microscope and the telescope illuminated for the first time the very small and the very large, A Billion Wicked Thoughts uses the power of the Internet to illuminate with unprecedented wattage human male and female desires. Ogas and Gaddam analyzed a mountain of Internet data to produce a breakthrough in the study of human sexuality."
-Donald Symons, Professor Emeritus, University of California Santa Barbara, author of The Evolution of Human Sexuality

"A Billion Wicked Thoughts provides a brilliant, thoroughly researched, and totally engaging analysis of human sexuality using vast and original analyses of the Internet. It furnishes an x-ray of male and female sexual minds and explains why they differ so profoundly. The insights it yields are often surprising, sometimes shocking, and never boring. I couldn't put the book down."
-David M. Buss, author of Evolutionary Psychology: The New Science of the Mind and The Evolution of Desire: Strategies of Human Mating

"On the Internet, the evolutionary past meets futuristic technology, enabling the blossoming of all manner of sexual tastes, fantasies, and desires. Ogas and Gaddam have mined these new sources of information- arguably the world's largest experiment on human behavior--to produce a fascinating and terrific book on human sexuality, in all its timeless mysteries and ultra-modern manifestations. This well-written, entertaining book is packed with information, ideas, and insights. There is no better way to understanding your desires, your partner's, or anyone else's."
-Roy Baumeister, Professor of Psychology, Florida State University

"A brilliant romp through the darkest recesses of our sexual minds, based on the unwitting confessions of millions of anonymous Internet users."
-Simon LeVay, author of The Sexual Brain and Gay, Straight and the Reason Why

"Ogas & Gaddam mine the power of Internet for expressions of male and female mating psychology that are unfiltered by social expectations. In the process, they unearth A Billion Wicked Thoughts, many of which depart radically from our standard script for human mating psychology. These counter-intuitive insights into the sexual psyche of our species should provide much fodder for discussion among sex researchers."
-Paul Vasey, Professor of Behavioral Science, University of Lethbridge
 
Dutton Adult, 9780525952091, 416pp.
Publication Date: May 5, 2011
About the Author
Ogi Ogas studies computational models of memory, learning, and vision. He was a Department of Homeland Security Fellow.

Sai Gaddam studies large-scale data analysis and serves as a data mining consultant in India. They both received their Ph.D.s in computational neuroscience from Boston University.
or
Not Currently Available for Direct Purchase