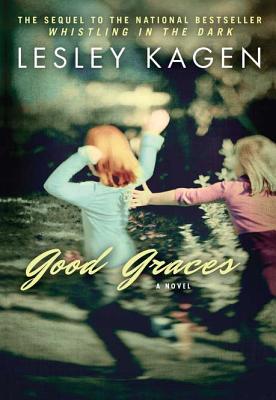 Good Graces (Hardcover)
Dutton Adult, 9780525952381, 352pp.
Publication Date: September 1, 2011
Other Editions of This Title:
Digital Audiobook (8/31/2011)
Paperback (5/1/2012)
Compact Disc (1/17/2012)
MP3 CD (9/1/2011)
Compact Disc (9/1/2011)
* Individual store prices may vary.
Description
Lesley Kagen returns with the sequel to her national bestselling debut, "Whistling in the Dark."
"Whistling in the Dark" captivated readers with the story of ten-year-old Sally O'Malley and her sister, Troo, during Milwaukee's summer of 1959. The novel became a "New York Times" bestseller and was named a Midwest Honor Award winner.
In "Good Graces," it's one year later, and a heat wave has everyone in the close-knit Milwaukee neighborhood on edge. None more so than Sally O'Malley, who remains deeply traumatized by the sudden death of her daddy and her near escape from a murderer and molester the previous summer. Although outwardly she and her sister, Troo, are more secure, Sally's confidence in her own judgment and much of her faith have been whittled away. When a series of disquieting events unfold in the neighborhood-a string of home burglaries, the escape from reform school of a nemesis, and the mysterious disappearance of an orphan, crimes that may involve the increasingly rebellious Troo-Sally is called upon to rise above her inner demons. She made a deathbed promise to her daddy to keep Troo safe, a promise she can't break, even if her life depends on it. But when events reach a crisis point, will Sally have the courage and discernment to make the right choices? Or will her false assumptions lead her and those she loves into danger once again?
Lesley Kagen's gift for imbuing her child narrators with compelling authenticity shines as never before in "Good Graces," a novel told with sensitivity, wit, and warmth.
About the Author
Lesley Kagen is an actress, voice-over talent, and restaurateur, as well as the author of two previous national bestselling novels. "Whistling in the Dark" has been translated into five languages and was a Midwest Choice Honor winner. "Land of a Hundred Wonders," an Indie Next pick, was also nominated for a Midwest Choice Award. She lives near Milwaukee, Wisconsin.
Praise For Good Graces…
"In Good Graces the mix of light and dark is rendered with honesty, wit and savvy."
--The Morton Report

"Good Graces deftly dwells in '60's Milwaukee. Through her preteen narrator, Sally O'Malley, she (Kagen) evokes the joys, sorrows and complexities of growing up..."
--Milwaukee Journal Sentinel

"Spend happy hours following the O'Malley sisters through the sweltering summer of 1960 on Milwaukee's West Side. This humorous, passionate novel of childhood is full of evocative local detail and the lives of wild, smart children."
--Milwaukee Magazine

"Moving, funny, and full of unexpected delights, this is one sequel that just might be even better than the original gem. Kagen crafts a gorgeous pageturner about love, loss and loyalty, all told in the sparkling voices of two extraordinary sisters."
--Caroline Leavitt, New York Times Bestselling author of Pictures of
or
Not Currently Available for Direct Purchase